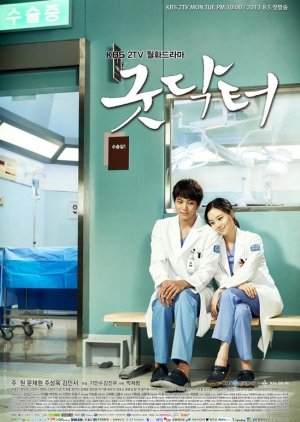 This review may contain spoilers
Good Doctor        The story line of this drama is quite peculiar – the fact that an autistic person could adapt fully and work in a hospital nonetheless is quite impressive because in reality it is unheard of.   The pilot episode had given me the impression that it was going to be a very promising drama, then by the end of the whole series I proved myself right. Although like any drama, Good Doctor has it high and low points along with loop holes. Due to the unbelievable premise, I say the writer was very much imaginative although farfetched for having such a plot. An autistic person basically has a lot of limitation but given the patience and perseverance to the people surrounding the person with a disability, it could be managed. Setting those thoughts aside, I love this drama because of the story and characters. It was like watching the movie Forrest Gump only in a clinical setting.   The main character Park Shi-on (acted by Joo Won) was such a lovable character. During the first few episodes, he may be an annoying autistic man who knows everything but after awhile his character grows on to you even his mannerisms become endearing… or maybe it's just me because I find him really cute and funny? Anyyyywaaay… not to get side tracked, Cha Yeon-so (acted by Moon Chae-Won) is a woman with a strong personality. She has this tough exterior but deep inside she has a really fluffy heart which has a soft spot for our main lead. I am not going to elaborate on that or else I might post unwanted spoilers. As for the supporting cast, they are essential in the series because they provide the substantial element of acceptance depending on the character's relationship with Shi-on. Music wise their is nothing really memorable about it except that it adds to the drama. Good Doctor may not be in my rewatchable list but it is very much in my recommended one. You don't have to be a medical literate to appreciate this drama because there are notes which would explain the terms & procedures. Over all it is a wonderful drama and it has exceeded my expectations.
Was this review helpful to you?