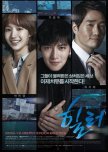 Healer
8 people found this review helpful
I've keep on reading reviews about this drama mostly saying this is one of the best kdramas ever with rating as high as 10. At first I was hesitant thinking it's just a typical thriller/action/romance drama that I can postpone to watch. Now I realized, it's a shame that I didn't watch it right away. This drama made me feel again the goosebumps I'd never felt for so long.
In all episodes, your mind will be triggered what will happen next. You will become one of those reporters and policemen wanting to solve the crime, to solve the mystery and to catch the suspects. You'll become compassionate on how hard life has been especially for Healer. And of course, you will fall deeply in love and might feel jealous to our love interest – Seo Jeong Hoo and Chae Yeong Shin. They are my definition of "relationship goals".
Don't forget the OST of this drama. OMG! This is the first ever kdrama I watched that has pure English OST – Eternal Love by MLTR. Everytime it plays, either my heart wants shout or my lips automatically smiles. It seems that I found one of my wedding songs. :)
Of course, all dramas has it flaws. This drama is not an exception. There are some scenes that are not convincing but those scenes are minimal. If you're too much into the drama, you might not notice it.
Overall, I will definitely recommend this drama. I'm not the type who recommends the drama I watch because I'm not confident if other people will like the same. But this drama, it give me so much confidence.
Was this review helpful to you?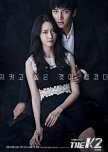 The K2
3 people found this review helpful
Well-watched action-packed drama. As an ordinary viewer, I have some pros and cons about The K2.
Pros
Overall plot is well-developed. In each episodes you will understand why things happen the way they are. You just have to pay attention to details in order to appreciate it more.
Clap-clap-clap for the writers and directors. They give me a really hard time figuring out who is the real antagonist. When I find myself hating Choi Yoo Jin then I will find myself hating more Park Kwan Soo and feeling sympathetic towards Madam Choi instead. When I find myself liking Chairman Choi but I ended up hating him most. You will also hate Assemblyman Jang but you will realize what kind of father he is. This drama is a push and pull of emotions.
Thumbs-up to Choi Yoo Jin's character. IMO, she's the one who shines most among all the characters. You'll get confuse if you'll hate her or understand her. But in the end, you will want to embrace her for she is just a girl wanting to be love by people around her. Assemblyman Jang, what a horrible father and politician he is - that's my first impression. But then, give him chance to prove himself in this drama. Chairman Choi and Assemblyman Park, beware - don't be tricked by these two.
Anna/Kim Yuna, I'm actually expecting a lot from her and she didn't disappoint me. She's good but not at her best.
Kim Je Ha/Ji Chang Wook, you never fail to surprise me. You're really at your best when it comes to fighting and acting. Je Ha and Anna do have chemistry and I like them both but I don't ship with them.
By the way, get ready to see the hotness of Ji Chang Wook. I think, he puts extra effort to build his body more for this drama.
Cons
There's only one thing I hate about this drama. Why writers and directors? As in why did you make Kim Je Ha a superman? Not literally but IMHO, no normal person can fight alone a load of enemies if he is badly injured and ill.
Even if it is because of his adrenalin rush, I still couldn't see it realistic. I almost want to skip that scene but thankfully I'm not a kind of viewer who will skip an episode because I don't want to comment onto something I didn't watch as a whole.
I'm not an action-drama fanatic. In all honesty, I gave this drama a chance because of Ji Chang Wook and it's worth it.
Should you want to go away for the meantime in your cliché romance-comedy drama, why not give this drama a chance? I can't say that it's a breath of fresh air but expect something rational enough.
Was this review helpful to you?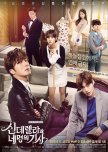 Warning! Long Review/Reaction/Opinion
First of all, the drama title caught my attention since I'm very much in love with fairytales ever since.
From the start, I don't have too much expectation from the drama since I know the story line is already a cliché – rich guy falling in love with poor girl. The only twist is that she has four knights in shining armor. But in my opinion, it's three knights only.
PLOT
As I mentioned, plot is already a cliché. The development for me is very slow. I find some episodes boring but I still keep on watching, hoping it will develop sooner. I'm bothered by the missions given by rich grandpa. Is it only 3 missions? After the trip mission, what's next? The 3 grandsons don't even get closer after the 3rd mission. They just get closer on the process. The 4th mission I believe is just an excuse of Ha Won. The ending proves that this is indeed a fairytale with a "Happily ever after".
CHARACTERS
I love the characters since I knew most of them especially Jung Shin – CNBLUE Fanatic here. :)
The main female lead is not so beautiful but definitely cute and with lot of charms. I believe, she gave justice to who Cinderella is.
Until now I'm calling Jung II Woo as the "Scheduler". Yeah, I knew him since 49 Days and I knew how good an actor he is. It's regretted that he can't show his 100% skills since this is just a very light drama. Nevertheless, there's indeed chemistry between him and Ha Won that you should definitely watch for.
I find it really hard to watch Ahn Jae Hyun! As if I'm controlling myself to fall in love with him more. Haist! If only he's not yet married. Well, I still cheer Ahn Jae Hyun from behind. Let's get back to his character. I just don't get it after his broadcasted confession with Ha Won. He had 180 degree character change. And his story just revolved with Hye Ji afterwards. He confessed that he like Ha Won but he didn't give justice to that confession. He got rejected, so what? He can fight for it or formally accept defeat. But atleast he should do something and don't let that scene left hanging. He just switch right away to Hye Ji. Although I knew he love Hye Ji from the start but I felt that his confession to Ha Won is somewhat true as well.
Jung Shin! The so called "Avatar" of his CNBLUE brothers. Haha. I find his character very genuine. Actually, I still find Jung Shin in his character as Seo Woo. I'm wondering how his fellow CNBLUE reacts everytime they watch him. I love Jung Shin but there's nothing too much to say about his character in this drama.
I also knew Son Naeun way back WGM stunt with Taemin of Shinee. I am quite surprise that she also acts. Is this her first time acting? If yes, I will forgive her poor acting skills. She has a lot more to improve if she really wants to pursue this field. I find her character a nuisance in this drama. I think it's better if she just played a real antagonist. Maybe, she'll be appreciated more that way. I felt that even without her character, the drama will still go on as it is.
The fourth knight but a not so knight at all, Secretary Yung Soung. IMHO he is the knight of the rich grandpa and not by Ha Won. :) I don't know why they include him as the fourth knight but we can't barely feel his presence as Ha Won's knight at all.
OVERALL
If you are just looking for a feel good drama without any high expectations, I will recommend this one. It's not bad at all and it's still worth the 16 episode watch.
Was this review helpful to you?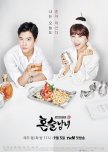 First thing first. Drink moderately…
PLOT
It's good to know that there's this kind of drama where they justify why people tend to drink, whether in solo or in group. Why drinking should not always be perceive as a bad thing. But it gives us the reality why drinking should always be done moderately.
Just wondering how the writers come up with the idea to combine drinking and studying. Why not drinking and working? (Yeah, teaching is a work but it still related to studying.) Why not drinking and playing sports or any other combinations except studying? Personally, I find the drama a quite bad influence for students and teachers ALWAYS getting acquainted with alcohol.
Since one of the main concerns of the plot is studying, I want to relay my opinions. I don't used to be a perfect student. I have my own flaws when I was in school. However, there's some studying advise that worked for me but contradicts this drama. You can watch the drama and feel free to rebut my opinion if you want.
- To study effectively, one should have a proper rest. If you feel sleepy, sleep. If you feel hungry, eat. Don't deprive the needs of your body. Our brain functions well if our body is in good condition.
- To study effectively, one should have focus. You cannot have proper focus if you study while standing and eating in a stall beside the street or studying while walking in a high-way.
- To study effectively, having a large crowd of student is a No-No. As a teacher, you should have atleast a personal interaction with your students once in a while during class. Students will feel more interested that way. But how come a teacher can do that if he has thousands of students in a room and can't barely see them especially those students located in the back.
CHARACTERS
Honestly, I watched this drama because of Ha Seok-jin. After watching him in Something About 1%, I crave for him more. I have nothing much to say about the characters. Since this is just a light rom-com drama, I don't have high expectations on them.
As a side comment, I find it more interesting the love story between Professor Hwang and Professor Min. Though it developed late, their chemistry is a pleasure to my eyes. :)
To sum up, I still manage to finish the drama struggling. Struggling whether I should drop it or continue it. In the end, I have no regrets holding on till the finale. I don't have confidence in recommending this drama. But, if you find yourself curious why people drink and why studying is a crucial thing, feel free to give this drama a chance.
Was this review helpful to you?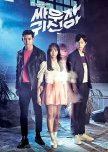 If you're not a fan of horror drama, try to consider watching this. It will give you a lighter view about horror dramas. Upon screaming, you will also find yourself laughing at those ghosts. :) Such a cute and feel good drama.
Just a downside on how the story was written. They go through a lot of hardships just because of the ritual tool. Maybe I'm just expecting a deeper story line. And, I really don't get it why Professor Joo Hye Sung needs to kill the cat in the first place that leads to killing of other characters. Poor little cat. :(
I'm also surprise that Kim So Hyun already had a kissing scene in this drama. Is this her first onscreen kiss? She's still minor, isn't she? And, Ok Taec Yeon is 10 years older than her. Didn't they find it awkward? However, I believe their characters are well played. Without thinking their real age difference, they do have chemistry and I find their love story interesting though unusual as first.
All in all, I find this drama a good watch.
Was this review helpful to you?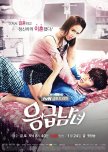 One of the mature dramas I've watch. Very realistic and significant with the society right now where youths think that life is just about love; where adults takes for granted the feeling of love and let it fade away; where mistakes happen, where feelings changed – but that's how LIFE is. That's how people learned the value of life with love.
Best line I will remember from this drama: "A perfect life doesn't exist. Unexpected accidents happened in life and we make irreversible mistakes too. But every time we fall and get hurt in life, we definitely find ourselves changed in the midst of it. We realized other people's pains or we realized ourselves maturing. Wouldn't it really be like the beginning of love? So even if we keep making mistakes and falling, we'll keep growing and challenging ourselves. –Oh Chang Min and Oh Jin Hee"
Was this review helpful to you?