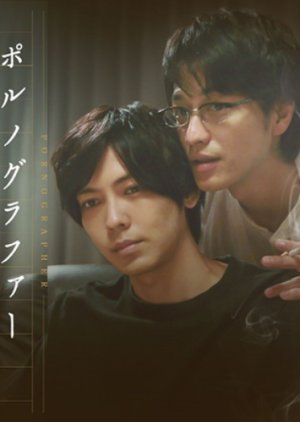 I've been a bit iffy when watching Japanese BL because for the most part it never really delivers on the realism with lackluster kiss scenes and barely any action till the final episodes. After watching the first episode of 'Pornographer' I thought this would be the case yet again. But as the series commenced I was quickly proven wrong. With only 6 episodes at just over 22-minutes each, the story was filled with rich development that was brought to life by a phenomenal cast! The chemistry between the two male leads was excellent and the intimate scenes where beautifully executed that at times I thought I was watching a soft-core porno!

STORY: 9/10
The story of 'Pornographer' is more complex than it lets out to be. A young student crashes into a man with his bike who just so happens to be a pornographic novel writer. The novel author is injured and hurts his left wrist (which is suggested is his dominant hand). Since the young student has no money to pay for the hospital bills, he offers his services to the be the writer for the porno author till his hand recuperates. During this time together, the two develop a strong and meaningful relationship as the young student learns more about the author, who he calls 'Sensei', and becomes a fan of his writing style. He also learns that his Sensei has dreams of becoming an author outside the porno genre and that for now porn novels is what is sustaining his finances. The story sounds cut and dry, but there is a lot of mystery introduced into the plot as the young student gets Jealous of other characters that interact with his Sensei and when he starts imaging himself in the same sexual situations with that he writes about in his Sensei's novels. I would have given the story a perfect score, but unfortunately the ending left me without closure. I would hope there is a second season for this drama, but I'm not sure if there will be. Open-ended endings are nice, but I like endings where I am sure things have been properly resolved.

ACTING: 9.5/10
Every single actor in this drama gave glowing performances. Both main-actors played their characters amazingly well and their chemistry was through the roof. I especially enjoyed the editor character that came in later, he was extremely hunky and had a deep voice that made my heart swoon, All-in-all the whole cast was excellent!

MUSIC: 8.5
The music was good. It was a bit cheesy at times but it helped movie the story along and capture the feelings of the characters,

REWATCH VALUE: 8/10
I'd say this drama is good for one more watch but after that it may lose it magic. It's too short and there is no point looking into it much deeper than what is given to you unless season 2 is in the works. Other than that it would just feel incomplete.

OVERALL: 9/10
I really enjoyed this drama and I highly recommend it to any BL lover. Both main actors are not only easy on the eyes but have great acting chops. Their chemistry was also wonderful and the story itself is filled with twists and turns that will keep you on the edge of your seat.
Was this review helpful to you?