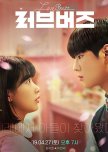 This short web film was much better than what I was expecting! There is also a very interesting plot twist, which leaves you to wanting more of the story. Besides, the story was much different and unique than what Playlist Global comes up with. It has youthful theme with fantasy and romance.
At the beginning, you will find yourself getting confused but it all starts to make perfect sense and the story comes all together in the mid-way.
In terms of acting, the acting was done nicely by the actors. There's not much characters in the short film but the actors did really great with their given roles!
For music, it was pretty mellow and it complimented the scenes really well.
Therefore, this web film is pretty worth watching! I recommend it if you're looking for something short and heart-warming!
Was this review helpful to you?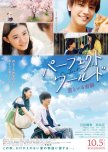 I was finally able to watch it!
'Perfect World' is a love story which portrays the meaning of true love.
It was a beautiful movie. The story was amazing and heart-warming, at the same time, sad and heart-breaking. The cast did an amazing job in the movie! I definitely loved their characters and what I truly adored about the movie is its mindblowing cinematography! Really intriguing and mesmerizing!
In conclusion, I would recommend this to all. This was overall great and really enjoyable. 8.5/10 <3
Was this review helpful to you?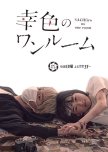 This review may contain spoilers
Dramas with a moderately dark, controversial, and intense plots addicts me to it a LOT. And, 'Sachi-iro no One Room' is such a drama.
The plot is pretty controversial, as you can see how it romanticized a case of kidnapping. But, if you check out the drama, you'd realize that it isn't exactly a case of kidnapping, as the supposedly stalker male-lead simply saved the female-lead from committing suicide and only asked if she wanted to live with him. She agreed, as she had given up on life. It was nothing serious for her to live with a stalker after getting abused by parents, bullied by classmates, and sexually harassed by her teacher. If you simply look into the drama, you'll find out how the story is interesting and how it would pull you into it- and the doubtful thought you had after seeing the summary would go away from your mind.
The actors are pretty good too and the simple-yet-so-satisfying cinematography would surely make you enjoy this short drama as much as I did. Plus, the OST is absolutely amazing. Recommended indeed!
Was this review helpful to you?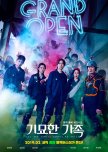 I really love the combination of zombies and comedy, but zombie movies alone are one of my most favorite things to watch! They're always so entertaining!
Firstly, I was very much skeptical to watch this movie since it kind of felt like it would be a real let-down, but because I adore a good zombie film and the trailer seemed a bit promising, I gave it a try. Honestly, the beginning of the movie is pretty weird and gotta say, quite awkward. It could be just me, but it was pretty awkward at first. But later on, things started to become better and I was able to enjoy it more than I imagined! I had 0 expectations for this movie, but it turnt out to be pretty good and quite a refreshing film with the comedy and it's been pretty long since I've watched a zombie film.
The story was very unique for a zombie movie, in fact. Most zombie movies would revolve around a certain group of people amidst an apocalypse and how they survive it, but the story of this movie is different and special. I guess the story makes this movie most charming.
The actors were great and they all played their characters reallly well. I knew they were good actors, so I wasn't expecting bad acting whatsoever.
There's not much of a music in it, but there is a song which suited the movie a lot.
I don't rewatch movies unless I really LOVED it. I enjoyed this one a lot, but I definitely didn't love it to the point that I would rewatch it. But probably, I would rewatch some years later or so when I completely forget what happened in it XD
In conclusion of this long and boring review, I recommend you to watch it! It's refreshing, unique, funny and would be great if you're bored and you're looking for something to spend your time! :)
Was this review helpful to you?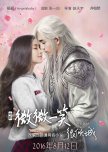 'Love O2O' is one of the most popular Chinese dramas and as everyone else says it, it's a great drama. But the movie version, honestly, impressed me more. The cast of the movie version is greater and their chemistry was more amazing. And so was the action scenes and the graphics. The production is very fine and the movie really wowed me.
So, basically, if you've watched the drama, you should give the movie a try since this version is not a fail at all. If you haven't watched the drama version, I believe watching the drama version before this is a better choice.
Was this review helpful to you?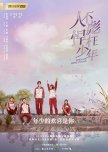 I don't usually watch C-drama dramas, but this drama really moved me.
This drama was able to portray teenage life in such a fine way, it wowed me. The struggle of teenager with school and family, the enjoyments of a teenager, etc. are perfectly defined through this drama.
For me, the male lead Huo Biao's character would never fail to make everyone fall for him. Overall, all the other characters are also lovable.
Besides the impressive story and the amazing characters in it, the cinematography is beautiful and I love the nostalgic concept of the 90s. The OSTs are great too. The cast also has done a great job in acting each of their characters and were able to portray them in Ann excellently way.
If you're looking for a drama with a pure and realistic plot, alongside with fun-lovable characters and amazing production, this Chinese drama is it. Give it a chance, you won't regret it. ;)
Was this review helpful to you?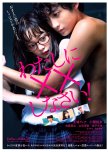 I had read the manga just a few months ago and I overall disliked the manga for its plain stupidity and cliche. It wasn't even any cute cliche which you would normally go along with- it was disturbingly cliche.
So, when I discovered that the manga was having a live adaptation, I had a slight expectation that the movie would hopefully come out better, since there are times an adaptation comes out better than what it originally is adapted from. However, the movie let me down too. Worse than the Manga.
First of all, the story pace felt rushed right at the beginning of the movie. The female main character was somewhat annoying and puzzled (The actress wasn't bad) and the male lead was just another typical cliche character. There were many unnecessary parts in the movie and some small things they added in the movie which were absent in the Manga felt useless too.
I know that comparing an adaptation with the original work isn't a cool thing to do since it's just an adaptation. But seeing how I disliked the Manga, it was somewhat obvious that I would dislike the movie adaptation too. And believe me, even if you watch it without reading the manga, you still won't like it.
The only tad-bit positive part I found in the movie was the Opening theme song, I guess. That wasn't bad.
All I have left to say is that- I don't recommend this movie to anyone. However, it is totally up to whether you should watch it or not since people have different tastes and rejecting to watch something just by a review is kinda wrong. You should check it out yourself to see whether it matches your taste or not. But to my assumption, it probably won't.
I hope this review was helpful to you :)
Was this review helpful to you?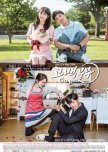 Waah~ I finished a k-drama after such an awfully long time!
'Go Back Couple' was a drama I heard about here and there but I didn't check it out then— and I did it now and totally an AMAZING drama!
Firstly, the story is so great! So creative and each episode taught me about different lessons in life. How a simple misunderstanding can ruin your life, how it would feel to lose someone so special to you— this drama taught me all about it.
The characters were highly realistic and it felt like I was watching an actual married couple going through so many problems. The character development is amazing too! You will experience all kinds of emotions while watching this drama!
It's cool how I didn't get the SLS because of the love triangle and I had rooted for the male lead the whole time!
Then there's the music. The OSTs and every music used in the drama suited it so good! It was excellent and the feels of the drama felt greater because of the music. The OSTs were great!
In the future, I'd definitely rewatch this drama since it's so freaking good! Sad how it's only 12 episodes but I guess that's what makes the story perfect and not too draggy or slow-paced.
Overall, an amazing drama and with all kinds of vibes to it– happy, funny, sad etc. Highly recommend everyone to give this a try! <3
Was this review helpful to you?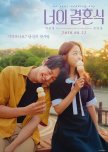 This review may contain spoilers
I had waited for this movie ever since it's first still image came out and I was so FRIGGIN excited seeing how the summary sounded promising and the still image looked quite attractive (of course) So, right after this movie got subbed on the day my finals ended, I looked nowhere else and sat down instantly to watch it. So, here's the review.
The story -
The plot of this movie is heartwarming and adorable. A guy falling for a tough female transfer student and then helping her to skip classes and secretly have tteokbokki- already sounds fun. I love movies or dramas which show a long-term story because the characters development in those are pretty exciting. Now comes the talk about the ending.
I personally think the ending of the movie was highly realistic. It makes you sad and makes you want to cry but seriously, the ending couldn't have been better but worse if it was a happy ending. It would look unrealistic and somewhat random if it had a positive ending with both marrying each other. Yes, the ending made me cry as well. But if I had to say it honestly, I disliked the male lead character ever since the high school and college part of the movie ended. He became selfish, and if anyone was in the female lead character's shoes, he/she would have moved on from that guy too. So to me, the ending was pretty much perfect.
The cast-
The cast was perfect too. Everyone played their roles in an amazing way. Park Bo Young is undoubtedly an amazing actress. She can play any roles out there and her acting skill is so diverse and impressive. The rest of the cast is the same and they were amazing too.
So, overall, all I have left to say is that this movie was a great one- a movie which can make you have all kinds of emotions. A real emotional roller coaster- kind of movie. I truly recommend it to everyone!
P.s- I had watched the movie right when the subs came out but I'm extremely late with reviewing,,
Was this review helpful to you?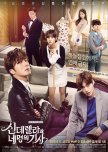 I love mood-lifter dramas! Dramas with a typical but a likable plot, dramas which people would normally dislike because of its cliches and unrealistic sides- but personally, I liked this drama!
If I had to speak more honestly, it is true that this drama is pretty childish. BUT sometimes when you watch too many heavy and intense dramas, the lightweighted and no-brainer ones turn out to be enjoyable in order to take a break from the heavy-plot preferences.
I mainly loved the female protagonist. Her character was really different from the usual nosy and annoying female characters in other cliche romcoms. She was strong, likable and if I myself was one of the Kang brothers, I'd definitely fall for her too. There's this strong and intense love 'square' throughout the drama and I must say this- For those who dislike love triangles or 'harems', this drama is not going to impress you a lot. I myself dislike them too but somehow this drama got me anticipating for each episodes.
So, simply saying, this romcom is a good one when it comes to mood-lifters or basically a refreshment from all those complicated dramas. It's simple, fun, the romance is cute and the story itself is a no-brainer and is definitely light-hearted. You might want to save this drama in your 'Plan To Watch' list if you haven't watched yet- in order to binge on this drama after finishing an intense drama with a tragic ending or such.
Was this review helpful to you?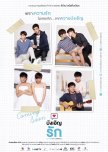 'Love By Chance' was my first BL drama and I had decided to give it a try because many clips from the drama kept on popping up in my Instagram— and thank goodness I gave it a try.
First of all, the story is definitely the sweetest story you'd find in a BL drama. 'Love at first sight' sounds dumb in reality but this drama showed it in such an adorable way! Plus, this entire way of showing the stories of a few side couples. I usually don't like dramas with many side couples but this drama changed my mind. I freaking LOVED all the other side couples (esp. TinCan is LIFEEE) their stories were different, interesting and exciting. However, this drama's story was beautiful and really heart-warming, and by that– I mean ALL the couples in it.
And now secondly, the cast.
I would have given a 10/10 rating for the acting but apparently I didn't because I felt like the actor who played Pete was a little lacking and it–NO OFFENCE– kind of made me uncomfortable. Whatsoever, I definitely fell in LOVE with Perth (Ae). His acting, his gestures towards Pete, the way he looked at him with his eyes— definitely was AMAZING. Their chemistry was also 'no joke'. As for the second couple TinxCan, those two are just a match made in heaven. Seriously. Their story is so touching, so beautiful. And oh my, their chemistry and their love for each other almost gave me a heart attack of happiness. I definitely wish for a sequel of them both ending up together— or else I'm gonna throw hands. Other than these two, I also definitely adored the other couples.
So, lastly, all I can say is that this BL thai drama is a MUST WATCH and definitely recommended. As it was my first time watching a BL drama, I had a whole lot of fun in an unexpected way and lots of heart wrenching excitement. :)
Was this review helpful to you?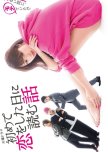 It's been a long time ever since I wrote a review for a drama and here it comes!
At first, this drama was my everything. I watched the first two episodes in a single whim and it pulled me right into it. The story felt fresh, sweet and heart-warming. In fact, the chemistry between the leads was already amazing. The other two second leads in the reverse harem, were also great! The female lead was a somewhat realistic 32-year-old and I found her quite strong at times and sweet.
Now, the real thing is how this drama depends on a person's taste or choices. This drama definitely does not suit everybody's taste, and I noticed that as I continued to the drama. In the middle, the plot from my view became a tad-bit boring and kind of predictable. Not that I dislike predictable plots, something important felt missing in this drama. It was sweet and really cute in the beginning but things start to change in the middle. Maybe because the amount of waiting that had to be done for each episode to come out may have decreased my excitement for it and thus I wasn't looking forward to it anymore? That's possible.
Overall, this drama was pretty good in my opinion and the objective of the story was touching and nice. It reminded me of the Japanese movie 'Flying Colors' in many ways and I personally loved that movie. About the cast, the actors was amazing at portraying their characters. My most favorite thing about this drama is the music. The OST 'Happy Birthday' was such a good song!
This drama actually depends on your preferences and taste so I suggest you give it a try to see if it suits you :)
Was this review helpful to you?