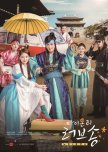 It is my first time reviewing a kdrama, and this is worthy.
Story: Lots of clitches and sometimes plot holes, historical inconsistency etc, but hey what the heck, it is a web drama so you have to over look it if you really want to enjoy it, at least I did and it worked out for me.
Acting/Cast: Superb, they cast all 5 main leads and supporting cast perfectly, specially the main couple I heard they were in WGM top couples and definitely the director made a great choice casting people with great chemistry because everything looked so natural, skin ship, falling in love and kisses looked real. I have to point out the flower boy villain, this guy acting was superb over the top at times but that's what it made this show stand out for me.
Music: It was ok not memorable but ok.
Rewatch Value: I had cancelled my subscription to Netflix but I just renewed it so I could go back and for to watch what I missed.
If you guys have netflix please try to watch it there as much as you can, I have had problems with drama sites it takes forever.
Overall: A very well done, dorky, odd rom-com historical drama. Highly recommend it. It had a feeling like Go Princess Go (TDrama)
Was this review helpful to you?