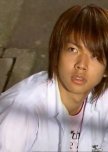 Since no one has posted a review, I suppose I will. This is my first review so hopefully it will be helpful. I watched this for NEWS, of course. The show was pretty funny (you know, boys being silly, ridiculous, perverted boys), but didn't have a strong story (it's just a bunch of high schoolers hanging out). There's a really weird character (Tegoshi Yuya's character) who only says one word during the entire show, the rest of the time he's sleeping or staring at bugs. The music is also strange and reminded me of music I used to hear while watching science videos in high school.
Overall, I'd say it's a strange show, but great to watch on a Saturday if you're a NEWS fan. But don't expect too much in regards to plot. Its strong point is that it is humorous and it does remind me of high school days a little.
Was this review helpful to you?