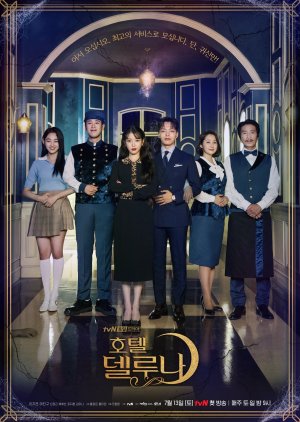 So if you've watched Master's Sun, you'll realize Hotel Del Luna follows the same format (because of being the same writers) of telling the main story while at the same time show minor stories of guest characters in each episode, some lasting longer than others. For me, the main story progressed at an okay pace. At the beginning, the first episode grasp your attention, wanting more, but a couple episodes after that, it was slower than I would've liked. I like the minor stories but some of them overpower the main plot when I really just want to see more of Man Wol's story.

STORY: That being said, I think the plot to Man Wol's story was revealed pretty well. It had a beginning, a middle, and a end. I like it how it leaves me guessing a lot so it wasn't predictable for the most part. What was predictable was knowing the ending was going to be heartbreaking just based on the plot and scenario itself but it matched up pretty well to what I expected.

While I did like most of the minor stories of the guest characters, my only problem was there wasn't much relation to the main plot or the main/support characters. I would've cared more of the minor stories if it somehow reminded Man Wol or the other hotel staff about their past lives and it showed some steady progression on how to move on to the afterlife eventually. I mean I just didn't like how they neglected the stories of the support character roles until the very end, like literally the last few episodes. I also didn't like how some minor stories like Chan Sung's mom or Sanchez's girlfriend had potential to have a bigger impact on the plot but was cut short like it was mistake in writing or something. This was something I had a bit of frustration in Master's Sun as well.

ACTING: For the most part, the acting from these actors & actresses were pretty good. IU shows a great deal of emotions, from being heartbroken & betrayed, a stern woman, to having a comedic side when it comes to money. Yeo Jin Goo's acting was a bit boring for me in the beginning. I felt like that didn't give him an opportunity to really show what he can do in his acting but that quickly improved towards the middle and end of the drama, especially his crying scenes. My favorite actor has to be Ji Hoon from this drama. He plays Hyun Joong so well. You just love it when he's happy because he has that puppy smile that makes you want to smile but when he's sad, you just can't help but be sad with him.

MUSIC: Rarely is there a drama where I enjoy and add every ost to my playlist but this drama is one of them. The ost are just amazing and it fits very well to every situation in this drama. Punch's songs "Done For Me" & "Another Day" with Monday and Yang Da Il - Only You, are my favorites from this drama.

REWATCH VALUE: This is one I would definitely consider rewatching however I would probably skip the minor stories this drama shows since the main plot has more value overall.
Was this review helpful to you?