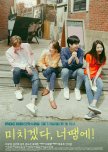 Truth be told.... I would watch Kim Sun Ho in anything! He comes from a theater background and it shows in his work.
Um, Lee Yoo Young I don't think I've seen her in anything else, but in 4 episodes we get the in-depth look of a couple in crisis of not really communicating.
My boyfriend did not like her at all. It was good to get his pov while watching this. He couldn't see why Wan would let Seong stay at his place for so long. So, if you can get over this bump, then you can watch the whole thing. My boyfriend didn't.
Honestly, the drama felt like a play and that's OK. It was good to see them eating and drinking (this did go on a good bit) and some other stuff which you will have to watch to find out.
Backtracking just what went wrong? Questioning friendships vs. relationships. Lots of grownup things going on in this one. And the chance of meeting someone new.
My biggest complaint...her hedgehog. How could she?
I like the supporting cast very much. I liked the music to this drama, as well. It was a satisfying time to watch this drama.
Was this review helpful to you?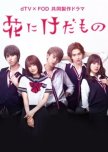 I can't say it's a Japanese SKINS although, for a second there I thought it might be when Kumi meets Hyo in the secret room of the high school. Yeah, this short drama has some intrigue to it.
Actually, I watched this for Sugino Yosuke (who made this the same time he was in Good Morning Call) Actually, my favorite character of his is in Good Morning Call. Now I know they consider him a womanizer in this, but he comes off a bit aimless and just lets whatever happens with the girls he meets. So as the story develops you do see his character grow. Still, with that dazzling smile of his, there is a certain darkness we need to appreciate.
I found Kumi quite immature and oh so confusing. Because when the second lead Izu shows up, she's not the smartest tool in the shed. Honestly, I found the side kick Tatsuki the most endearing. And if I were writing this show I know who my main lead would be.
This is a very short drama which is a plus. Yet, I found it stilted and a little too sappy at times. You'll find the traditional Japanese male ..cold and never much for words and the traditional Japanese female with a sweet voice and full of goodness surrounded by bad girl students who want to make her life miserable. Oh, the drama of high school!
You might be on the fence of the importance of it. Still, it's a drama that makes you wonder if people ever saw you that way when you were in school.
The music was OK. Nothing that great. I did like the way some of the segments were shot. Honestly, I would have liked the drama to be a little darker, a little more suspenseful. I would have liked to have known Hyo's brother and the idea that maybe Hyo was a bit mental. There were moments I was certain it existed.
Was this review helpful to you?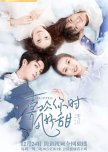 Flipped
0 people found this review helpful
This is my first review..so hopefully, it won't be too awful. Like many, I started this drama with the wow factor.
1. the scenery is spectacular. I love the buildings and the beauty and atmosphere of this drama. Even the rooms drew in a certain beauty of the characters, about where they lived and how they worked and felt.
2. such beautiful people in a modern world with still such ancient roots. This carries through the story of their beliefs and how they come to be...but is it something they have to keep on doing forever that keeps them from their true freedom?
As the story went on, I wished there would have been more back story sooner instead of later. Unfortunately, this is a drama full of random things that wastes the story. Of course, I like to look back on this as a factor in real life. Yes, life happens. Still, I felt the characters were a bit immature at times. Even during confessions, they mislead the other characters...as if it all were a joke. After a while, you might come to believe this about the drama, as well.
But as I think about it, I see that someone with supernatural abilities doesn't mean life will be perfect. If you stick with the drama long enough, you'll see all sorts of quotes you might want to jot down. So try not to give up on this one, even if you might find it a mess, at times.
Of course, some might find yourself shaking your head. "Why? WHY?" you might find yourself shouting at the screen. Or maybe not.
I guess I wanted the bad guy to be really bad but..you'll have to find out, how he really is. And when they bring up reincarnation, you'll just have to wait and see what that exactly means. So if you've got the nerve to want to see how it ends, you might find more life lessons than you bargained for. Then again, you have to think on this one and you might find the real beauty of it.
Was this review helpful to you?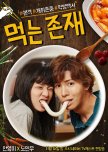 It feels like a webtoon. It is a webtoon. And it felt like a late night experiment that might have had more angst than it needed.
I found it rather surprising to find Noh Min Woo in this project. Yet, I sense it might be his all-time best performance in acting. I really felt he was being himself. And I think that is the message in the story, to just be your honest self.
Naturally, the so-called protagonist is full of slacker qualities, but there were little truths in each of the segments. Which should one prefer? Living for food or have a relationship? And is there somewhere in between?
This is so indie and far off the beaten track of a K-drama, but I loved the character study of it with many tight scenes, which is somewhat uncommon in many dramas.
Was this review helpful to you?