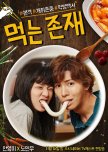 It feels like a webtoon. It is a webtoon. And it felt like a late night experiment that might have had more angst than it needed.
I found it rather surprising to find Noh Min Woo in this project. Yet, I sense it might be his all-time best performance in acting. I really felt he was being himself. And I think that is the message in the story, to just be your honest self.
Naturally, the so-called protagonist is full of slacker qualities, but there were little truths in each of the segments. Which should one prefer? Living for food or have a relationship? And is there somewhere in between?
This is so indie and far off the beaten track of a K-drama, but I loved the character study of it with many tight scenes, which is somewhat uncommon in many dramas.
Was this review helpful to you?