If you're still experiencing technical difficulties, please report it
here
.
ᎵᎮᎵᏍᏗ!!
So I wasn't always a drama addict. Hard to believe but yes, there was a time when I had a life outside of my room. That life exists no longer I'm afraid and that is precisely why my 80 year old neighbor has more of a social life than I do….seriously though….he really does. It wasn't always this way though. Behold, the story of my life and how my drama addiction tragically ended it.
In the beginning I was just a normal fellow who occasionally hung out with friends (not really but let's go with that.) I enjoyed the occasional TV show and read my fair share of books. Then when I was surfing on Netflix one day I chanced upon this foreign film called 'Stars Falling From the Sky.' So I decided to watch it even though it looked kind of weird (what can I say? I lived life on the edge.)
My first reaction to what I was watching was initially this:
And I had a hearty little chuckle about how weird the whole thing was but then, after about 5 episodes my hearty chuckles died in my throat and I began to get the eerie feeling that I was being pulled into something dangerously addicting
With every episodes my uneasiness grew
Until finally I realized that I couldn't tear myself away from it. I was trapped.
When Stars Falling from the Sky finally released me from its grasp I couldn't help but click on the next drama series featured and before I knew it, I had watched every drama Netflix had to offer. My family could only watch as I progressed into something they could not understand for I had finally accepted that I was a dramalover.
Now I dedicate my life to watching all the dramas and trying to pull my friends and family members into the wonders of dramaland. Most of the time I get reactions like this though:
I probably should be more accepting of this reaction though since I myself had a similar view of dramas but really, I'm not. so instead of handling the situation with patience I usually react in an unreasonable and often confrontational manner:
Tragically my family and friends don't really understand my addiction. They often turn their snobbish little noses up at it till all I want to do is parade them through the streets singing out 'shame. Shame. Shame.' in response to their shameful behavior of scorning Asian dramas.
That being said, I'm typically a straight forward person. I mean I'm a fairly normal person who indulges her time with drama watching and the occasional throwing of shade. 
now tell me....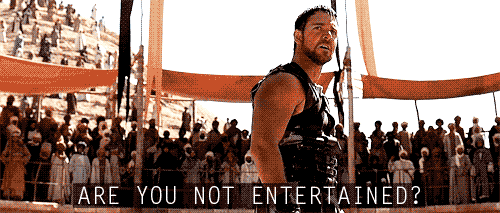 Statistics
165d 1h
ALL TIME
4,561 episodes, 209 shows
5d 9h 4m
ALL TIME
73 movies
List Updates
Currently watching

6

/25

4 days ago

Currently watching

16

/32

4 days ago

Currently watching

48

/120

5 days ago

Currently watching

1

/100

16 days ago