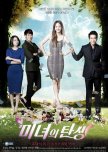 So at first I had my doubts about this drama because I half expected it to only promote outside beauty and you that you can only find happiness if you're pretty. I was pleasantly surprised however, that it was more about learning how to accept yourself, overcome obstacles using your own strength, and standing up to your fears. The romance in this was beautiful and I liked how the writer emphasized the two leads finding strength in each other.
plot: So the plot was brilliant. I loved the whole revenge vendetta thing. It kept you glued to the screen waiting to see what big revelation would be unspun next or whose dirty secrets would be revealed. I especially loved the chemistry between the two leads. They made the cutest revenge duo ever. They had so many cute moments together I often found myself laughing out loud and simply grinning from ear to ear as I watched their ridiculous yet heart warming encounters. They made you really want to cheer them on as they struggled and overcame their obstacles together.
characters/actors: First of all, I just want to say, the female lead was gorgeous. I didn't find it hard to believe at all when everyone was calling her a beauty. I also found the female lead before she got plastic surgery adorable in her own way and thought she was a brilliant actress. I loved how the female lead was strong and could handle herself and that she even had the desire and ambition to grow strong and independent so that she could take on her challenges without having to burden anyone else. She wasn't whiny or needy which sometimes happens in dramas so I didn't find myself overly annoyed with her. As for the male lead, all I can say is he was amazing. I loved his and the female lead's adorable little conversations and found their witty banter charming. I especially loved the compliment game.
music: the music was really good. Nothing really caught my attention or stood out but it was appropriate and suited the drama very well. The instrumentals for the super intense/crap just got real scenes were amazing and really built up the intense mood.
overall, I'd say this drama is a must watch! Although i'm still kind of waiting for that very late apology from that grandma (you'll know it when you watch it and then you'll be waiting too) but other than that, it was a beautiful drama about finding yourself and overcoming your obstacles as well as delivering the much deserved justice to a bunch of douchehogs who need to take a few years off to rediscover their humanity.
Was this review helpful to you?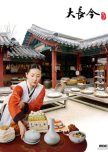 This is the first ever historical drama I actually finished. And I watched every. single. beautiful. episode. Without skipping anything. Now that right there should tell you how amazing and beautiful this drama was. I really loved how this mainly focused on the main girl's ambition, intelligence, and strong will rather then focus on only the romance. Although the romance in this was beautifully developed and really felt like true love, I liked that it didn't consume the entire story line.
plot: the plot was incredible, it was thrilling, complex, and simple gorgeous. I loved how they made it really feel like you watched an entire life take places and watched as the character grew and matured with the difficulties life presented her with. some people may not watch it because its so ridiculously long, but trust me, when you start watching it, you'll want it to be longer. the plot threw quite a few twists and new developments so I never grew bored of it and I found myself cheering for the characters who stood for justice.
characters: loved the characters. they were all so brilliantly crafted with their own unique quirks and characteristics that I found it easy to remember even minor characters. Plus there is a certain richness in the characters and character relationships that only really long dramas can bring about so when tragedy strikes and someone dies, the tears just keep gushing out. I also loved how even the villians had depth to them so that you couldn't completely hate them and even felt pity for them. Even though I often cursed one of the characters in this and found myself wanting to rip her face off, I actually cried when she died. that's how awesome they developed their characters.
music: I really just want to hug whoever was responsible for the music in this drama. They did an AMAZING job. I loved all the soundtracks played in this, it was both haunting and beautiful. I would seriously rewatch this drama just to listen to the soundtrack. Towards the last few episodes, the soundtrack at the end was especially creepy and haunting which was fitting and just plain awesome.
In the end I would highly recommend people to watch and then re-watch this drama. A very heartwarming and at the same time heartbreaking tale of overcoming your obstacles and learning to forgive and value yourself. beautiful coming of age drama. its one of those that don't leave your mind for a while. Definitely going to watch this again.
Was this review helpful to you?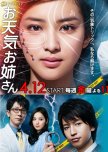 This was a great drama! The plotline was very unique, i've seen quite a few of dramas involving geniuses that help solve murder cases but this was the first drama I have come across that involved a weather genius. All of the cases were entertaining and never lost my interest. As for the cast, I thought that they were brilliant in portraying their characters, the female lead was excellent at portraying the emotionless genius and the male lead was absolutely adorable, I fell in love with his character immediately. The length of this drama was perfect so it avoided dragging on like some dramas do. I also really enjoyed the air of mystery and suspense that shrouded some of the main characters, it really kept you watching the drama. The music was okay, nothing particularly thrilling or catchy. The only fault I can really find was that I wish there had been more romance. I wasn't too fond with the way this drama ended either. Other than that, I thought this drama was fantastic.
Was this review helpful to you?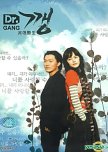 Dr. Gang
8 people found this review helpful
I was pleasantly surprised by this drama. Since it was an older drama I expected it to drag and for the quality to be poor but it exceeded my expectations. This drama is definitely underrated.
story: as far as the story goes it isn't terribly original but thats normal in dramaland. There were a lot of refreshing differences in the plot compared to other dramas however and it wasn't riddled with cliches. If there was a misunderstanding in the drama like we so often see, instead of dragging it out for 4 or 5 episodes, the misunderstanding usually got resolved within the episode and so I was never so frustrated I wanted to rip my hair out. The story progressed in a believable fashion and I felt everything was realistic.
characters: All the characters were nicely developed. I loved that the main girl didn't fall for the rich handsome successful guy and actually broke dramaland tradition and went for the poor and not so handsome guy. Their romance was beautifully done and their interactions were adorable. I loved that he wasn't a jerk to her and I loved that they were honest with eachother and their feelings.
music: the music in this was so-so. nothing stood out really.
over all I give this drama a 9 because it kept you watching and didn't lose your interest. I was rather really happy with this drama and I hope you consider watching it to.
Was this review helpful to you?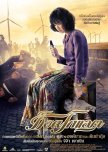 Took me forever to find a place to watch this but it was so worth it (viki is the best place to watch it by the way) In the beginning I admit I was extremely confused about what was going on but it wasn't long till things started to make sense so just hang in there. The characters were fantastic in playing their roles and the lady who played Zen in the beginning was absolutely stunning. As for both the child version and older version of Zin, I was blown away by how well they acted out someone who is autistic. plus the combat choreography was superb. Some of the best I've ever seen in an action movie in fact. You never got bored watching the combat scenes because there were always some refreshing new interesting moves being thrown in that kept you on your toes. over all, fantastic movie. I thoroughly enjoyed watching this one.
Was this review helpful to you?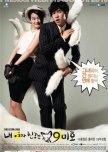 At first I was a little hesitant to watch this because I was under the illusion that it was mainly going to be comical and not have enough serious romance in it to fit my taste, however this drama went far beyond my expectations and turned out to be amazing!
storyline/plot: one of the best storylines I've seen so far in a drama. It was extremely unique and refreshing. I especially liked that it had a happy ending, although I had to relook a few times on the tags to see if was a tragedy because at some points in the drama it appeared like that was where it was headed. It was a perfect combination of comedy (definitely has some laugh out loud moments that were both endearing and hilarious) seriousness, and true love. there were a few times when I was really confused in the drama though. I feel that some of the stuff going on could have been explained a lot better and it got a little difficult to distinguish what was the truth and what was a lie fabricated to suite someone else's agenda.
Actors/characters: as for the acting I thought they did an amazing job depicting their characters. The girl they chose to play the Gumiho did a fantastic job at portraying fox like animal behaviors. A perfect blend of mischievousness and sincerity. She was an extremely likable character, I couldn't help but find her absolutely adorable. I liked how all the characters stood out in their own way had their own unique personalities, they didn't blend together like some do in other dramas. I also thought the male lead for this was perfect, there was great chemistry between him and the gumiho. They did an amazing job of making you feel like the two leads were really in love with each other, I haven't seen such great chemistry since the two leads in '49 days'
music: lets just say that its some of the best music I've heard in a drama. I'm now officially obsessed with their song 'fox rain' absolutely beautiful and a little haunting at the same time. Great choice in music.
overall, I really enjoyed this drama, I think they should do more romantic/comedies about inhuman leads. If you're undecided on watching this you're missing out on an incredible drama.
Was this review helpful to you?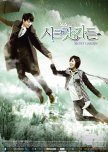 personally, I didn't expect much from this drama, but it definitely exceeded my expectations! Its not my favorite (but then again theres a crap ton of competition out there in dramaland) but its definitely on my top ten list. I liked how there was a lot more romance in it versus other romantic dramas. It didn't take the leads 14 episodes just to even decide they liked each other so that left a lot more room for romantic moments which were amazing.
plot/story: while to me, the drama seemed to be lacking a plot, I could still appreciate the main theme being falling in love and have fate bring you together in an extremely interesting way. I really felt like the two in this drama were destined for eachother and the body switching made their love seem more like the love between destined soul mates then just a simple crush like I've seen in other dramas.
actors: the actors were incredible in this drama! Even when they switched bodies you could definitely tell who was who by their behaviors and mannerisms. I thought the actors did an excellent job in depicting the opposite gender while switched from the way they answered their cell phones to how they sat. That in itself showed some amazing acting skills. Plus I really felt like they were genuinely crying in the sob scenes. I'm serious though, they must have envisioned a mass murder of puppies or something in order to cry like that.
characters: I really enjoyed their characters. The main girl never became a 'flat' character, she remained with a lot of depth and the male lead was the perfect combination of playful and sexy. There were other characters I wished they would have developed more like the director at her stuntman place. I really wish he would have come forth with his feelings or something, instead he just kind of faded away and it would have been nice to have more of a love triangle. However, I can appreciate that maybe they decided against that because I could see how it would take some of the spot light off the main theme which was unconditional love so maybe a lack of love triangle was for the best.
music: the music was good, I liked it. Nothing that memorable and some of it sounded like it came off of other dramas ( I swear there was one song in it that sounded like the one used in Scent of a Woman) but they played the music at good times and the music always related to the scene which was nice.
Other: on another note, I really enjoyed the action too in this! they had some great excerpts from her role as a stuntwoman which were really entertaining to watch. I especially liked the motorcycle scene.
And the ending was definitely one of the best I've ever seen in a drama. Really, thought, absolutely perfect and beautiful ending.
over all, I thought this was a really touching and beautiful drama. I'll probably rewatch it again some time in the future.
Was this review helpful to you?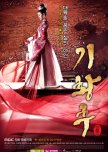 so at first, I was like 'man this looks good, holy hell its 51 episodes long! mmmm better not.' but then people kept urging me to watch so I said, 'you know? why not...i'll probably get bored of it anyway' but then two weeks later of non stop marathoning and it came to my attention that this is one of the best historical dramas ever.
story/plot: freakin amazing. I loved how there were so many other key elements in it besides romance like courage, loyalty, duty, justice and a little bit of good ol' vengeance. Everything in the story progressed nicely and tied into each other beautifully. And the characters changed with the dramatic life events that take place as well so they were very dynamic and awesome. it was very realistic in that sense. I also liked how there were a lot of surprises in the plot.
characters: okay don't get too attached to the characters because more than likely...they'll probably end up dying. seriously though, I felt like I was watching the game of thrones all over again with all the dramatic deaths in this. I really loved the main girl in this though. She is probably the biggest boss ass bitch I've ever seen. That girl knows how to get stuff done. She was a very powerful and enticing character that made the overall story rich. And unlike some other dramas, the girl in this one knows exactly how to exact vengeance. she don't mess around.
music: what is it with historical drama soundtracks?!? I have yet to come across one that wasn't freakishly amazing. The songs in this were amazing. I would buy this soundtrack no lie. they had perfectly epic music for the super intense moments that made you want cheer. Overall, I want to hug the music guy.
I would definitely say I would rewatch some of the episodes on this in the future, not all of them because that would take at least another month of my life I could be spending watching another epic historical drama, but at least a few of the more bad ass episodes. Forget the length guys, go for it! its so worth it.
Was this review helpful to you?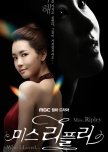 The reason why I decided to watch this drama in the first place was because I was little tired of the typical 'good girl' in Kdramas who were always honest, innocent, and righteous. I was definitely not disappointed when I watched this drama. The complexity of the plot and characters was refreshing and I found it very hard to decide who to hate in this. In that sense, Miss Ripley was brilliant. I liked how there was no black and white clear line between what was right and wrong and how everyone had their own story so instead of just being 'villain' they ended up 'human.' It was heartbreaking in all its truthfulness (kind of ironic since this was mostly about someone's lies.)
plot: The plot was fantastic. the scriptwriter obviously knew exactly where they wanted this to go and the plot was never lost. They did an amazing job at displaying how a person who has never been given love can become lost and unsure of whats right in their quest to find happiness.
characters/actors: the characters in this were brilliantly scripted. Each character had their own view of what is right and what is wrong, and don't even bother looking for someone to blame or hate, everyone in this is at fault while at the same time everyone in this is also a victim. In that aspect, this film really depicted human nature and life in general. The actors and actresses were extremely good at depicting their characters. I really felt their pain and desperation through every scene. With each episode you really start to feel the main characters world start to unravel. You kind of want to hate her for her lies and deception but then you can't help but feel sorry for her and want to love her for all the pain she's been through.
music: okay, the music guy needed to be fired. There were some points when I thought 'hey, this music fits this scene perfectly' because there were a couple of songs that were beautiful and really suited the main girl but then other times, it was a little awkward because here you have this sort of intense moment and all of a sudden a little bit of 80's like music comes on and sort of makes it feel like a bad lifetime movie. luckily, those didn't happen often and the 80's like music was just the intro to an okay song that ended up being suitable enough. so if you hear 80's music, just bear with it, it will end soon haha.
In the end I really enjoyed this drama. Someday I do plan on rewatching it when I want to feel particularly depressed about life. If you want something heartwarming then don't watch this. this is for when you have a box of tissues and you want to use it in one night.
Was this review helpful to you?
I originally wasn't going to write a review for this but then I just had too much to say about it. If you watch this and find you hate my opinion then I apologize and feel free to erase everything I write from your mind.
'Beautiful Days' really should have been renamed as either 'miserable days.' or 'the worst days of our lives.' because really that's all it focused on was tears....heartache.... and oh wait more tears.
plot: to be completely honest the plot wasn't that original or even engaging. although I will say a couple of characters circumstances were unique and towards the end, the main male lead's life completely turns around which I haven't seen happen in a lot of dramas. Beautiful Days was very refreshing in that aspect.
characters/ acting: I had no problem with the acting in this. The actors and actress could only do so much with their characters. and speaking of characters I completely fell in love with Sena. She stole the show for me because her spitfire attitude at everything was hilarious and in the beginning I only watched it for her absurd and rash scenes. As for the main female lead well...she was a dull as a doorpost that one. In the beginning she was just a really flat character that had the charisma and personality similar to that of what I'd imagine a dead slug to have. Luckily towards the last few episode she seemed to gain a little bit more of a personality though but I found it disappointing that all the side female leads seemed to outshine the main female lead hands down in terms of interesting quirks.
ok now lets move on to the main male lead of this drama. .......to be completely honest I found him a little creepy. He was good looking but somehow, perhaps by fault of the way they directed it, he came off a little....well creepy. I wasn't a large fan of the whole 'here, let me just....reach out and attempt to intimately touch your face....hahaha just kidding I was totally just reaching for the post card behind you because I get off on making you feel overly awkward and uncomfortable' scenes. Then there was that fond habit he had of just randomly popping up when you least expected him to in a very uncomfortable kind of way. For example, here's the main female lead having this nice little conversation with said second lead with some uplifting music going on in the background so i'm like I can roll with this when all of a sudden, with no warning from the director or easing into the scene BAM, the main male leads creepy leering face peering through a crack in the door. I don't know why but every time that happened (happened more than once i'm afraid) I jumped and got chills in a bad way. it gave me the feel of a horror movie. I really half expected there to be some scary music in the background during those parts.
chemistry: I don't really think there was that much chemistry between the two leads either. really just nothing. There were hardly any couple or heartwarming couple moments and more than half the drama he was too busy being a jerk or a terrible boyfriend to take her out on dates and really accumulate happy memories for those lovely flashback barrages we all love to see every three episodes. I could count on one hand how many times he was actually nice to her. All in all, kind of wish they didn't spend 19 episodes doing nothing but making each other miserable and then crying about making each other miserable. oh well, at least there wasn't a crazed jealous second female lead out to ruin their lives and suck the main male leads soul out of his body.
music: music was so so but Ididn't really expect anything awesome from such an old drama. there was one piece that I rather liked though which was the ending music. I could roll with it.
overall, I'd say this was an ok drama. don't think i'll ever rewatch it but it was a nice experience. You should watch it for Sena since she was hilarious and if you're curious about those dramatic almost horror movie type moments then give it a try. Also, if you're expecting a sad and tragic ending i'm pleased to say that you won't be crying you're weight in tears by the end of it either. Thank you director for that much at least.
Was this review helpful to you?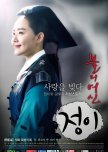 I can't believe I used to hate historical dramas. After watching Jewel in the Palace however, I feel enlightened which ultimately made me watch this one. I am sooo glad I did.
story/plot line: I absolutely loved the plot, it was excellent and I didn't feel like the writer lost interest. It was all beautifully organized and over all brilliantly touching.
characters/ actors: Ok the acting in this was superb. You really felt the emotions each character was feeling and they had some of the best crying scenes I've ever seen in a drama. The crying was so realistic and heartbreaking it made me cry. I really enjoyed that the main characters had ambition and willpower and that there was really no clear line about who was good or bad. There were times where you pitied and felt bad for the enemies and to me, that's realistic. No body is completely bad. Except maybe for her 'friend' in this. She was just evil. I've seen a lot of dramas where the main lead is hungry for revenge and sets out to destroy those who did them wrong but after watching this, it was refreshing because FINALLY we have a female lead who knows how to take revenge. After watching her exact her vengeance I was like 'and that ladies and gentlemen is how its done.' I wanted to see a little more romance in it but I loved and hated how they ended it. It was beautifully sad and realistic but at the same time infuriating to the point where I wanted to rip my eyeballs out. If you are a stoic person and don't cry through the whole series, be prepared for the last 3 episodes because I never once stopped crying through them.
music: everyone knows music makes the drama (that and the sexy lead actors of course haha) but while I still love and think the music Jewel in the Palace is unbeatable, this drama came pretty close. The person who did the music was never confused about what music was good for what scene and the music was so beautifully done it made every scene that much intense.
overall, i'd say watch this drama. You'll kind of hate yourself for watching because once again those last 3 episodes were killer but you won't regret it.
Was this review helpful to you?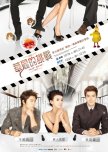 okay, I admit I had my doubts about watching this in the beginning. Since I had watched the anime long before I watched this and loved it, I was afraid they'd mess it up but i'm glad I ended up watching it! They kept in tune with the anime and even cleared up a few of the points that were muddy in the anime which was definitely nice.
acting/characters: I think they did a fantastic job choosing the cast. Shang and dun helian was exactly as I pictured them and portrayed their characters magnificently. I also greatly enjoyed the side characters such as the manager and CEO who each had their unique characteristics. okay the CEO in this cracked me up he was hilarious. There were a lot of times I burst out laughing watching this and 98% of the time he was the reason. the only complaint I have as far as acting go is the main girls character. although, she portrayed gong xi's character well, I still felt that when it came to the epic acting moments where Gong Xi was supposed to shine brilliantly, she was lacking a little and the scenes fell a little flat. I also sometimes wished there was a little more depth to her character.
story: loved the story. then again i'm a sucker for revenge plots and underdog rising to the top stories. I also liked how there are a lot of life lessons to be learned that were incorporated into the story such as learning to forgive, accept yourself, and love again.
music: soundtrack for this was amazing. I especially loved the music for the more intense scenes. definitely did a bang up job setting the perfect mood for a specific scene.
overall, I greatly enjoyed this drama. some of the special effects were super corny but that was what made it comical and enjoyable. seriously though, if the crazy bike scenes don't make you laugh then you're a stoic statue.
Was this review helpful to you?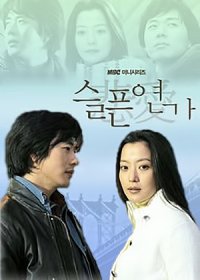 The only reason I watched this drama was because I had read the manhwa and loved it. I gave this drama an overall 7 though because:
plot: while the story line and plot were really good and unique, I found it to drag on for a long time in the beginning. The first 12 episodes was really just about the two main leads whining about not being together and then even when they were together they were still whining about other things. The length of this drama definitely should have been shorter say around 14 or 16 episodes.
characters/actors: the acting was really good but I found them lacking in character depth. The main female lead for example didn't really seem to have much of a personality which I was disappointed in. all the characters showed great chemistry however and the two main leads were excellent in depicting two star struck lovers.
music: The music was okay, nothing outstanding but it wasn't too terrible though
overall it was an okay drama, not something I'd rewatch but there were some things in it that were worth watching.
Was this review helpful to you?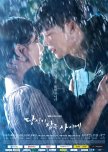 I know alot of people probably won't agree with my rating  but despite this, I decided to justify my rating choice. I normally don't because who even cares, but the more I thought about this drama after I had finished it, the more disappointed in it I got. While I liked it, here's my rationale behind why it's not the best out there or the greatest.
story: While the story was interesting and unique, I felt like it was ultimately directionless.  I loved the supernatural theme, and I believe that is what initially piqued everyone's interest in the beginning. Well, that and Lee Jong Suk of course ;) However, the more the story drug on, the more I felt like the supernatural unique aspects of the drama began to disappear and lose it's "magic" and appeal. It just became redundant and somewhat lackluster. In the end, the story tied up nice enough but I'm still left a little deflated with a lingering feeling that it could have potentially been more.
characters:  In the end, the characters and character development, or lack of I should say, was what disappointed me the most. Lee Jong Suk did a marvelous job with his character. I could see his growth from an immature troubled youth still struggling with deciding between right and wrong and later watched him grow into a young man who stood firm in his beliefs. It was a seamless transition and I enjoyed the progress. In comparison, Suzy's character barely had any character growth. Her character was one dimensional at most. It was flat and a little boring to be honest. I don't know why, but something about her acting never communicated to me or pulled me into the story. I had the same problem with our second male lead in question, Han Woo Tak. While a handsome specimen and a potentially intriguing character, I felt like he was even more tasteless and boring than even Suzy. Even worse, I was left hanging till the very end wondering what dirty little secrets he was hiding or quietly pondering the possibility that Woo Tak might be more sinister then he let on as some of the directing of this series seemed to insinuate. I was sorely disappointed however when his character and role in general just fell flat resulting in a character I strongly felt was ultimately pointless and boring with no real character development either. I sometimes felt the side characters at the law firm had more interesting interactions and character growth to be honest.
music: The music in this was superb. It fit the scenes perfectly and was able to pull the perfect emotion for every scene. It was as beautiful as the cinematography which I also happened to find beautiful and breathtaking.
Chemistry: The couple chemistry was only so-so. I didn't really feel much of a connection between the two actors and I continue to feel like their relationship bordered on closer to friendship then it ever did to an actual intimate relationship.
Antagonist: And finally, the biggest problem I had with this entire drama was the antagonist. It was almost comical how the painted a big red villain sign on Lee Yu Beom. Sure the dude was crooked and manipulative but as the series drew on, I expected a little bit of insight into his sinister mask. What made him tick? What was his backstory? Why was he so twisted inside? They had so many opportunities to draw forth various complicated emotions from the viewers with a more complicated and complex antagonist so I was sorely disappointed when they decided to paint everything black and white and simply made Lee Yu Beom into the typical "Born to be the bad guy" lead in which every action he has ever taken was meant to cause distress to our main heros. The struggle between the antagonist and the protagonist was much too disney version for my liking. Character depth is more realistic and has the potential to leave a more lasting impression on the audience.
With that in mind, I over all rather enjoyed this series. I'm not dissuading anyone from watching this, if you are considering watching it then by all means go ahead. It was an enjoyable ride and I don't regret watching it. I would say it was worth the watch. If you are looking for something rich in supernatural mystery or character depth then I would advise against it. This drama was more focused on things like standing firm in your beliefs, distinguishing between right and wrong, human connections, and how we are all ultimately tied together somehow in an intricate and dynamic web of fate.
Was this review helpful to you?