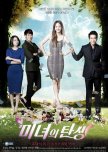 I actually really liked this drama. I loved how the story progressed and it doesnt have much drama to begin with. It's a romcom, so there are parts that are really hilarious! The storyline isn't too heavy and mature. There were parts that were pretty intense. The female lead is really pretty and the male lead is quite handsome too.
I had to skip episode 19 because it was too painful to watch. Like why would sara do that to him???? I dont find it reasonable. I also cried at some parts because it was just too painful. My feelings were all over the place! The fact that it made me cry and laugh, it means that i was really moved by their acting! i really consider this drama worth watching.
Although i think it could have been better if the drama ended with 16 episodes so that the story doesnt seem to be dragged out in the end but either way, i enjoyed the drama. Finished it in 4 days.
As for the romance part, i dont want to spoil anything but the guy was just too sweet. You guys have to witness that! Haha
I could have given this a 10/10 but i had to point out sara's acting. I know she's pretty but most of the time i think she's trying too hard. Like she's acting too "cute" that it becomes really annoying.
Over all, i really liked the drama and i would recommend it. It brought me tears, laughter, hate, and excitement.
Was this review helpful to you?
LITERALLY THE DRAMA THAT WILL MAKE YOUR HEART SKIP A BEAT.
I'm going to keep this review short. Defendant was one hell of a drama with so much emotions in it. This drama made me laugh, cry, angry, satisfied and beyond happy as a viewer. The fact that it has no romance in it, i coulnt believe it myself either that I managed to finish all episodes and i tell you, IT WAS SO GOOD.
You know when a drama is so good that regardless of how late it is at night, you would always want to press that next episode button. And that is exactly what defendant did to me.
All characters were on point. The story line was well written. And i'm giving it a 9.5 on music cause i wish there was an ost that stood out, which is totally understandable since majority of the music used were for suspense scenes that had no lyrics in it.
Overall this drama deserves a 10/10. Let your eyes do the work. WATCH DEFENDANT.
Was this review helpful to you?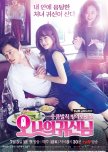 THE FIRST EPISODE DIDNT GET ME HOOK UP NOR EXCITED but that's only for the first episode. The following episodes were so good and the progress of the story was really captivating. I had to stay up late just to watch the next episode. IT WASN'T DRAGGY and it wasn't too fast either. i think 16 episodes was just perfect. FINISHED THE DRAMA IN JUST 2 DAYS.
I like dramas that has a lot of romance in it and OH MY GHOST definitely is my cup of tea. The romance was so sweet, cute and innocent. I love the characteristics of the lead characters.
THE MALE LEAD IS SO HANDSOME too hahaha
good story, good cast, perfect ending.
DEFINITELY A MUST WATCH
Was this review helpful to you?