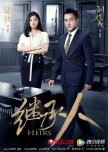 Heirs
3 people found this review helpful
The show would have ended in just 30 or less episode if just the writers followed the logic. The show never focuses on simple logic. Not even once.
If just the character once followed the logic that was right in front their eyes the whole show it would have ended eons ago. I hate this kind of drama where writers intentionally make an illogical choice just to drag the drama for a longer time.
The main female lead's facial expression wasn't so varied. There was only 2-3 facial expression. I don't why but I very much like those expressions. But, it would have been better if there were more.
In conclusion, it was an illogical drama where there is one after another birth secret. I don't know how the writers kept track of them.If you have time and you want to watch a drama where everyone wins and there is illogical twist after twist you can watch it.
Was this review helpful to you?