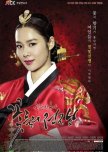 This is probably my favorite drama ever. The story and its pace are unbelievably perfect. The acting is so well done that it got me cheering for many characters such as King Injo, the Crown Prince and Princess, the queen and Yam Jun...
Yam Jun is what I like most about this drama, because she is in a very thin line between hero and villain since she's the main character and she's playing the role of a villain but I caught myself cheering for her, wanting her to succed in her plans so badly.  She isn't your regular kdrama hero... She's the exact opposite of it. In any other drama she would be considered a villain, but if you're like me you will be cheering for her for the most part.
The role played by Lee Duk Hwa was extraordinary. It was a beautiful thing when he was around children. King Injo has many beautiful relationships with other characters like Crown Prince So Hyun and his other children and grandchildren. Also, in his world he had a very very beautiful relationship with Yam Jun, despite all her manipulation and schemings. I think, for the most part, taking his perspective, it was a beautiful love.
There is a set of characters I love so much in this drama and that is the Crown Prince and Crown Princess. They have an amazing relationship despite being very different from each other. They make a very good team to go through hardships together in China. He becomes stronger with her and for him and her children she can get through it all. She's the strongest female I've ever seen in a kdrama so far. So Hyun is a gentle and thoughtful son to King Injo. He suffers so much in his life, trying to be the best son he can be to his father. The Crown Princess is the fearless female warrior always seaking to thrive and So Hyun is all heart. This couple seriously gave me the feels. I felt like they are, together with Injo, the only heros to cheer for.
The plot is all about scheming and ambition for the throne. It is a very political drama. Don't expect to see love and romance. Most characters would be considered 'evil' by most people I think... But I don't think exactly like that though. I think most of the characters feel very convincing... Not exactly bad or good... They feel almost human, I guess. It is indeed a very 'cruel' story for all characters so the plot is VERY dramatic (although I can say I never cried once but laughed quite a few times because this drama can be absurd sometimes and most of those times it is because of Yam Jun's way of thinking and scheming. She's just too much I guess lol). I've found the story unpredictable for the most part so I didn't get bored once. The storytelling still feels very fresh in the kdramaland imo. It is definitely not something you can easily find in another drama.
Was this review helpful to you?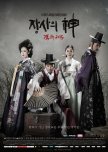 It is without a doubt one of the best historical dramas I've ever seen. I definetely recommend it for those who enjoy a highly political drama. It's certainly not for the romance seeking fellow drama addicts.
When it first aired I dropped it because the introduction was really bad but nothing surprising since I usually don't enjoy introductions in historical dramas (or introdutions in general), but I'm SOOOO glad I decided to give it another try even if it was just because I'd recently became a fan of Jang Hyuk but I skipped the introduction part and suddenly, when Bong Sam becomes a fully grown man, the story becomes really interesting and addicting to the point I never got bored once. It's actually hard to let go of this drama T-T
There are lots of interesting characters in this drama, specially Shin Seok Ju (believe it or not, I love him so much! He's an adorable villain!), Gil So Gae (another adorable villain with so much charisma) and of course Cheon Bong Sam (I love, love love him!). These three made confused as to whom I should cheer for LOL.  
The story is about the merchant class and one merchant who will go through all obstacles following his principles and going against anything and anyone to do what he has to do to survive and also what is right.  For fairness (and to survive), he goes against the powerful head merchant, the nobles and the palace if he has to.
Cheon Bom Sam's journey is definetely worth it. The story has a perfect pace, it's intriguing and keeps you curious through all the 41 episodes and I can't stress enough how amazing acting is.
The only con I can think of (and it is a weak one) is that it should've ended a little sooner so that the ending would've been stronger.
Was this review helpful to you?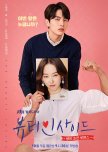 16 episodes were obviously too much to fit such a tiny plot. I enjoyed it enough to complete it but I was definitely bored at times. The cast did make it more enjoyable than it should and they are the reason I didn't give up on it (actually I did but I came back and finished it).
The leads and supporting characters were great. I really liked both couples.
Eun Ho and Sa Ra storyline was both weird (maybe because priests are the trend now in Korean dramaland but I don't get why this storyline was even written) and cute at the same time (what can I do?! They are both so adorable!) I just think it could've been better explored.
Han Se Gye's "illness" was really weird and at times I've found it could've been replaced by something else. Also that part of the plot was lazily done. Unnecessarily overdramatic and many times felt like filler. BUT Se Gye herself was really cute and I love her (and Seo Hyun Jin too.)
And of course Seo Do Jae. My favorite thing about this drama! I really love eccentric characters like him! And I'm glad Lee Min Ki likes playing them! Seo Do Jae and Han Se Gye were so lovely together!
The last two episodes were totally unnecessary. Some of those scenes could've been included but the whole thing was too much.
Was this review helpful to you?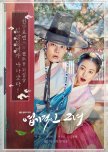 Aside from the first episode, in which the princess was too rude and I thought I could never stand her, the begining was great. But then for me it kind of lost its magic as it focused more on the conspiracy part. I mean, I love conspiracies, palace politics, political intrigue, etc., but this drama have failed in that department because it was written in a very silly way. I don't even know why I thought it could be any different from other dramas if its kind. I love the leads, they are freaking adorable but (most) supporting characters lack depth. The story isn't very much elaborated and the writing is lazy and childish. I love historical dramas but I usually keep my distance from this particular type of historicals - the ones who are made for people new to this genre or people who don't actually like historicals - and this drama just reminded me to continue to do so in the future.
Was this review helpful to you?
I just finished this drama and I can say it was a good one but not the best.
The pros:
The story is set in the imperial harem and the daily lives of the imperial concubines are imagined, detailed and portrayed in a way that I don't expect to see in any other drama.
Characters are really really good. Especially Consort Hua and the Empress. They were the characters that kept me interested  throughout the drama. Their backgrounds, reasons, intentions and feelings give their characters such a charisma that I think I will never forget.
Visually the drama is second to none and acting is outstanding in a way I can't stress  enough. Also details in behavior, customs and mindset of the characters are very well done.
The music is wonderful and couldn't be more perfect and appropriate.
The cons:
The beginning of the drama is very slow. It takes a long, long time for something important to happen.
Too many times I felt like the writers were focusing too much on side stories and the main plot was less important and didn't feel as elaborated. I never felt like it was the story of Zhen Huan. I mean, she was there and all but her story was never the focus of the drama, like the title suggests. The writers were too busy with side plots and touched too little on her story. We're talking about a drama that is 76 episodes long, people! And we're also talking about a drama that is called 'The Legend of someone' but that someone doesn't do much??
Before watching this drama I thought Zhen Huan was going to be a badass protagonist but she just happens to do nothing...
One of its mistakes was the weak ending. I was expecting so much more!I never felt like it was actually ending except for the fact of having watched too many episodes. The ending happens out of nowhere. There isn't a strong build up. It just happens out of the blue... I'm not saying the ending doesn't make sense, but you'd never see it coming because there isn't enough build up and you can't guess what the main character's intention is in the first place. Like throughout the drama you can never get a clue of what's she's thinking of doing or planning to do. Is it the best decision when writing a story? The main character should be the one you know best but I guess not here.
Was this review helpful to you?