Details
Last Online: Mar 13, 2019
Gender: Female
Location: Brazil
Total Edits: 0
Birthday: March 16
Roles:
Join Date: November 26, 2015

MairaMartins
Brazil
MairaMartins
Brazil
Hi there ~~
My name is Maira, but please just call me Mai! I'm 18y and I'm from Brazil. That's enough information about me, right? Now let's head up for my favorite part, and what's everybody who is here are waiting for, dramas, movies, live actions, and all that good stuff we love ❤
----------------------
How it all started for me?
Well, I'm not sure of how it really started, but I know what hit me first: kpop! 
(If you also started with kpop or jpop, please come here and let me hug you buddy❣)
One wonderful day in 2012 I was just wandering around at the wonderful world of youtube and I found some treasures like "bubble pop" and "gee". At first I was like this:
But as you can guess (because here I'm now, right?) I could not flee from my fate. At that time, I just got into some Hyuna and SNDS's songs, but time leaded me to drown more and more into Korean entertainment gradually.
At January of 2015, during my summer break from school I got curious about a "tv show" called Dream High. I saw the title and thought "well, I should give it a try, I'm not doing nothing anyway..." and then, my friend, was when my drama's obsession has started, just like that >< 
----------------------
Favorite Dramas
Yes, I'm a drama addicted, we all get it. Now, what are my favorite dramas? Let's see..
Dream High ❤
Yeeees, my first drama, my first love, my first oppas, the first place in my heart. With Dream High I discovered Suzy and IU (my ultimates), 2PM and Kim Soo Hyun ♥ oh boy, I luv this drama.
I dream high 난 꿈을 꾸죠 

힘들 때면 난 눈을 감고

꿈이 이뤄지는 그 순간을 

계속 떠올리며 일어나죠
I also enjoy "Dream High 2", but it isn't one of my favorites >< ...
You're Beautiful ❤
Four boys in a band, what could go wrong? Wait, three boys and a girl? Three boys and a NUN, who's dressed like a boy? COOL! This was on netflix by the time I watched, it was my second drama and I loved it! Oh my Jung Yong Hwa, I'm sooo glad I found him at my second drama!
Heartstrings ❤
Third drama in my life, third favorite, this is getting a little obvious, isn't it? But this is the last, from now on it will be out of order. I just followed Shin Hye and Yong Hwa from "You're Beautiful" and ended up with another favorite. One of my favorite couples on dramas, and one real shipp, YONGSHIN IS REAL (but you don't have to believe me, this is just one wish that I try to believe)!!
Just look at him one more time ♥ 
And now look at this cutie ❣ Kang Min Hyuk was soooo cute on Heartstrings
The Heirs ❤
Here's Shin Hye again, in another drama with Kang Min Hyuk, and plus Lee Min Ho!!! Yes, it was my first drama with Lee Min Ho, and yes, I fell in love with him (I'm easy like that, hahahaaa). 
And at last, but not least, Kim Woo Bin! He's so attractive, dammit!
Who Are You: School 2015 ❤
Ohhh, this drama. I've cried a river while I was watching it! The story is amazing!! It gained me at the first episodes ><
Noble My Love ❤
Soooo sweet! Some people may not like it a lot, but I found it really cute, I loved the cast and now it's on my favs list ♥
Sassy Go Go ❤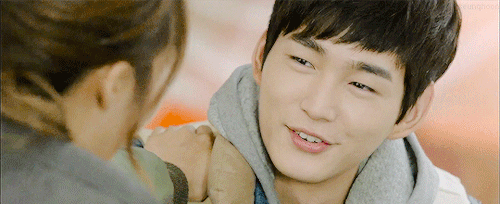 Pinocchio ❤
I was following Shin Hye again and I discovered Lee Jong Suk, an incredibly good looking guy who's also an amazing actor. I also discovered that I'm going to follow Shin Hye forever, I can't help falling in love with every single drama she's in, ooooh girl!
(What a cute couple, right?)
Boys Over Flowers ❤
Splash Splash LOVE ❤
When this mini drama ended I was in tears wishing for more, it's soo addicting ♥
Cheese in the Trap ❤
I can't even start to say how much I went crazy over this drama. To wait every week for new episodes killed me. The couple had chemistry and ... I can't explain, I LOVE THIS DRAMA! (I'm saying this way too much, right? but is true!)
Another Miss Oh ❤
This is the last drama that I added to my favs list, and it couldn't be different. It's an amazing drama, with an awesome cast. I strongly recommend it!
Statistics
49d 20h 28m
ALL TIME
1,313 episodes, 78 shows
15h 20m
ALL TIME
8 movies
List Updates
Currently watching

9

/12

Mar 13, 2019

Currently watching

6

/16

Oct 24, 2018

Plan to watch

Oct 22, 2018

Plan to watch

Oct 22, 2018

Currently watching

24

/32

Nov 5, 2017

Plan to watch

Oct 24, 2017

Plan to watch

Oct 24, 2017

Plan to watch

Oct 24, 2017