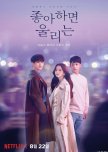 This review may contain spoilers
first of all this went quite well with the high school romance thing. Tbh the concept's really good and unique which they pulled of with the concept of a love app. But i don't get why they had to still keep on with the love triangle. The female lead's backstory is quite common but i find there no shame to be open about it the drama to the main male lead. And there's no logic in her breakin up with him in the first place when he loved her alot. I felt a lot bad watching the male lead love her till the end after trying so hard to get rid of his feelings. The female lead suddenly having no feelings for him made no sense at all and how tf was it even possible? The most common theories contain the disapprovals of the well-off family sides which isn't even prevalent here so i see no logic behind the female lead to suddenly give up on him. And the second thing is the second male lead. I'm kinda unhappy with the cast since they could've added a slightly more good looking person as the 2nd male lead since they had to keep the love triangle going. His acting skills are really good but his visuals don't go along the main male lead at all. I mean there is something called "COMPATIBILITY" and if they were supposed to create rivalry they should've maintained that. However i hope the 2nd season wouldn't disappoint :)
Was this review helpful to you?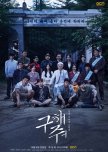 Save Me
0 people found this review helpful
This review may contain spoilers
the story was lit af and the cast was more amazing...even the supporting people including the guests put in their everything and worked really hard and therefore came out to be a perfect one...i really loved woo do hwan's character here...and they really worked hard in maintaining their satoori accent which was quite difficult...the ending was goood and i think i had problems with it...and some parts of the story related to the spiritual father did not make sense...if the authority of the previous church in Daegu knew about his crimes and false identity..why didn't they inform it to the police?? and the purpose f the spiritual father was quite lame...he went this far spending soo much money just because he can exercise his pedophilia?? that was quite lame..and the scene in the 1st ep where he was seen to cure a cancer patient by bringing out the tumor looked like he knew sorcery or black magic or something...but in the end eps they showed that he was faking everything with the fire and the book thing...on the other hand..governor han's wife has been ill since 2014 but in the last eps sang hwan claims that she had been pushed off the cliff by the governor in 2016..they made a huge mistake here....and the guy byung seok (who made sang jin die) didn't die but sang mi's mom saw his soul coming at her which was also a mistake..ok that could be hallucination....and they could've made the ending more good..overall it was a really good drama...you guys should give it a try...
Was this review helpful to you?
This review may contain spoilers
don't know..but don't think you should waste your time watching this...i bet many of you would think that this is the Chinese version of "my introverted boss",,,which isn't true and the actors totally suck here..their acting is bullshit when they try to pull out something funny........don't think comedy suits it........however it's my opinion...the plot becomes too boring in the middle and they pull out unnecessary stuffs which aren't at all related to anything...however they did nt put much effort in casting the actors and that is why this contains low ratings.....
Was this review helpful to you?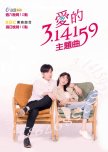 Love & π
1 people found this review helpful
This review may contain spoilers
this plot was kinda okay and even the cast was fine...still this drama makes no fucking sense where the two leads get all the opportunities but the supporting casts do not..however their chemistry looks totally fake..some of the supporting actors are given pitiful ive sand they are also made to act pitiful without any fucking reason..it get's really boring after the half but many of you will think about watching it in the first..don't know.i think Taiwanese dramas do not like happy endings at all..it's ending was pitiful and not at all expected..they tried to add some complicated twists which made this drama more worse and they didn't even end it properly making the desired consequences.....it's just a waste of time..
Was this review helpful to you?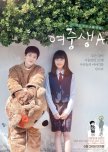 first of all, stupid plot..not weird..and the thing which is the most important thing here is.. suho's bad acting skills...people don't say that idols lack acting skills for no reason..i'd probably skip all the dramas he'd be casted in..and even the movies..his worse acting just can't be tolerated...nothing really wrong with other people..but this is just a waste of time where you can instead cook for yourself and have a feast..
however this is just kinda my opinion..you guys can check it out if ya like cuz this movie in some way represents the life of a real middle school student..not really..still yo can check it out..by the way..i judged cuz i watched it..
Was this review helpful to you?