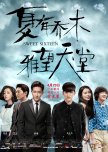 HOW IT BEGAN AND ENDED:
At the beginning: Beautiful and warm...
Near halfway: Heartbreaking... (on unrequited love)
Halfway: Dark and destructive
Ending: Hopeful (That's a hint that it ended well.)
WHAT I LIKE:
The cinematography and the amazing music went well with all the scenes. I just wish Xia Mu would have more dialogues, but I understand he's a stoic and emotionless character from the start so he wouldn't speak much. Rather, he will progress and develop as a character through action. You'll see how much Xia Mu has grown and how he became a stronger person throughout the movie. He had gotten himself in trouble many times for Ya Wang. Even though he was impulsive, he was heroic on most events, and brought together this message and lesson to the movie:
"Love is courage, love is joy, love is sacrifice, love is not a sin. Once missed, it'll be a lifetime."
NOTE: Also please watch the movie first before you decide to dig up the real ending to the original story... You'll thank me later.
Was this review helpful to you?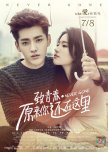 WHAT I THINK IS GOOD:
The movie's not perfect, but I still love it :) Great music, great cinematography, and dialogue exchange on confessions ... I replay all the couple interactions between the two main characters, just because, I'm a sucker for make-out scenes.
WHAT CAN BE IMPROVED:
It would've been better if it included a backstory (as explained in the original novel) on how Cheng Zheng fell in love with Su Yunjin. Also, the movie did not provide more scenes on events that occurred, ultimately not giving enough time on characters to grow and develop properly throughout the story.
Otherwise, the movie is great. The ending was slightly disappointing because I wanted a more straightforward ending, but it opened up questions and allowed me to think about what should happen based on the decisions the couples have made in the story. It's a neutral ending and I didn't see anything bad from it.
By the way, this movie ending isn't the actual ending to the story. If you watch the MV version of the theme song to Never Gone you would see the perfect happy ending that most viewers would be looking for. *raises hand* :)
Was this review helpful to you?