If you're still experiencing technical difficulties, please report it
here
.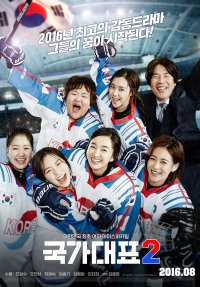 Run Off
1 people found this review helpful
It was an emotional ride with all those 'Mighty Ducks' feels - an excellent sports movie, that shows just how much grit it takes not to win, but to keep going.
I loved the fact that first; it was focused on the women - all that girl power! And second; it was based on a true story - it shows the courage, the hardships and the relationships that formed over the course of time as they became a great team - not just in skills but because of what they had to endure to get to where they are.
The actressesssss; from Soo Ae (Sweet Stranger and Me) who plays Lee Ji Won, and Park So Dam's' guest appearance (Cinderella and the Four Knights) who plays Lee Ji Hye. As sisters in the movie they brought all that sass and strength to their roles.
You can see a lot of development in the characters/ people they played. For instance Kim Seul Gi (Splash Splash LOVE), who's plays Jo Mi Ran, who at first seems more focused on getting paid than being in a team, but soon evolves into a player that puts a lot of heart into ice hockey. Also, Kim Ye Won (Tomorrow with You) who plays Kim Ga Yeon, who is unemployed and whom is at first only interested in her appearance, but soon develops into someone with a big heart and who isn't afraid to get hurt.
Whether they were at all like the people they were playing is yet to be seen and whether the story stays true to the real events, we cannot be sure, nevertheless they all did well and it put a big spotlight on a team that deserves praise for their efforts.
I definitely recommend this!
Was this review helpful to you?
As One
0 people found this review helpful
Such a remarkably touching story. It truly depicts the sorts of tensions that arise through the unification of the two teams and at that time of the two countries too.
What starts out as a race for gold, slowly develops into a great story of friendship and overcoming the odds.
The two leads Ha Ji Won and Bae Doo Na were amazing - and likewise the supporting actors were equally great in generating this feel for a growing unified team. The emotions were craaazy.
I have a serious love for sports movies as they are often so inspiring and for movies based on real life events - and this movie combines the both. Aces!
If you want something similar I would suggest 'Run off'.
Was this review helpful to you?