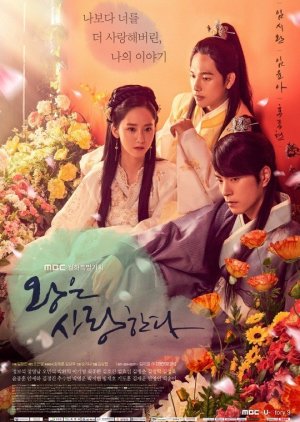 It's over, and the feels are still here.. That's what my ranks are based on!
Well , this drama was the most I was waiting for this year - except of Criminal Minds of course ( because of LJG), and I can say I liked it from the first episode.. The acting was a little raw then, but the cinematography, the mood and the music made it for me! I wasn't really familiar with the actors before ( except Jong Hyun from ML), and I want to say  three of them really impressed me!
Im  Siwan - it was really my first time seeing him, and he was great, from the first moment till the last! I wasn't always agree with Won's character, but he gained my love and respect in the end!
Yoona - I've seen her in couple of episodes of Love Rain, and I've heard some bad rewies about her, but I loved her and her character so much in this drama! There's always something annoying for me in the female lead in all dramas, but I haven't felt it here! She was always adorable, cheerful and brave through all the story! And she could convince me when she started to love the one she loved..
Jong Hyun - If the 4th prince wasn't played by Lee  Joon Gi in  Scarlet Heart, I'd definitly have crush on this sexy villian :) I hated him there, but sometimes I also felt bad for him - that means he could deliver his character! In King in Love he was the total opposite of Wang Yo.. Maybe he was a little frozen at start, but slowly he opened up, and brought one of my favorite characters ever! Yes, I was team Rin, and I'm proud of it :)
There were very different opinions about drama's love line - some loved it, some hated it at the same line, and I want to say - that's what one of the best parts of this drama, but it's also what lowed it's rating (I think), because most people like predictable....  
First of all- imho - there's no first or second lead in this drama - the three of them are main leads -and they totally deserved to be called it! Because this story is about  friendship - deep and genuine, between three young people! And  the actors did amazing job, showing how much these three deeply loved each other! Sometimes love story came in the middle of their frienship (of course!), but none of them didn't want to hurt another, and that what made this story such painful for them! But at the end they have learned how to understand and sacrifice for each other!  The open ending was satisfing and not at the same time for both teams, but it left a little for imagination of all of us! Thank you, writers for making this story so unique!
There were a lot of scenes that I laughed and enjoyed with the characters, and closer to the end a lot that made me cry! It was lighthearted and bittersweet at the same time! One of my favorite scenes were of course Rin and San goodbye scene and the scene on the cliff... Both broke my heart! Also the last friends'  jorney together - we can see how three of them have changed  and grown up there..
I also want to compliment cinematography and the music - both were spectacular ( total joy for video maker :), and I wish there was this cinematography and music in Scarlet Heart - but it still the most perfect drama for me!! :)
I know, I will rewatch it! Maybe not from the first episodes, but I totally will!
I think that's it.. I guess  I made it clear that I totally loved this drama, and would recommend it to everyone.. But I know, not everyone would love it...:)


Was this review helpful to you?