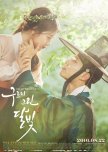 What a drama! This k-drama completely took me in for a ride and I genuinely loved every second of it.
To start off, this drama initially began as your basic gender bender. Typical. However, as you find yourself deeper into this drama you find underlying in that plot is so much more. There is a balance between your heart fluttering moments of pure fluff, moments that will make you laugh and the absolutely heart-wrenching moments-- this balance continuously plays with the viewers' heart, and it's exactly what keeps them wanting more. Since it was a romance historical drama, there was plenty of political elements to follow along with as well. I myself am a huge sucker for historical dramas, so naturally I found that this particular plot wasn't that hard to follow along with. But for someone who doesn't find much interest for them, they play a huuuuge role in the plot development - so I probably wouldn't recommend it.
The only portion I had dissatisfactions with was with how the story carried out towards the end of the drama. It dragged on for a little bit and then at the very last episodes everything felt very rushed to tie all the loose ends. There were a couple story arcs that they could have expanded on a little more which was disappointing. If they had cut the filler episodes a little short and was a little more detailed in the ending, it would've been absolutely flawless as a drama. But overall, the story was nothing short of amazing.
The general performance of the whole cast was exemplary, having both a reputation for their acting and endless eye candy! I even found myself becoming a Park Bo Gum fan in the process.
For starters, Kim Yoo Jung never fails expectation, upholding her crown as one of the best upcoming actresses with yet another hit drama to her lengthy list of filmography. Her character Ra On is a charming, optimistic and extremely outgoing. As having one of the more complex back stories in the drama, there were a few plot holes dealing with her family but nonetheless, it was carried out very well.
Park Bo Gum's presentation of the crown prince Lee Young was all in all praise worthy. I didn't feel much awkwardness from him even though he isn't nearly as experienced with historical dramas in contrast to his cast members. His tone, stance and relaying of emotions (his eyes I swoon every time), were executed in a manner that truly brought his character Lee Young to life. Not to mention, he suited the hanbok extremely well (and was very good looking in it). Although he was one of the more dull character archetypes, it was still entertaining to watch him grow from a childish troublemaker to a mature and refined crown prince.
The romance between the two was also lovely to the eyes, and although there is a bit of an age gap I didn't feel it as the chemistry between Bo Gum and Yoo Jung strongly made up for it. Although the romance did over shine the development of the friendship plot.
I definitely wish they would have shone a bit more light on the other characters Byung Yun and Yoon Sung. There was a lot of potential that the writer could of utilized to enhance the plot. These two character archetypes were definitely more on the complex side and it would've been really interesting to see more of their development and more of their story all in all.
The music in this drama was definitely really lovely to the ears, nothing really too special but they did include an OST by Park Bo Gum himself which was definitely a treat.
Another thing that I would like to make note on is the cinematography. I absolutely adooooore when producers pay respect to these aspects and I was taken by surprise at how stunning some scenes were. From the first episode until the very last, it was extremely extremely beautiful.
On the whole, this drama was definitely an exceptional coming of age drama deserving of all the hype and you should definitely give it a chance.
Was this review helpful to you?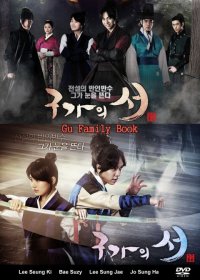 The love line between Yeowool and Kangchi was absolutely beautiful. They were a couple that didn't have a lot of kisses but despite that, you could feel their love from all the little things. The way he looked at her, the way they smiled when they were together, the way they spoke (GUDAE), it looked like they were genuinely in love. Don't forget the loyalty of all the characters, the friendships were so admiring it was touching. Although I was a bit hesitant to watch after Wolryung and Seohwa (their love was beautiful as well) and we got to Yeowool and Kangchi's part because they seemed like such an awkward pairing, but then I ended up getting sucked up into this story line more. Everything just blended so well together: from the revenge plot, the love plot and the friendship plot. It never failed to pull me in and want for more.
Since I'm used to hearing modern day language from Seunggi, Suzy and Sungjoon it was a bit weird at first to be honest. The meshing of all the characters just didn't feel like it would work and even the love line with Suzy and Seunggi seemed like an odd pairing because they acted more like siblings. But as time progressed, the chemistry between all the characters seemed to knot so well together and it was just perfect. They stepped into the shoe's of their character flawlessly and even though Suzy showed awkward acting in the beginning it got so much better after a few episodes. KANGCHI, YEOWOOL, GON AND MASTER GONGDAL WERE JUST TOO ADORABLE SOMETIMES I COULD NOT HANDLE IT. Even the main villain, had me believing him to the point where I wanted to wring his neck.The cast had me both crying and hysterically laughing. Couldn't have asked for a better cast for this drama. (especially wolryung mmf that guy is sexy)
They often replayed the same few songs, but not once did I ever get sick of it. I'm a sucker for musicians like 4men and boy did they hit the spot with me musically. The songs were beautiful and fit so well with the drama, with a magical feel and most of the songs have you feeling up in just a second. I have no complaints in this area.
Rewatch Value: It was an amazing drama, don't get me wrong. I will most likely end up rewatching my favourite parts but I'm just not one to rewatch a drama again.
Overall: 10/10
I'd definitely recommend it to you if you are looking for a drama that makes you wanna smile from ear to ear, wring someones neck out and bawl your eyes out (and i'd definitely watch it if you are looking for some good eye candy)
Was this review helpful to you?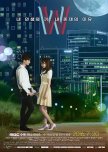 W
4 people found this review helpful
The story of this was originally what pulled me in, it was creative and something entirely new being introduced to the k-drama land. During the first few episodes, the plot was executed quite well - it was something that hooked viewers and kept them on edge. An hour was extremely short, it almost felt as if each episode was 20 minutes and each episode had a cliffhanger. They left you wanting more. However, as the romance became a main storyline everything started to become messy. Too many plots and conflicts were introduced and it was almost confusing. It felt like the writer rushed to get a ton of ideas in with only 16 episodes. Hence the rating of 8.5.
As being an avid fan of Lee Jong Suk's acting and a sucker for character development, I was extremely excited to see how the characterization would pan out. Needless to say, I was both disappointed and immensely satisfied by the end of the drama. All in all, Han Hyo Joo's character and acting turned out to be the biggest let down. I went in expecting a strong and independent female lead with so much potential, as she was in the beginning. However, as it dragged on more and more the only characterization I got from her was Kang Chul's girl. Also, her acting was almost always over exaggerated or awkward.
Kang Chul's character pretty much had little development, although having much potential for so much more. Which also limited Jong Suk's acting to that. It was a pity and disappointing with the way the writer went about those two.
Surprisingly though, the character that managed to be the dark horse was Kim Eui Sung who played Oh Seong Mo. It was absolutely phenomenal, I found myself pitying him one moment to hating him. Whenever he was on the screen I was completely at the edge of my seat. This particular role gives the drama catharsis and does it extremely well. Besides a couple other characters with the means of comic relief, the rest do not really strike as memorable nor interesting.
There wasn't many OSTs, as just a couple were used -- not one of these songs left an impact or were noteworthy. However, the music used did play an extremely good role in setting the mood.
Overall, this k-drama was extremely entertaining and a good run. Would recommend it, especially if you need a time filler!
Was this review helpful to you?