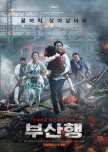 This review may contain spoilers
I swear to god this darn tear-jerker.
If you're looking for a real horror, this isn't it.
If you hate crying (lmao tf), this definitely isn't it.
I'd say for this movie, it's tragedy before horror. Sure, there are some horror elements, however- it's really more sad than scary.
The story is subtle. It's not deep. I have to remind you that this show's literal title is TRAIN TO BUSAN. It's a whole show about characters doing their utmost best to reach the safe zone- Busan. On a train. It lived up to its title, i'll give it that.
The acting and characters were great. Gong Yoo's acting is great, it's a given. His character's development was great. He went from a selfish to a selfless man that cared about others more.
Ma Dong Seok's character is as likeable here as his character in Bad Guys. You'll get fixated with his character for sure. This actor deserves more recognition.
And the most unexpected- Kim Soo An. She's an adorable and talented little actress. Then again, most Korean child actors and actresses have that shit going on. The other main characters were alright.
There will be this asshole which will piss you off the most among all the characters in the movie. Don't worry- this isn't a major spoiler. He'll strike a nerve from the start so it doesn't matter. You would want to kill him too. Head's up, it's Kim Eui Seong's character. He's not likeable I must say. However, he played his role well.
The music is good. It's suitable when it's suitable. That's all I can say.
Rewatch value: 10
Heck yeah i'd watch it again.
I can tell you that I am definitely not a fan of zombie movies but as I said earlier, it's more of a tragedy than horror. So if you're a major zombie-apocalypse-kind-of-movie fan that finds value in the horror aspect and expects this movie to fulfil it to its best, don't expect too much. The makeup's great though- just sayin'.
Even if I cry my eyes out again, it's worth the watch.
If you enjoy a little bit of horror, action, thrill, a little wincey bit of comedy and tragedy, give this movie a go. It's one hell of a ride.
Was this review helpful to you?