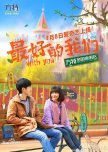 With You
28 people found this review helpful
With You is SUCH a feel-good drama, especially if you like these kinds of slice-of-life, youth high school dramas. The friendships and relationships are so CUTE and feel so real and relatable. It realistically portrays a high school/teenage experience, complete with school struggles, family issues, and the making and breaking of friendships and relationships.
This series follows Geng Geng, a slightly awkward but adorable first year high schooler who feels like she's not smart enough to be at the prestigious Zhen Hua High School. The first day she happens to meet her future deskmate, the brilliant Yu Huai, and although they bicker at first, they soon form a strong friendship. They all become good friends with their classmates and have a strong bond with their teacher, Zhang Ping. Geng Geng also attracts the attention of the school's resident rebel, Lu Xing He, who quickly falls in love with her and isn't shy about announcing his crush to the world. The show follows Geng Geng, her friends, and even their teacher, through their struggles in both school and life. The show mostly focuses on their first year in high school, but toward the end also looks at the rest of their high school life and a little bit of the future 10 years later.
Like other similar shows, I love how With You develops really deep and complex characters who feel real. No one is flawless and everyone behaves in a very realistic way. I like that the main conflict comes not from villainous characters, but from challenges in life, such as struggling in school, controlling parents, unrequited crushes, and the like.
I LOVED Geng Geng's rapport with both her primary love interest, Yu Huai, and secondary love interest, Lu Xing He. Yu Huai and Geng Geng clearly like each other from day 1, but neither of them admit it. But what makes the show so beautiful is their friendship and the ways in which they support each other and look out for each other. Their relationship doesn't have grand gestures of romance, but has a solid foundation of friendship. On the other hand, Lu Xing He makes it clear from day 1 that he is in love with Geng Geng and his relationship with Geng Geng is full of shameless declarations of love. He is similarly supportive of her, and so selfless in trying to make sure she's happy.
The only reason I wouldn't rate With You a full 10/10 is because I felt like the ending escalated a bit too much in drama and got a bit too convoluted with misunderstandings, tears, and people hurting each other. It felt too much like a traditional romance drama rather than the slice-of-life type drama it had been all along. But overall, With You is definitely a good watch for warm and fuzzy feelings and adorable friendships.
Was this review helpful to you?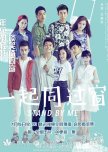 Stand by Me is a great drama for anyone who enjoys a good slice-of-life, coming-of-age college drama. I really enjoyed it for the way it realistically shows the characters going through struggles with friendship, relationships, family, and leadership. All the characters and conflicts feel real and relatable, and the portrayals of the friendships between all the characters are heartwarming and fun to watch.
This show follows three best friends, two guys (Lu Qiao Chuan and Ren Yi Fan) and a girl (Zhong Bai) as they go to college together and make new friends. Their friendship is put to the test when Lu Qiao Chuan starts liking a new classmate, creating tension between him and Zhong Bai (who has a crush on him) and Ren Yi Fan has to try to mediate between the two. The show also takes a peek into the lives of some of the new friends that the three meet in college.
The characters are real and complex and the show avoids painting anyone as exceptionally perfect or exceptionally villainous. The show pacing can be a bit slow because there isn't a greater overarching plot. Instead, there are a lot of plot arcs that span a few episodes and each deal with different issues that come up in college, friendships, and relationships.
I really enjoyed that the show gets a bit meta with regards to the drama genre as a whole. At various points in the show, our two "second leads" (romantic rivals who aren't really romantic rivals, but are just people who also happen to like our main characters) frequently refer to themselves as "Girl 2" and "Boy 2" and talk about how their lives would play out if they were in a Korean drama. That got a few laughs out of me. And it's great because the show doesn't play out like a Korean drama.
My favorite character in the show is probably Xiao Hai Yang, one of Qiao Chuan and Zhong Bai's classmates who has been held back for two years in a row. He immediately takes a liking to Zhong Bai and is such a sweetheart throughout the show. I definitely liked him way more than Qiao Chuan, who appears to be the main "protagonist" of the show (a lot of the situations revolve around him.) One of my favorite plot arcs/episodes of the show involves Hai Yang and his past.
Overall, Stand by Me is a really great drama for someone who enjoys watching a show that can be a little slow, but feels very real and relatable. You won't really get any of the melodrama or excitement that you would expect from other more plot-driven shows, but you'll still shed a few tears and laugh a few laughs because the friendships are so beautiful.
Was this review helpful to you?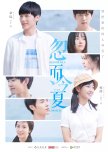 Suddenly This Summer is a coming-of-age, slice-of-life drama that feels SO realistic and relatable. He Luo and Zhang Yuan, the main characters, have one of my all-time favorite drama-land romances. This show isn't as addictive or dramatic as some other similar shows that I've liked (such as With You). The focus is really on character growth over time, which some might find boring, but it's so relatable and solid and sometimes it's nice not getting emotionally jerked around. :)
THE GOOD: Realistic relationships and romance done right. Also some pretty good acting and good pacing.
Having a realistic, wholesome romance seems so simple, yet it's amazing how much I love this drama BECAUSE of how well the romance and relationships are done. You won't find any cliche plot twists or evil and petty romantic rivals here. Instead, the villains in this show are time, distance, change, and circumstances of life. Sure, there are some romantic rivals, but it's astounding (and almost UNrealistic) how RATIONAL and normal they are! They respect the fact that the people they're interested in are in relationships and don't try to sabotage or intentionally mislead. Which seems pretty standard in real life but is really novel for drama-land.
Both Bu Guan Jin (who plays He Luo) and Bai Yu (who plays Zhang Yuan) are so great and natural in their respective roles and really bring each character to life. Part of what makes the show and the relationships and character growth feel so real is in the acting! There's no stiffness and they emote so well. The pacing of the show is also good, with time devoted to high school, college, and post-undergrad so that we can really watch the characters grow over time.
THE BAD: I'm being nit-picky but -- random anime scenes and confusing passage of time.
This might be a personal thing, but I really didn't like the anime scenes that frequently showed up in the beginning of the show, and gradually disappeared. I get that it might be an homage to the original novel, but to me they felt random and didn't really add to the story. I would rather get more time spent on some of the side characters!
I also found the passage of time really confusing throughout the show. The scenes flowed together, which made it feel like each episode was only spanning a few days, when in reality sometimes they would cover whole months or years. At one point I thought only a month of college had passed, when in reality the characters were already in their second year! What! I only remember two parts of the show where the passage of time was actually shown in captions. It would have been a lot less confusing if they had shown some sort of intermediate shot showing the passage of time. Maybe the seasons changing? It didn't really detract from the viewing experience, but just made me confused.
Overall, I would highly suggest watching Suddenly This Summer if you like realistic romance and slice-of-life dramas! It can be a little slow and doesn't have a ton of ups and downs -- I didn't really cry or squee -- but it's wholesome and will leave you feeling good.
Was this review helpful to you?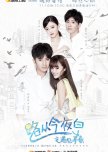 I have a lot of mixed feelings about The Endless Love/The Journey from Tonight is White. It's not quite your classic idol drama, but it's also not a true slice-of-life school/youth drama either. I would say that it's a good, light watch. It features a strong relationship and likable characters. I didn't get very emotionally invested, but it wasn't a struggle to finish, and it reminded me a lot of A Smile is Beautiful/Love O2O.
THE GOOD: The characters (all except for one), the relationships, and the general plot and pacing.
The characters are all really likable, realistic, and not annoying, with the exception of one romantic rival who has a long plot arc I could have done without. You Yan is probably one of my favorite female drama protagonists because she's so reasonable. The plotting and pacing of the show is excellent. The drama never gets dragged out (with the exception of the aforementioned plot arc, but even that one kept things interesting) and all the episodes move along quickly. You Yan and Ye Bai have a lot of trust in each other, which is always nice to see in a drama relationship, and though their relationship isn't perfect, the struggles they go through feel very real and they respond in real ways.
One thing I really liked about this show was how meta it was about the drama genre. Sometimes an episode would end with a cliffhanger that in any other drama would spiral down into some cliche mess, but the next episode would show that the cliffhanger is hardly a cliffhanger. Instead of prolonging the drama, the characters would act in a reasonable manner.
There were also a few meta moments in which the characters would say, "this is how things would be if we were in a drama," which was ironic because that's exactly what would happen. At one point, Su Shan tells You Yan that if she were in a drama, she'd totally be a Mary Sue, which I found hilarious because You Yan totally IS a Mary Sue-type character, but she's such a likable one.
THE BAD: The acting, one ridiculous plot arc, and incongruities in the feel of the show.
The acting wasn't terrible, but I thought Chen Ruo Xuan's performance as Ye Bai was particularly stiff and the rest of the cast was just okay. Ye Bai had a cute relationship with You Yan, but as an individual, I didn't find his character convincing. The ridiculous romantic rival plot arc really dragged the show down. The first few episodes were great and then BAM we get hit with this drama. I didn't like it because the show was doing so well with avoiding cliches, and then this character came in and was a romantic rival stereotype.
Another thing that turned me off was how the show hovered between being an idol drama and a school/youth drama. There were moments when it tried to be realistic and meaningful in the way that it treated the characters' realistic struggles with the transition between college life and adulthood, but then sometimes there would be ridiculous and unrealistic gestures that remind you that this is an idol drama. I like both genres in different ways, but I didn't like the way that this show hovered between the two genres. I wish it would have chosen to be grand and idealistic and unrealistic, or stuck with being realistic and true to life.
OVERALL: I don't regret watching this drama, but I probably wouldn't rewatch it. It has a lot of feel-good moments, but overall I didn't feel invested in it. The characters and relationships have a lot of similarities to Love O2O, but The Endless Love has a lot more drama.
Was this review helpful to you?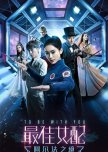 To Be With You is a fun, light drama to watch if you can handle some ridiculous or cliche scenarios and some stiff acting. I really liked the futuristic, virtual reality game aspect of the show and thought it was very well-paced with an interesting plot that kept me guessing.
The show is focused around a virtual reality game called Alpha Territory. Initially, we follow Chang Yu Qi as she enters the Alpha company and tries to become what is essentially a professional video gamer, and the development of her romance with her love interest Feng Zhou. But later the show focuses more on some corporate conspiracies that Yu Qi and Feng Zhou discover.
I really liked the corporate conspiracy plot in the show. I thought overall the show was very well-structured. It never got very boring and the drama never got extended or dragged on for too long. The conspiracy kept me guessing with a lot of characters who had questionable motives, and I found myself second-guessing whose side the characters were on, which is a good sign in and interesting plot.
The protagonist Yu Qi is one of my favorite characters. She's optimistic, strong-minded, and very true to herself. Unlike in many dramas, she doesn't act irrationally, and instead is always true to herself. I like that she is very much an equal and partner to her love interest and is able to stand up for herself. She is a very strong heroine and very easy to like. The actress who plays her, Bai Xue, has one of the best acting performances on the show and was very genuine.
Most of the other acting felt very stiff and unconvincing. I found Feng Zhou, the love interest, to be a rather boring character and the actor Ray Chang gave a pretty stiff performance. Angela, who starts out as a seemingly nice famous character but is soon revealed to have a mean streak, also has a very stiff performance and is hard to sympathize with even though the show does try to give her a redeeming backstory.
There are some ridiculous (think Meteor Garden) and cliche scenarios and characters, but overall I found To Be With You worth the watch if you are able to get past those parts of the show.
Was this review helpful to you?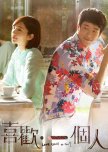 Reasons to watch: FOOD and cuteness. I really liked this one despite the ups and downs. Although it got very melodramatic, each dramatic plot arc never carried on for too long and was also resolved within an episode or two. A great drama for those who like their food, cute couples, nice guys, and can tolerate some melodramatic tears.
The cast and characters are one of the main reasons why I kept watching. Our two leads are great: I loved Jasper Lin and Puff Kuo's bantering chemistry. Jasper Lin also has one of the greatest smiles in the world. My heart melts just seeing it. But other than our leads, our supporting character cast is full of characters who are quirky and likable. I don't think I disliked a single character at the end--even the worst of them have some sort of redemptive quality.
I am a huge fan of both Jasper Liu and Puff Kuo after this. They made Ah Jie and Kai Qi into lovable, multi-dimensional characters. I think it's very easy for coldness in a character to come out flat and wooden on-screen (eg. Suzy's performance in Dream High), but Puff Kuo added a lot nuance and personality to the coldness.
Jolin Chien's character Cheng Hao Wei also deserves a shout-out for being one of the greatest second male leads to grace dramaland. Also shout-out to Xiao Yi for being an adorable child.
Unfortunately, Pleasantly Surprised does suffer from a lot of melodramatics and one particularly unnecessary and random plot arc in the second half. The first half of the show is GREAT. I wish the drama had kept up the food aspect afterward, but seemed to abandon food in favor of drama (as dramas tend to do.) The second half is when all the crazy plot twists and melodramatics happen, but I think that it was handled well in that the drama never gets drawn out for too long (usually resolved within the next episode), and our dependable supporting characters who work at the restaurant are always around to provide some comedy to ease the tension.
I loved the characters enough to tolerate the plot twists, and would definitely rewatch for the food and cuteness!
Was this review helpful to you?