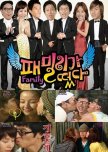 For anybody that's daunted by 85 episodes that are all an hour and a half each, don't be. It took me around 130 days to actually watch it all, and I regret nothing. Family Outing basically invented being funny. If there were compilations of everything from this show that made me laugh, the compilation would probably be very long, but very worth it. I watched the show when I was 14, so my humor was different, but the show would still be hilarious if I watched it again.
   For 'story', well, that was fantastic. They just house sat for 85 episodes, which is very kind! They were always extremely kind to the house owners, and thankfully took good care of the house while the owners were gone. The morning missions especially constantly put a smile on my face, but I also really loved them finding a way to make dinner each evening. The staff definitely knew what they were doing deciding on what missions to do in order to entertain. I can admit, the length of episodes can cause in some boring scenes, but everything was made up for in the end in my opinion. 
  The cast was spectacular. You can tell they definitely bonded a lot over the filming. Even though two members left mid-show, their replacements were just as enjoyable to watch.  They interacted well with the guests and you can tell the guests were rarely uncomfortable. Personally I feel that in a variety setting, Yoo Jaesuk and Lee Hyori are great people to lead and make everybody comfortable. Everybody either truly grew a variety sense or their variety sense was heightened during this period. I really felt a growth between every cast member and as an audience member. 
  The music was good, the editing was well enough that everything made sense. I won't spoil anything music wise...
  Rewatch value is high! Even though it will be the 10 year anniversary soon, I know of many who have rewatched and I myself would be very willing to watch just about any episode again. Family Outing is regarded as a staple of Korean variety, and from watching it, you will really understand why.
Was this review helpful to you?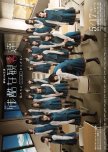 For starters, I am a fan of Keyakizaka46 and have been for awhile. Their first drama was really intriguing and I was excited to get something else from them. That is also why I excuse any bad acting, they are just idols who aren't professional actresses. You should be aware that it takes a lot of time and practice in order to become good at anything. This is only their 3rd try at acting counting the individual PVs that come with singles, and they only entered the industry in late 2015, they're trying their best and have an excuse for any objectively bad acting. I digress. 
     Anyway, let's start with the story. Although the timeline is set in the future, nothing is ever specified and everything appears to be almost normal other than the numbers instead of names idea. That is, of course, until the end is revealed. I will not spoil anything but the end just as messy as you'd expect if you've seen the first 9 episodes. Nothing truly makes sense plot wise. There's way, way, way too many realistic plot holes that appear as each episode goes by, and none of them are ever touched upon. If in the future people get trapped in classrooms and can finally escape, is it normal for them to not try to break the glass front door and call 911? It doesn't add up. Nothing does.
      The characters are interesting but dismiss anything out of the ordinary for a couple seconds then continue. If so many odd things go on, would it not make sense to question them? I did, but maybe most people wouldn't. I don't know. Sometimes the characters didn't make sense in their decisions, and I really disliked some aspects that they didn't do. The audience characters were really interesting too, but there's way too many unanswered questions there as well. I know this is a focus on cast, but the plot has so many big holes it's hard not to bring them up everywhere.
    I don't really remember the music much but it's average. That's probably why I don't remember much.
   As for rewatch value.. there really isn't any but if you like cute girls and ignore the terrible plot, you can rewatch certain scenes.
   Overall, I don't regret watching this series because I'm a Keyaki fan, but if you're not a fan, I wouldn't recommend. Most of the episodes are just fanservice mixed with nonsensical plot lines anyway.
Was this review helpful to you?