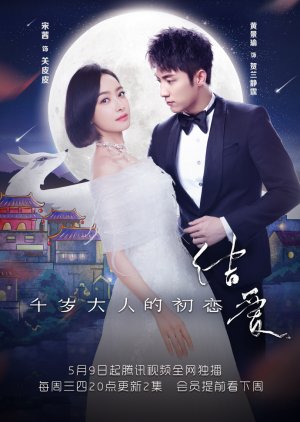 Overall, this Chinese drama was well-made and it didn't have as much cringy scenes as other Chinese dramas. The production values, dialogues, and CGIs were great quality. Now, onto the storyline, the story started out interesting, hooking us in with young leads. The young leads were so cute and honestly, I always looked forward to the flashback in the beginning of each episode because we were able to connect with the characters and how they grew over the years. I liked the first half of the series, when the leads were building relationships step by step and getting closer to one another. But for the second half of the series, the writing somehow changed direction, there were so many plot holes. Especially ep 24, it was totally unnecessary and the biggest plot hole was when Helen was able to see during day times. Then, ep 25 rolled around, the ending felt out of place and rushed. Not only the drama finished with a huge cliffhanger but the leads were pretty much strangers in the end. I don't know if the series renew for a season 2 because if not, I'm really disappointed. The ending could be nicely wrapped up if only PiPi's ex-boyfriend and her "best friend" did not take up much screentime (I always skipped whenever they popped up on the screen).
All in all, this drama would be in my top 20 favorite Chinese drama because of the plot, pacing, and chemistry but I don't think I will rewatch it anytime soon.
Was this review helpful to you?