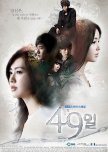 49 Days
4 people found this review helpful
49 days is the second drama I watched, and it became the reason why I became seriously intrigued with the whole Kdrama universe. What this drama did for me only a few other dramas have been able to do. What I mean is, this drama made me cry (a lot, so get your tissue box ready), made me laugh, made me angry and feel impotent like I wanted to jump inside the story and slap In Jung. The acting is really good, specially when it comes to the interpreting two different characters inside the same body. Character development is there all the way, so it's not like other dramas where the characters are static the whole way through. In this drama, almost every one goes a transformation and becomes completely different from the characters we meet in the first episode. Above all, the music is heart touching, the atmosphere is magical. I love it.
Was this review helpful to you?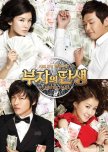 It lacked character development. Also I hated the fact that the whole "Who's your daddy?" was dragged for too long. I only finished watching because I hate starting a drama and leaving the story incomplete. The first ten episodes were fine, but after that it just felt forced.
I found myself watching but not enjoying the story. It just felt dragged for too long with twist that were not surprising to me.
If there is anything that saves this drama for me is Tae Hee and her way of stuffing her face with cake.
Was this review helpful to you?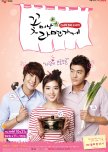 This review may contain spoilers
Maybe I missed something along the way, but it was hard to suspend my belief and get myself invested into the story. Honestly, I could believe the actions and the paths the characters take, for me they don't make sense.
With this drama, I felt disappointment as I had high expectations in the first episodes. In the beginning, the drama felt cutesy, and quirky but it quickly lost its appeal for me.
I guessed the only storyline that made sense was the one between the coach and the friend of Eun Bi(? is that the name)
All other stories honestly didn't make sense.
Buuuuuuuuuuuuuuuut, there is one thing that saves this drama from utter disaster for me, and that is Cha Chi Soo. I don't wanna say this because it could be a spoiler so I'll warn you.
========Spoiler========
Best first kiss. There I said it, best kiss.
Was this review helpful to you?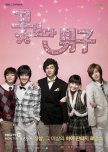 There is no denying that the boys are eye candy, labyboner material. However, the story looks to be shallow when first glanced, but if you care enough to start looking beyond the first impressions you will quickly realize that in fact is a very deep and profound story with a prophecy and all included. The scenery and the places the characters travel to truly show the extravagant lifestyle of the F4, our modern day princes. Jandi is of course the relatable character every viewer wants to become. Anyway, I feel like this story was truly compelling. Just make yourself a favor and go watch it.
Was this review helpful to you?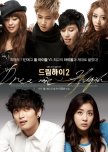 It was the first time I ever watched a Korean drama, and for me since I had no expectations or standards it seemed like a really good drama at first. However, as the story progressed, the characters became irregular and inconsistent with the story. Why I liked it? Like I said, it was the first drama that I had seen in my life, so this gave me a virgin vision, an untainted view, and I originally thought it was really funny and quirky, cute. What I didn't like? The random musicals, I understand this is a musical themed drama, but don't make it into Grease. Personally, it's hard for me to suspend my belief whenever people break into dancing.
Was this review helpful to you?