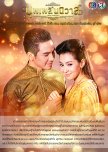 Here's a little story about my Lakorn journey so far:
I started watching Lakorns (excluding the movie Crazy Little Thing Called Love & other Thai horror movies) last December 2018. I started with You're My Destiny since the story is familiar to me and I immediately fell in love with it. I began looking for more Lakorns but the ones I found were in the Slap & Kiss genre, which frustrated me btw (no matter how much I loved Mark & Yaya T_T) then a breath of fresh air came when an article suggested to watch Bhuppae Sanniwat. However, I wasn't a huge fan of period dramas even though I've been in Kdrama land since early 2000s.
So if you're anything like me who is skeptical of historical or period dramas, I suggest you try watching this. I personally put 10 in all review guidelines since that's what I believe it deserves. This is my first Pope x Bella drama and I NEED MORE. Their chemistry is just oozing! Pope's eyes are beautiful and expressive, as always. Bella is such a versatile actress!! I also believe that the other actors & actresses did great. They really portrayed their characters so so well. No one was lacking or got left behind (at least to me).
Please please give this a shot! If you would know me personally, you will be aware that I am the type of person who usually take months to years before starting a historical drama. This is why I had the urge to write my thoughts here. :)
Was this review helpful to you?