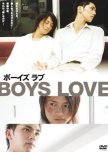 I have decided to watch this movie, because of the name - It was very clear and since I was looking for something from the BL genre, this seemed like a great idea. Long story short, it wasn't.
The movie's runtime is 1 hour and 30 minutes. It took me 5 days to finally finish it. At first, after reading all the negative opinions about this movie, I thought to myself that it's not that bad. But as it continued, it only got worse and worse. Maybe it was just because I couldn't watch it all at once, or the plot really wasn't that good and it was just CONFUSING.
What I liked:
- Actors. They were pretty handsome, Mamiya and Noeru. But I guess it was only their looks..
- The quotes. Probably the only thing I was looking forward to through the entire movie.
- It made me laugh. They called Noeru a good artist, damn, making me seem like one of the top artists, too, then. Sorry not sorry. It was ridiculous.
What I disliked:
- "All gay men only care about sex and are very rapey." vibe it gave off
- That awful plot twistey ending it tried to be, but failed
- Very forced acting. When you see Mamiya laugh, you just cringe. It was THAT bad.
- Trying too hard to write a tragic story .... I mean, give the characters a break.
- The amount of times I've seen Noeru's butt. First time, good. More than once in a span of an hour? Bleh.
- Way too unrealistic in small details. If I wanted a plot like this, I'd rather pick up some manga or watch anime, but in movies, it's not enjoyable.
But hey, for each our own. :) Maybe even though I didn't enjoy this movie, you could! I think I just had very different expectations. :)
Was this review helpful to you?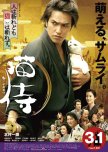 I might be biased, because of Kitamura, but I really enjoyed this dorama. It was very easy to follow and since I don't like "drama heavy plot twistey" stories, this was very enjoyable! There was also enough comedy to keep me entertained, not much cringe, which is great!
The acting was very good, too. Kazuki Kitamura never disappoints, of course, but this has only proven how much I enjoy seeing him! Characters are mostly very easy to relate to, either from the main cast or the side characters.
I am not that big on cats; but Tamanojo is surely a beautiful cat. And even as a dog person, I was feeling so nice, seeing how many people in the series share love for cats. It was just so nice to see after watching so many heavy dramas. This was a very relaxing experience for me.
Music in this dorama also gets you set into the time period of Edo. Simply lovely, for me, this dorama is a 10 / 10 !
Before this TV series, I've seen the movie, which gave me a general idea of what the story is about - But to see that the TV series is diferrent, it honestly surprised me! I'm looking forward to watching the 2nd series now.
Was this review helpful to you?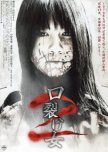 It's not a sequel - It's a completely different movie!
I'll have to agree with the review made by AkitoKouyou - It really was like watching a completely different movie, when compared to the first one. And honestly; it was. (Do you guys know the "sequels-that-are-not-actually-sequels"? Because this is one of those things.)
If you are trying to spook yourself for the night; this movie is not it. Rather than something scary that would make me unable to sleep for the next week, I found this movie tragic and pretty saddening. So for me, as a horror movie, it's pretty disappointing.
The movie does have good points though. It's not a *bad* movie. Is it great? I wouldn't say so. But it does have a certain value to it. It definitely has more story than the first "part", or the original movie. If you have heard of the urban legend of "kuchisake onna", I'm pretty sure you would also consider this story more likely to be the "backstory" of the legend. The first movie seemed very unlikely to me.
In the first movie, we started of with a rumour of the "kuchisake onna", which gave it the horror / spooky atmosphere from the beginning.
I think that this movie has failed to bring that atmosphere to the viewer, as the movie has started with cheerful music, bright settings and overall a very cheery vibe. This has continued to more than halfway through - and for me, it just felt too prolonged. It's not bad to start off on a cheerful note - But it was just dragging on and on, that I just said, "Heck! Am I even watching the right movie? Isn't this just some slice of life?!" It did a good job in explaining everything though, and the plot twist, although expected, really was a plot twist.
For someone who has no idea what this movie is about, it'd be sure fun to watch, as from the happy-go-lucky atmosphere it becomes a very dark concept.
Would I watch this movie again? Probably not, unless someone wants to watch it with me.
Would I recommend it to my friends? Yes, but not as a horror movie.
I do suggest you watch the first part and this part as two separate movies, and not as a sequel and prequel. They have nothing in common... And if you expect that, you'll be very disappointed. (I hoped for the continuation of the first part soooooo bad!!!)
Was this review helpful to you?