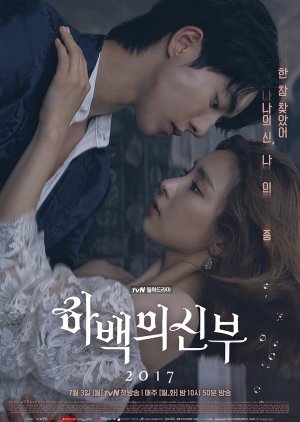 Are you looking for a great plot?
Are you looking for a gripping adrenaline fest to watch on the edge of your seat?
Are you looking for a mature story line and brilliant characters?

THEN DON'T WATCH IT !!!!

 Not only that this is a huge snooze fest, The actors and the characters have absolutely spark and the story makes no sense. This was the biggest disappointment of 2017 after last year's uncontrollably fond. Not only they managed to completely destroy a beautiful story but they reached new heights of trying to make a fool out of the viewers. This whole drama was just pretty people declaring themselves as deities and acting like snobby little bastards and squabbling like high school kids. The story was long lost and there was almost no chemistry between the leads.

Genre : rom-com, supernatural, manwha

Story : This drama was inspired from the manwha series Bride of water god by Yoon Mi Kyung and then they went ahead to rip the story into shreds turning it into bullshit. If you're looking for a similar story as the manwha about sacrifice, love and grace and politics, then go watch something else because this has absolutely none of that shit. The so called god of water is a narcissistic asshole who's self-centered to the point you're annoyed. Yoon So Ah is a materialistic bitch who is way too involved in acting like the victim. The story makes no sense till a while and the characters that actually were exciting like the one of Im Joo Hwan and the nurse aren't developed further. At least Goblin developed all the characters well.

Actors : Shin se kyung is a bad actress and i don't think i am going to watch any of her other dramas. Nam Joo hyuk's acting was a wasted opportunity same as In joo Hwans story. There is almost no chemistry between the leads and the other side actors aren't that commendable. The only surprise in the package was Crystal who surprisingly was way better than the drama.

Will i watch it again... Hell No.

Will i recommend it to anyone?... I am doing a public service by advising you to go look for some other drama. Seriously there are tons of better ones out there.
Was this review helpful to you?