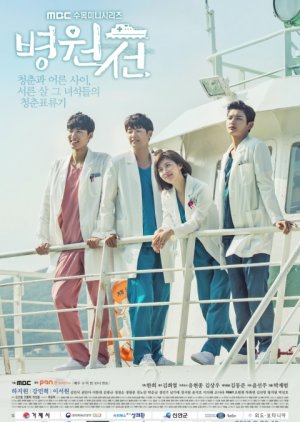 What would you do when you want to watch a medical drama but you also don't want to go through the same old hospital beds and kind vs evil doctors. That is where Hospital Ship swoops in for a whole new ride. While the premise of doctors struggling through situations is well discussed, we cannot ignore the excitement that comes with the whole "ship", something only adventure enthusists would agree with.

Genre : rom-com, medical, melodrama

Story : As the name suggests, it is a hospital on a ship for the rural islands not connected by the roads. I have to say this drama was planned out on a creative and unique note with a promise of delivering something different and they start it with the same energy. The characters have been dropped in for their duties who start their story with a lot of grumbling. A reckless surgeon, a warm-hearted Internal medicine doctor, a Korean herbal doctor and a dentist. The staff is well selected with a mature and experienced head nurse and an enthusiastic nurse who is excited about becoming a scrub nurse but only a few characters are well developed and the rest are just toppings on a sundae. The cliche factor isn't avoided with famous star-kids and the table is set. You start hating Ha Ji Won's character as Song Eun Jae but very soon it isn't necessary because Doctor Kwak is the cute but warm hearted caring doctor that is physically impossible but that's why dramas have the ideally perfect people i guess.
There are accidents, incidents, and a bunch of strange cases that can only happen in rural areas but the cliched endings are what get you bored after a while. This is an endearing watch but that's all. The excitement dies out after a while and you're left with sure-i'll-watch-it-meh. There are unnecessary love triangles and passionless pursuing and all that overlaps with the good characters you actually want to follow. Towards the end, the hospital politics decide it's time for the preface and you still know how it's going to end so you're watching it in the background while doing your work. The screenplay is ruined with tactless comedy and even Ha Ji Won loses out. The dialogues, cinematography and plot everything could have been better only if they had properly concentrated on the main story without poking the main couple for more.

Actors : This drama was waited more because of Ha Ji Won and she tries really hard to deliver it well. Her character as a reckless yet talented surgeon is not something you see regularly but her character shows how strong women can be, something she has done in most of her dramas. I am not going to blame her for her stunted dialogues that tried to make her look uptight but the beauty of a strong woman who cannot be perfect but i am going to comment on how the writer tried to bring about her imagination about the 'perfect' man/doctor out there and that's how Kwak Hyun was developed. What's shocking is that Kang Min Hyuk delivers it with his soft features and that slight smile with utmost perfection. There is a strange dignified maturity in their relationship that you normally don't see in  k-dramas which is why i have no right to comment on the chemistry.
I would have talked about the characters more if they had been well written but somehow, they aren't exactly commendable.


Will i watch it again? It was a sleepy ride so no. (This is not good enough for the binge watch night so if you want one i would advice you to watch Emergency Couple.)
Will i recommend it to anyone? I don't think i would. There are better medical dramas out there like the good doctor.  

Was this review helpful to you?