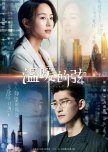 (6/10) Story: Maybe this story wouldn't have fit a typical 90-120 minute film; however, 46 episodes was super unnecessary. There was unnecessary screen time for other characters, especially the second female lead [who sometimes takes 90% of the screen time of an episode]. I'm all for the development of characters other than the leads; however, most of the time, there was no development. If there WAS development, another misunderstanding or miscommunication would hinder any type of character growth. I think this could've been a 16 episode drama. I'd compare this drama to My Sunshine (2015) which had an extremely similar storyline with 32 episodes. The only thing that kept me watching was the fact that nothing better was airing.
(10/10) Cast: I was so happy when the cast was revealed. Seeing Hans Zhang and Janine Chang reunite was awesome. The last drama I've seen with them as co-leads was The Four (2015). How unfortunate because I gave The Four a 10/10 rating but this drama was a disappointment, though it isn't the actors' fault.
(10/10) Music: Not something I really noticed or cared about. I don't think the music would bother anyone though.
(1/10) Rewatch Value: Totally not worth spending 46 hours on. Even if there is nothing to watch, this was too frustrating. But it did give me something to waste my time on which is why the overall score I've given is a 7.
Was this review helpful to you?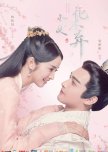 Story (10/10): Masked heroes is not exactly the most unique story. In fact, I'd dare to say that the entire story itself is not the most unique; however, the writers have definitely learned how to draw people's attention by making the characteristics of each character unique and loveable. It's no surprise to me seeing as I keep up with the reactions of every new episode. People go from loving to hating certain characters and vise versa. It's incredible. Then there's certain evil characters that you can't help but feel sorry for. Of course, another thing to note is how much women empowerment there is in this drama. Our female lead, played by Ariel Lin, is a strong character even without the typical kung fu skills. She lives and survives through her street smarts and wit. Our male lead, Zhang Bin Bin, is a hero who has a soft spot for the innocent and even the evil sometimes. He kills only when necessary and loves the female lead unconditionally.
Acting/Cast (10/10): So many people started this drama for Zhang Bin Bin. I don't wonder why since he is, not only, handsome but also such a mesmerizing actor. Personally, I started this drama for Ariel Lin. I've been her fan since "It Started With A Kiss" and she actually dropped from the acting scene for a while (probably due to personal life) so newer drama watchers often discredit her in her looks, acting, and even her worth (i.e. saying she isn't good enough to be the female lead, or she isn't good enough to be Zhang Bin Bin's partner). I think the acting in this shows everything I want in a duo. Ariel Lin's acting makes me forget that she is a wife in real life. I would love to see this duo once more. The rest of the cast also does great justice to this drama.
Music (10/10): I am in love with the OST! The intro song is so good. In the beginning, I thought it was a pretty comical intro but as I watch each episode I find myself humming along to this upbeat song. It really matches with our female lead and male lead's personalities and relationship.
Rewatch Value (10/10): I already see the Viki comments in the first episode saying "Rewatching for the nth time", this drama is definitely one that I would rewatch with my family (who also love Ariel Lin) and my friends.
This adds up to an overall (10/10).
Was this review helpful to you?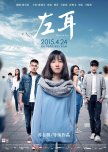 Left Ear
0 people found this review helpful
(8.5/10) Story: Such a unique storyline, but flawed in a way where I felt like something was missing at the end.
(10/10) Cast: I'm not really familiar with the cast, besides infamous Yang Yang, however, I was so immersed. Their acting captivated me till the end! Really worth watching. Splendid casting.
(10/10) Music: Don't trust me on this. I don't really pay attention to music at all. However, Ba La did have a singing scene which sounded really pretty.
(6/10) Rewatch Value: I would totally [and happily] rewatch this film if I was super bored and didn't want to watch anything else.
|| S P O I L E R S A H E A D - I N D E P T H R E V I E W A H E A D ||
I would have given this a super good score because I enjoyed this film a lot... However, every time I remember how Zhang Yang was violent towards Ba La, I want to throw up. Yet it seems like by the end of the film, no one even remembers that anymore. Yes, the bigger focus was on Ba La's tragic death and Zhang Yang blamed himself for calling Ba La a slut; however, he never really seemed to be apologetic for fucking abusing Ba La or even for cheating on his ex with Ba La.
I also wish Xu Yi had a more definite closure. I think the directors wanted to show how fucked up Xu Yi's character was ever since Ba La's death and his family situation; however, having him cheat on Li Er seemed so pointless. I really do wish Li Er was successful in saving Xu Yi from his mental break, even if it's just as friends.
However, maybe all of this is what made me like the film so much? Because it touched on so many sensitive topics in such a rounded way. Though I really can not forgive the physical abuse that Zhang Yang did on Ba La.
Also, Ba La's character is so beautiful. She has so many legit reasons to be fucked up, yet she had such an innocent mind at the same time? I'm not excusing the fucked up shit she did [and the director did a good job showing how she wasn't a good influence on Xu Yi, who started to be a bad boy, or Li Er, who started smoking] but her character was just so flawed in such a beautiful way.
Was this review helpful to you?
(10/10) Story: I think it's brilliant to create a show where top stars, who of course are wealthy, are limited to a tight budget and have to plan a vacation entirely on their own without their managers. For most people, unless you're really on top of things, planning a trip with 7 people is extremely difficult, especially if you're practically strangers of different ages. With this story, you get to see each and every member's personality during the biggest ups and downs. It was spectacular on that part.
(4/10) Cast: This is a reality show, no acting from what I can see. I understand how stressful the entire situation was to the entire cast; however, sometimes, I really could not believe the audacity of certain members. Of course, everything ended on a light note, but this triggered a lot of stressful and emotional responses. I had to pause this show multitudes of times just because some of the cast was annoying me so much [by being unreasonable moody]. The editors did a really good job patching this up and making sure the cast ended up looking good at the end.
(10/10) Music: Not much to comment on since I don't even remember any particular music. Yang Yang did play "Good Boy" by GD&Taeyang of BIGBANG, "Bad Boy" by BIGBANG, and a couple of songs by WINNER during the show. Not complaining about that at all!
(1/10) Rewatch Value: I will be rewatching certain clips but I don't want to go through this emotional rollercoaster again by rewatching.
Was this review helpful to you?
(5/10) Story: The story kept me captivated enough to complete both S1 and S2; however, most of it was due to the urge of my wanting to know what happens at the end. I think it's a unique story since I didn't see much good versus evil in this drama. It was more human versus human meaning that there were faults in both sides but also good in both sides. Although the story is unique, I gave a mediocre rating because I feel like compromises could've been made in one way or another.
(10/10) Cast: I didn't notice any type of flaws in the regards of acting.
(8/10) Music: I usually do not pay too much attention to the music because I'm super focused on the story; however, the rap in this historical drama is quite not my taste. I think the opening and ending is fine though.
(1/10) Rewatch Value: Too long for little progress.
|| S P O I L E R S A H E A D - I N D E P T H R E V I E W A H E A D ||
I'm super into the Xiao Fan, Jing Yu, Shu Shu, and Xue Qi squad and also the war between the Ghost King and the Qing Yun sector. The romance is okay, I would love to see Bi Yao wake up and that would be ideal but the thought I had the entire time was "both sides had legitimate causes for joining the war, other than being simply power hungry". I actually wasn't entirely happy with S1's ending where the war suddenly went on a halt due to Bi Yao's death and how soulless Xiao Fan became. Yes, his lover just died protecting him and yes he is a super compassionate person; however, a war was going on. His friends were dying. It's hard to move on, but in situations such as war, you just have to. I was still okay with that; however, what took the cake was when he worked with the Ghost King to bring Bi Yao back. At that moment, Xiao Fan had a great opportunity to kill the Ghost King. I'm not trying to be unsympathetic since I like Bi Yao myself; however, so many people from both sides are fighting to their deaths and Xiao Fan gave up the opportunity to kill the Ghost King just because they were caught up in their emotions about Bi Yao.
As for S2, it felt like a waste of time. Xiao Fan finally kills the Ghost King, which could've happened in episode 55 of S1 and saved dozens of people's lives had he just done so earlier. In such a way, it's like Xiao Fan sacrificed the lives of people from both sides in order to save Bi Yao. And the ambiguous ending made this feel even more unnecessary. It was on purpose of course, since the novel ended in a way that was unpopular for most; however, I still wish the script writers/directors just ended the drama the way they wanted to without worrying about the novel. Bi Yao resurrected? Cool. Xiao Fan finally bidding Bi Yao farewell forever? Cool.
Because both sides had such legitimate motives, it was difficult for me to root any one team on. For that, my ideal ending is probably going to have everyone question this review. I'd like it if Jing Yu, Bi Yao, Xiao Fan, and the Ghost King all died together with Qing Yun sector's victory. Jing Yu and Xiao Fan because I can't imagine Jing Yu's happiness without Xiao Fan and I can't imagine Xiao Fan's happiness without Bi Yao. Bi Yao because the Ghost King would need to die for Qing Yun sector's victory and as a sacrifice for being unable to kill Xiao Fan, Bi Yao dies with the Ghost King. And Shu Shu with the others will continue to train the ways of the Immortal Sword while telling the story of this era.
Was this review helpful to you?