If you're still experiencing technical difficulties, please report it
here
.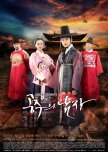 When I say this is my favorite drama ever, I'm not lying! I had been putting off this drama for a while because the short summary didn't seem to interest me- but trust, I regret putting it off for so long. I don't think could write bad thing about this drama, everything was perfect! t had a well-devised plot, and nothing dragged on too long. It was well compressed into 24 episodes- I even wish it went on longer. The cast had great chemistry- and the acting was phenomenal. This drama definitely played with my emotions- from the butterflies that Seryeong and Seungyoo gave me, to the annoyance and irritation the Grand Prince gave me due to his greed for power. The music was on point, every track perfectly suited the scene/situation. I recommend this drama to anyone! I'm starting to miss this drama and it's only been 3 days since I watched it lol :'(
Was this review helpful to you?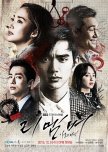 Surprisingly, I enjoyed this drama very much. I'm not one for the dark/melodramatic genre, normally, and I have to be honest, I decided to watch this at first because I'm particularly biased for YSH.
The story isn't very typical; in fact, it's pretty unique. I really enjoyed the Jin Woo's journey to avenge his Father's wrong accusation, and although it tugged on my heartstrings so many times, it's what really got me attached to it. Tbh, I didn't see/feel any romance in this drama, at all. In fact, I thought it was actually awkward between Minha/Jinwoo when it became obvious that there was more than friendship in their relationship. The thriller aspect of this drama will make up for it, though.
As I said before, I had decided to start watching this because of YSH. However, as the drama progressed, I found myself more stuck with NGM. The character of Nam Gyuman is so well portrayed, and in my opinion, he out-shined YSH. You can't help but feel nothing but complete anger towards Gyuman, but also at the end, I felt sort of bad. Lol. Nonetheless, YSH still flawlessly portrayed the whole 'cool & heartless' lawyer persona. I couldn't help but feel bad for the unfortunate fate that Dongho/Jinwoo were subject to, but I've been a fan of PSW for a while now, and never doubted that he would be great in playing Dongho, also.
I shed so many tears throughout the 2 months that I was following this drama, both sad/happy. Would recommend this drama for anyone looking for the not so typical lovey-dovey type of k-drama. Definitely going on my favorites list.
Was this review helpful to you?