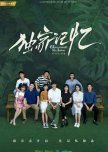 I really enjoyed this drama. Recently I find that i've started watching more Chinese dramas over Korean dramas because I find them a bit more realistic and believable. This one was no exception. The first 2 episodes starts a bit bland but it really picks up and doesn't slow down from there. My favourite part of the drama was the love story between Mu Cheng He and Xue Tong. Their story is beautiful yet realistic that you find yourself getting frustrated at times with the realisticness of it all. But at the same time you appreciate it because its not stuck with candies and happiness all the time and issues aren't always sorted out with a simple apology. On that note be prepared to smile a lot as well as shed some tears.
The drama also follows the stories of the other occupants of dorm 232 Song Qi Qi, Bai Lin and Xiao Tang as well. Each face some sort of crisis at one point in their life but the thing that makes it so great is that all the issues the girls faced were all problems that everyday college students might face. They always had each other backs. I highly recommend this drama it's a really nice discovering yourself light and warm coming of age drama but it also has some tough moments, Enjoy!
Was this review helpful to you?