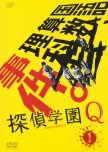 At first I had thought I was so addicted to this show just cause of Ryosuke Yamada, since he was the reason I had decided to watch it in the first place.. But, a while after I had completed the entire show, I had realised that my heart had already placed the story of the show close to itself hahaa aka I actually love the entire show itself!!! I will definitely watch it again (in fact, I had already rewatched parts of the SP and drama eps when making my fanmade mv of ryo/ryu), and I don't think I will get bored of it Cx The acting is good, music is well-fitted and i love the ending song, storyline and mysteries superb, and it's got a bit of everything from humor, slight romance, cuties- Ryokun, Kanata Hongo, the Wakaba dude and guy who plays Tominaga heheh), true mysteries and slight thriller factor, including gore. I think because it is a superb show overall but is catered towards young people, this drama is great for people of any gender and age C:
PS here is the OPV i had made of Ryo/Ryu~kun!!
cx
ft my fave jrock band MY FIRST STORY, esp Hiro
https://m.youtube.com/watch?v=rfFspeA3Nmg
Was this review helpful to you?