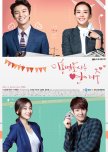 Yes, from the very first episode the main female lead, Go cheok Hee will come off as a bratty and annoying person, however that's how most of the time dramas start off with characters. It is very obvious that the person will start to grow and learn to be better. therefore its better not to jump to conclusions by watching only the first few episodes.
Overall, the whole story is actually pretty interesting, funny, and many scenes make you squeal. It's nice and light, not too dramatic, like the second female lead isn't your cliche evil person who plays dirty tricks on the main female lead. same for the second male lead.
The music is really nice and goes well with the moments. I personally really liked this drama, finishing a drama is really hard for me, and I usually drop them when I don't like them or I think they're dragging, but this drama wasn't like that. It's really enjoyable. I love all the characters and I hope you will too.
Short review but hope it helped.
Was this review helpful to you?