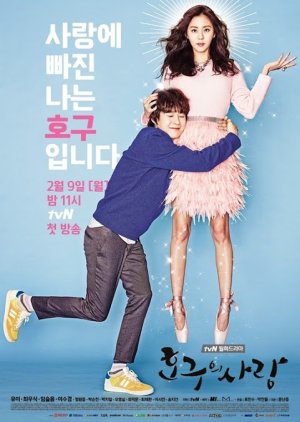 Ho Goo's Love Recent Discussions
Reactions
Also the thing that surprises me the most is, that I am enjoying the misunderstandings in this drama. Normally I would be throwing tables at this point, but in this drama I can't stop laughing like an idiot and expecting more of them to happen. Even though I have to admit that I sometimes have to roll my eyes because everything can be too much at times. But other than that I am enjoying myself thoroughly.
Another thing that is surprising to me is that I actually "like" Byeon Kang Cheol although he proved many times that he's a mean, arrogant and an absolute sexist douchebag. Although I am judging him for everything that he is I can't help feeling bad for him because he's kind of an idiot. He doesn't know how to interact correctly with people and is always doing something stupid, which is no surprise if you look at his parents. I also absolutely love that he has a crush on Ho Goo (although I am not sure if you could say that since he's in love with his sister. But on the other hand he thought that it was Ho Goo and everything that Ho Goo did after "that day" made Kang Cheol like him even more) and the whole "struggle" with his sexuality/preference/whatever you want to call it.
Now I am really looking forward to the next episode because I REALLY want to know how his confession will work out. Will Ho Goo understand that Kang Cheol is in love with him? Will he find out that Kang Cheol really isn't the baby's father and that Do Hee wasn't lying? I hope some of the misunderstandings will be solved because even though I find them funny, I am really starting to feel bad for Ho Gyeong. I want her to be happy because she's the cutest and funniest and absolute perfectest person to ever exist in dramaland.
Was this review helpful to you?
Honestly, I think this drama is everything that I was ever hoping for and I just can't stop laughing like crazy because everything is so funny to me. Even the "serious" parts.