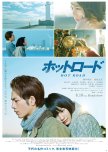 Both are somehow romance stories, but pretty different than normally (main characters are kind of similiar too).
While Drowning Love is about two of the same age but a different "kind of life" and focuses more on the path the main girl takes (after moving to the country side),
Hot Road focuses on a kind of "forbidden" love story between a 14 and a 16 year old. It's more about the difficulties they have together.