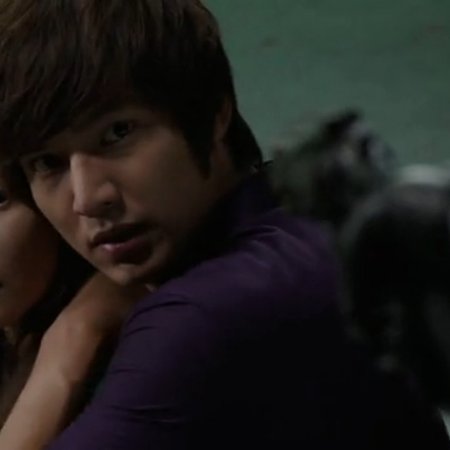 City Hunter Episode 13
---
---
Yoon Sung saves Na Na from being shot by Jin Pyo. They then go to install a camera in Jong Shik's office. Prosecutor Kim is removed from the City Hunter because of his father's case, furious about that he goes to his father's office, but Yoon Sun is there too. Na Na saves Yoon Sung before being discovered by prosecutor Kim. Prosecutor Kim starts investigating the city hunter's case alone. Yoon Sung notices the trick prosecutor Kim is trying to pull on him and escapes before being caught. Shik Joong finds Yoon Sung's mother location and leaves Yoon Sung's number. Shik Joong almost dies when Jong Shik car hits him. Yoon Sung plays the video recorded in Jong Shik's office in prosecutor's Kim award ceremony. He then kidnappers Jong Shik, but Jong Shik tries to run. Jong Shik then slips and is only handing on the railing of a bridge. Yoon Sung tries to save Jong Shik from falling, but Jong Shik throws himself. (Source: MyDramaList)
City Hunter Recent Discussions
Reactions
Was this review helpful to you?
This episode killed me emotionally. at first his father scared me. Then his mother really bothered me, why the hell can't she just appear? and then that person kim young joo and his unbelievable horrible father. And then i laughed of happiness when lee yoon sung wasn't caught. and then my heart stopped when that accident happened. i smelt trouble when i saw the look on Yoon Sung's face. And at the end of the episode every emotion on me broke down. This is too much for me to handle. Why can't everything just go right? did the writers really have to kill us like this?
Was this review helpful to you?
THE STUPID DADS...they all pissed me off...what the hell...Its a good climax and all but noo....don't kill the good ones :(
Was this review helpful to you?
I think I will need to drink something to calm me down from now on when I watch this drama as it is keeps on being full of shocking scenes which are hard to bear for sensitive viewers like myself. I can't believe that in the last episodes two of the main characters have been wounded risking their lives with subsequent excruciating pain of the main actor. I imagine there is more to come so I will be mentally prepared for the coming episodes!!