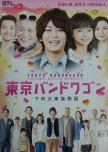 Both dramas center around 1 family with old store and their interaction with their customers, neighbors, friends and even strangers.

Female lead for both dramas is Tabe Mikako.

The different - Tokyo Bandwagon is an antique/old secondhand bookstores hands down from generation to generation, which Tsubaki Bunguten is an old stationary store and also a notary shop (people who write letters on behalf of others upon request).