Where to Watch Arang and the Magistrate Episode 12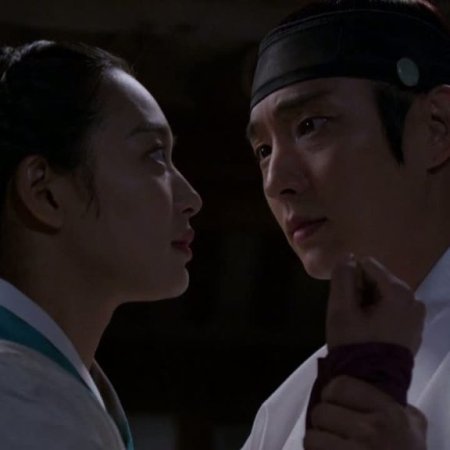 Arang and the Magistrate Episode 12
---
---
Eun Oh finds the same talisman at Lord Choi's house and is surprised by Joo Wal who tells him it is a sacred family shrine. Eun Oh is determined to find what Lord Choi is planning and to help Arang brings some ghost to spy on him, but are unable to enter his home since there is some kind of barrier blocking them. Moo Yeon (evil shaman) tells Joo Wal he must "cut out his feelings for Arang" and bring Arang to her. Joo Wal's feelings get in the way and is unable to stab Arang once again.
Aired: September 20, 2012
Arang and the Magistrate Recent Discussions
Reactions
Finally they begin to figure things out. I like how the mystery is done in this drama. But I keep wanting them to move faster and more urgently because they seem to be forgetting she has to find out who killed her before time is up. And Dol Se seems to be a character that is underused. He's never where he is supposed to be and seem only to be comic relief when he has so much more potential.
Then there's a piece in the middle where you can see the Magistrate's feeling clear as day on his face. But silly Arang goes and breaks his heart slowly while she explains her live self's feelings. Humph. You hurt him badly girl. I feel for him. His face just breaks my heart.
Aaaaannd then we get to the end. We get a full confession but Arang, our dearest, ruins it. I understand her though, and I know how determined our Magistrate is so I'm not worried. They so love each other. Get married now and have little kids lol.
Joo Wol... is an enigma. I hated him because I know what he is. But in this episode I pitied him instead and felt sorry that he will never get the love that he craves. Too bad.
The music I adore because it reminds me of Princess' Man. (And Lord of the Rings sometimes lol)
Was this review helpful to you?
Arang and her Magistrate are so like a husband and wife team that I'm rating this just for them.
Finally a confession, but ouch, Arang just busted him. Tsk tsk. Didn't she tell you she won't last two full moons after? Still, how can you be so cruel, girl!?
Was this review helpful to you?
Joo Wal--what a pitiful man. Craving for love ever since he was a child but nobody would give him some. Given the chance to redeem himself and win Lady Hong Ryeong's favor, he backs out and realizes he cannot remain as her heartless killing puppet. How will he be able to come out of this situation, I am curious to see but for the meantime--he is NOT forgiven. Stabbed her once, maybe even twice...nope that ain't love, sweetie.
Initially, I thought that the feeling Arang first felt when she saw Joo Wal as a ghost was that of fear. At least now I'm in the clear and that she really loved the guy regardless of who or what he was.
So many confessions and heart breaking scene in this episode.
Was this review helpful to you?
I love this episode for the main reason that true feelings of our main characters are finally revealed.
At the end of the ep, script writers were playing on my patience level, i am so glad that i watched the 12th ep just one day before tomorrow's 13th ep.
So Eun Oh confessed! Good move but as always happy moments don't last for long.
Let's wait and see what will happen next.
Was this review helpful to you?
I came to like Joo Wal in this ep and no it's not second lead syndrome. It's just that i know he will add more fun to this drama.
Was this review helpful to you?
Wow the writers....I swear all the writers make this happen whenever there's a confession or almost kiss they end thwe show really??? Fine but they better kiss or hug without any interupptions which i doubt next week. Anyways good ep...creepy mom as always...but atleast we know that the fiancee guy likes arang...and Lee Seo Rim/ Arang before she died was truly in love with him...It's so sad to see Eun Oh being heartbroken because she is down to 1 full moon now until she leaves :(
Now this is a good turn with JooWal... he couldn't kill her, that is VERY INTERESTING, so he already had feelings for her...
now I have to wait a week for the rest of the heated conversation... ugh~
By the way yay~ for the fairy MooYeon, did anybody recognize her? She's DooRi from What's Up, I added her to the cast as soon as I saw her, hihi~
Was this review helpful to you?
Gosh... this week's episodes just cut the mid-I'm-gonna-kiss-her-right-now...ugh~ I was about to burst into tears when Arang just turned to go not letting EunOh come closer in the middle of the episode, but I knew better, he'd not let her walk out on his confession twice (that is why I just luv the main characters of this drama that much! I love JooWal too, by the way, especially after today~), so he said it~~ yay~ and she told him she doesn't feel the same... blasphemy...why cut the scene??? T_T you just grabbed her, kiss her already!!!!