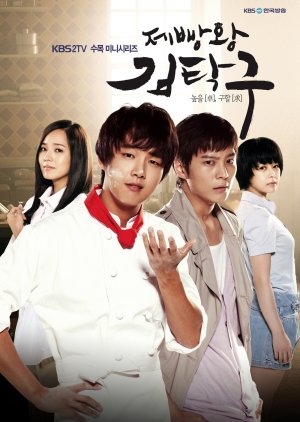 King of Baking, Kim Tak Goo Episode 19
---
---
Takgu reunites with Gu Iljung. He is up against Majun and needs to make bread without yeast. Gu Iljung decides to make Takgu the successor of Geoseong. Seo Insuk is furious to hear this. (KBS World TV)
King of Baking, Kim Tak Goo Recent Discussions
Reactions
Yu Kyung between the two boys should choose who will make her achieve her goals in life. Even though Tak Gu loves her so much, she cannot be happy. She cannot live as a good person because of her desire to get revenge.
quote to remember in this episode:
Tak Gu's mind is only full of thoughts about bread.
He relied solely on the smell. He used his sense of smell…to find the best state of fermentation. By instinct. And during two years of practice. He had done so every day. Without fail. No one told him to do it. He did it because he liked it. The most difficult person in this world to beat is a kid like that.
Was this review helpful to you?
Tak Gu still think if he worked hard he can win Yu Kyung back and get his little brother to respect him.