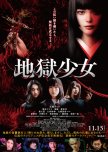 There is a rumor of a website called "Hell Correspondence" which only opens at twelve midnight sharp. When a user types the name of a person to be gotten rid of, a hell girl Ai Enma brings the person to the hell. In return, the user will be sent down to hell at the end of his or her life. A high school girl Miho is worried about her friend Haruka being trapped in the evil scheme of a popular rock band after Haruka joins the audition and starts acting strange. As Miho tries to help her friend, she finds herself in the cursed world behind the "Hell Correspondence".
(Source: jfdb)
Two young beautiful friends Jin Sung and So Hee have forged a 'close' relationship but this is challenged when the ballet school holds its annual competition to see who will go forward to the national competition and win a scholarship to a Russian ballet school. The better of the 2 friends, So Hee. looks all set to win, when it becomes apparent that Jin Sung is becoming more and more jealous.
She then bumps into Hae Ju, a former fat girl who stuffed her face all day and appeared quite mad, who reveals that she is now thin because of the wishing stairs and the synonymous appearance of the 29th step. Jin Sung then decides to give the stairs a go herself. When the 29th step appears she wishes that she could be the one who wins the ballet scholarship.
When So Hee suffers the fate of death by falling down some steps and Jin Sung wins the ballet competition, Hae Ju goes back to the wishing stairs and calls for So Hee to come back to life. This then sets up the rest of the film that you will have to watch to find out what goes on.