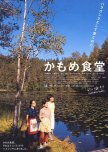 Same main actress, same genres, same vibe !
(Both also feature Motai Masako).

These two stories revolve around a woman who starts running a restaurant on her own but quickly gets to work and live surrounded by loving people. The main differences I see are that Kamome Shokudo is shorter (as it is a movie) and is set in another country : Finland.