Dramas:



Takashi Miike to direct a vampire drama Higanjima
Oh Well.
Takashi Miike
is coming back to dramas, and it's a vampire themed too! No one denies that Miike's one of Japan's living legends when it comes to directing. I love his way of making gory movies, but he tends to go crazy sometimes which is totally fine by me because I  avoid watching his horror movies. Anyhow,
Higanjima
is an adaptation from the manga "Higanjima: Saigo no 47 Himei" by
Koji Matsumoto
that falls under the genres of vampire, horror, and Seinen.
The cast:
The plot deals with the mysterious Higanjima Island which is the base of a vampire community. In order to keep attracting humans to the deserted island, they send unbelievably beautiful women to seduce men and lead them to the island. One of those women came in contact with the protagonist Akira who mysteriously lost his brother Atsushi two years ago. Convinced by the woman's words that Atsushi could be on the island, Akira takes his best friends and leads a hellish adventure on Higanjima where terror surrounds them from each side.
The theme song: 
The Teaser:
The manga already had a movie live adaptation back in 2010 with the same title
Higanjima The Movie
.
The drama starts airing October the 24th on TBS.
The second season of Itazura Na Kiss is officially confirmed
It's been announced by the drama's official website that
Itazura Na Kiss Love in Tokyo
will get a sequel soon but the exact date is yet to be confirmed.
The multi-adapted manga of
Kaoru Tada
is getting the green light for another drama with both
Yuki Furukawa
and
Miki 
Honda
 as the main leads.  I don't know what to expect from this drama, but I am glad that the sequel was confirmed because they ended the first season without getting to the core of the story. I was actually demanding a sequel because things shouldn't end there and apparently I got what I wanted. The problem is with Honda Miki's age; she's only 17 year-old while Yuki is 10 years older than her. It's quite alright for him to portray the marriage part, but how on earth is she going to do it?
I think I will have to leave that for writers and producers. I hope we will be satisfied.
Movies:
Yamada Takayuki and Fujiwara Tatsuya as the main leads for the upcoming thriller Monster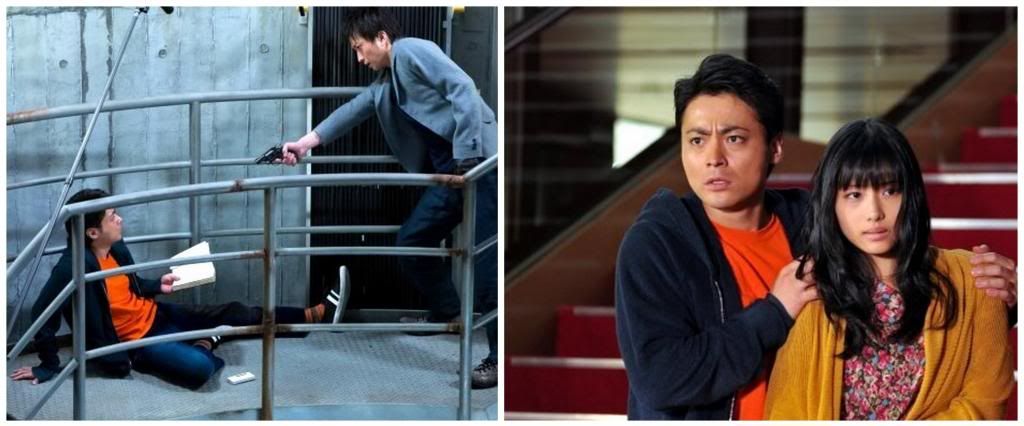 Nakata Hideo
(The director of
Ring
,
Dark Water
, as well as the recent hit in the Japanese box office,
The Complex
) is remaking the hit Korean movie
Psychic
(aka
Haunters
) with a main set of cast composed of
Fujiwara Tatsuya
 (
Battle Royale
,
Death Note
) as the bad guy and
Yamada Takayuki
 (
Crows Zero
,
13 Assassins
) as the good guy.
The story of
Monster
revolves around a man (Fujiwara Tatsuya) who can kill and control people with his eyes as long as they are within his field of vision. He killed his abusive father that way and thus he was abandoned by his mother. Ever since then he lives a life of misery at the corners of the city. Once, while he was using his powers to steal a store, he's surprised that his powers can't affect one man only (Yamada Takayuki) who's a bright optimistic individual. The fateful meeting marks the beginning of a series of haunting encounters where both men will be pushed to their limits to be able to survive.
Ishihara Satomi
 (
Rich Man Poor Woman
, 
Manzai Gang
) will be on the set of the cast as a girl who will interfere between the two men in one of their fights.
Nakata announced that
Monster
's script and events will be different from the Korean version despite the fact that this is a remake. He also stated that the ending will be entirely dissimilar compared to the 2010 version. That's something to look forward to!
I have full confidence in Nakata's abilities to pull this off; the guy makes awesome horror movies, so I am sure he can make a good thriller. The only problem that I have with this movie is Fujiwara and Yamada's casting. It would have been perfect if their roles got switched. I have full trust in Yamada's acting skills, so I am pretty sure he could pull off the villain's role in a good way while I am not so sure about Fujiwara. Anyone who watched those two's productions would notice that Fujiwara falls behind when it comes to acting skills. I am not making presumptions. I am just stating the fact and I do hope that Fujiwara surprises me.
The movie is to be released next year.
Tamaki Hiroshi and Ishihara Satomi to star in a time travel movie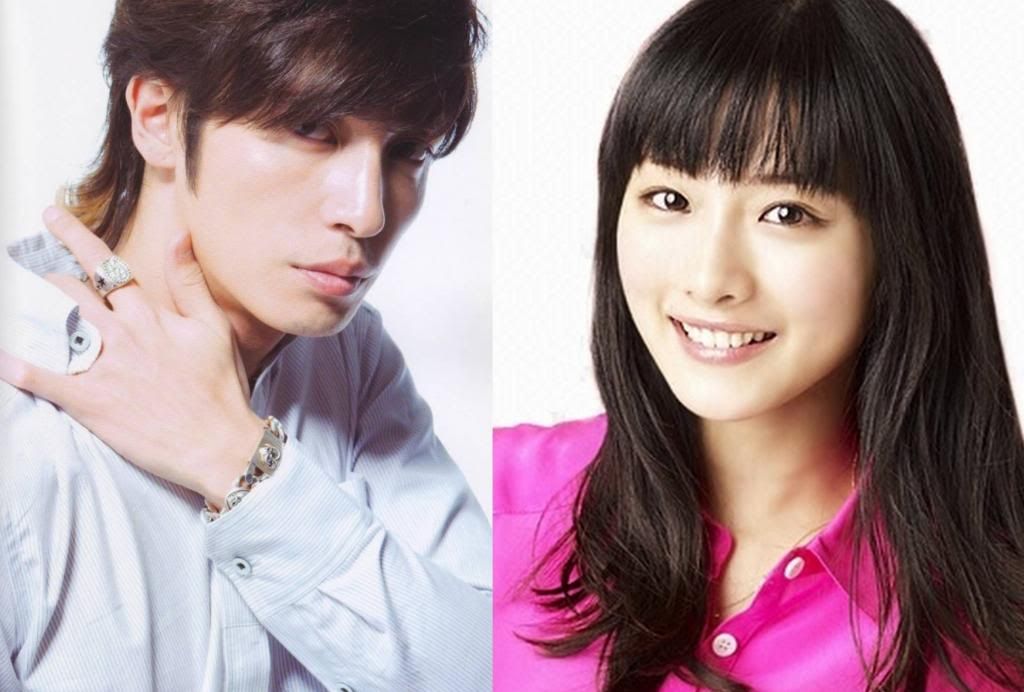 It's been revealed that
Tamaki Hiroshi
 (
Nodame Cantabile, Love Shuffle
) and
Ishihara Satomi
will be the main leads for an upcoming time travel movie
Bakumatsu Kokosei
which is the remake of an old Fuji TV drama from 1994.
Set in 1868 (Bakumatsu era), the story tells the story of the Imperial statesman Katsu Kaishuu (Tamaki) who sends a message to the highly influential samurai Saigou Takamori in order to avoid conflict and set peace. Meanwhile, he meets a history teacher, Mikako (Ishihara), and a high school student, Masaya, who slipped back in time by accident in order to find other students who may have arrived to that era ahead of them.
Previously knowing the future, Mikako assures Katsu that the peace talks will go well, and there will be no war in Edo, but events take an unexpected turn threatening not only that era but also the future. Katsu and Mikako join hands to save both times.
The movie will be directed by
Toshio Lee
(
Detroit Metal City
) who stated that he wants to give Katsu's historical figure a softer image different from the usual hard image that's making people remember him as harsh man who forced the surrender of Edo castle.
The movie has already wrapped up filming back in June and will be released in summer 2014 by Toei and Fuji TV nation-wide.
Ikuta Toma to star as a mole in Mogura no Uta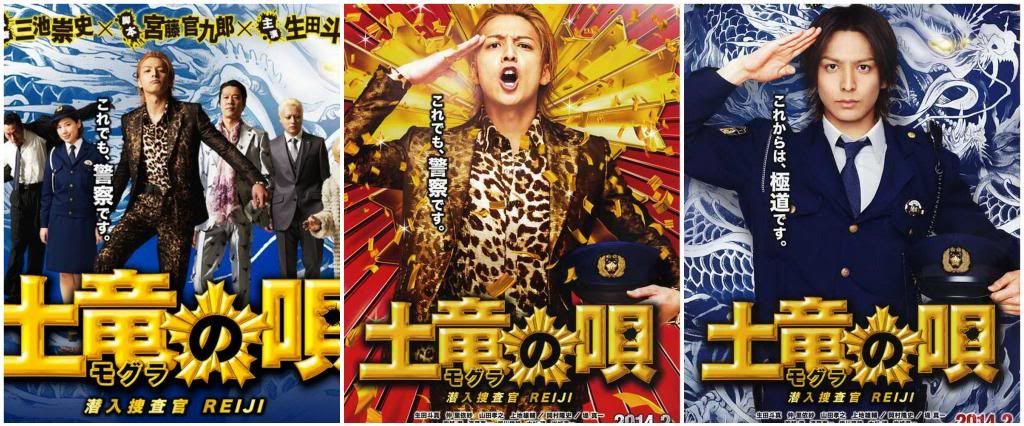 Another
Takashi Miike
movie! This time around it's the pleasant type. I do love Japanese comedy Yakuza movies, and with Miike's touch I am sure it will be very pleasant.
Ikuta Toma
 (
Hana Kimi, Maou
) who proved his power in the Japanese box office is getting another main role after his recent hit
Brain Man
. He's sure busy these days that he can't have room for dramas.
The movie is a manga adaptation with the same title by
Noboru Takahashi
. It talks about a failure policeman with a strong sense of justice who was sent to infiltrate the most powerful syndicate gang in Kanto in order to target its boss. His journey as an undercover agent will know many hardships to reach his goal.
The rest of the cast are pictured below:
Here's the teaser:
Mole's Song is to be released on February the 15th, 2014.
Do any of these upcoming dramas and movies sound interesting to you? 
---
I hope you enjoyed this compilation. Until next time!