Summer has started and I bet most of you who aren't working or taking summer classes will be chilling at home. Drama marathons can be tiring so why not try a movie? Sit back with a bowl of popcorn and be ready for some laughs.
Year: 2012  
Synopsis: Chanisa is quite an ordinary office girl for whom dreams of love and romance have become thing of the past because she is too centered on an unfulfilled first love. Then, a young high school boy enters her life. What would happen between the two? There is a destiny that began when they shared that one first kiss that we can never get back.
Why is it interesting?

I seriously love Noona romances. Who doesn't? We have I Hear Your Voice; I Need Romance 3 and Witch's Romance to feed our fantasies. Young men offer a devotion that is unparalleled. However it also entails a lot of conflicts as well. But what is love without a few conflicts, eh?

I love this movie due to a variety of reasons. The first reason is that the heroine is a 'girl next door'. There are so many young girls in their 20s searching for love. With Charisa she isn't searching but instead she's simply reminiscing about a distant first love. Charisa is so well played by Rotmay that she turns her into any regular girl. Bass on the other hand, is pure brilliant in his utter rebellion and playfulness. Phet does justice to this love-loner boy. Phet and Rotmay's chemistry is out of the roof even though the kisses are very PG-13. The movie also delivers such well-timed laughs that it never ceases to amaze me. I recommend this to anyone searching for a light romantic comedy.

Do you need more convincing? Here's a little trailer to give you the overall impression of the film:
Year: 2009
Synopsis: The movie takes place amidst the hustle and bustle that is the Bangkok City. Mei Li breaks down her father's car and is forced to take public transport to her company which is located all the way opposite to her house. It is amidst changing four different types of transportations that she finds love. Loong is the type of gentleman our Mothers teach us to marry. However, his night job and his overtly disinterested exterior becomes a hindrance. Will Mei Li finally succeed in finding love?
Why is it interesting? I absolutely loved this movie. The comedy is spot on. My favorite would probably be scenes involving Mei Li's family that are just too hilarious for words. Having a charismatic actor like Ken doesn't hurt the eyes either. Mei Li is again a very relatable girl. She has few friends she can hang out with and feels lonely when her only best friend marries and moves away. She is someone who has reached that old maid stage and wants to share her life with somebody so badly. She is also downright hilarious and awesome. Cris and Ken have a sizzling chemistry together and it's a must watch for romantic comedies lovers.
Do you need more convincing? Here's a little trailer to whet your appetite: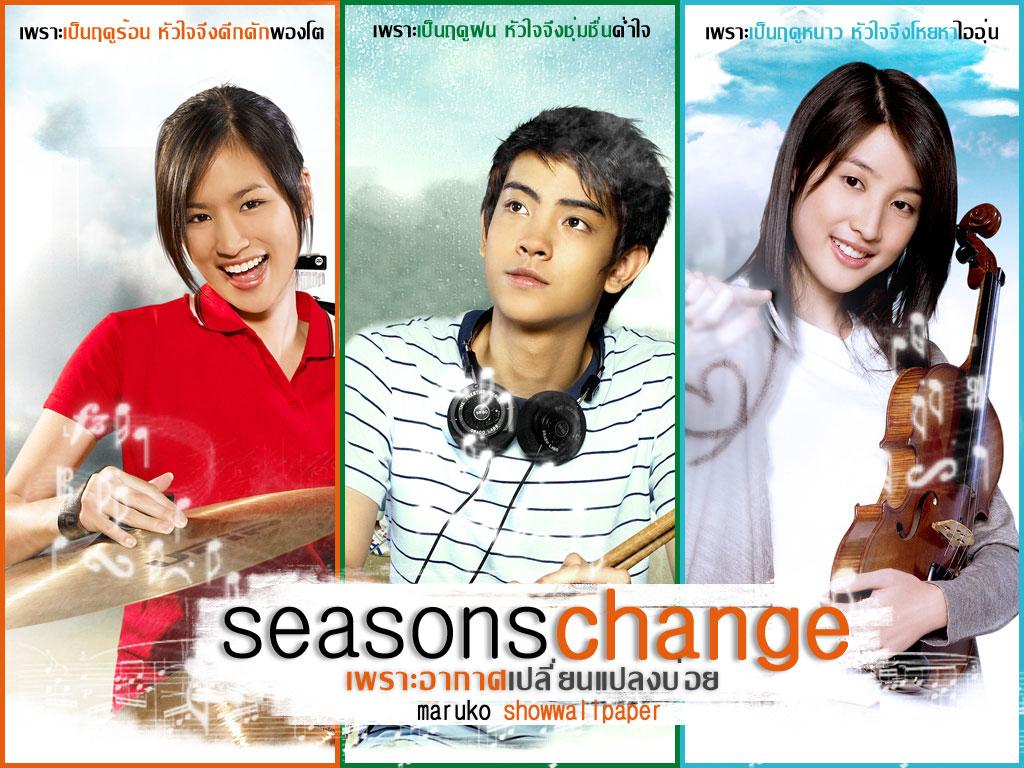 Year: 2006
Main actors: Witawat and Chutima
Synopsis: Seasons Change is about the protagonist Pom's journey to find a way into the heart of his long time crush Dao. In his wish to enter into College of Music, Mahidol University he finds a friendly soul in Aom. The movie is basically about his pursuit of love and music. Will Pom forget his crush and start a new love with Aom or the seasons will change keeping his heart unchanged?
Why is it interesting? I loved the starting scene of the movie. It is just so reminiscent of our own adolescent times. Wanting to make that one boy/girl look at us is something most of us have felt. Crushes are stupid and silly, but that is what makes them so innocent. Pom wanting to enter the same college as his crush, speaks to the larger thought process of wanting to change our lives to suit someone else's. Pom is again quite relatable and lovely in his portrayal by Witawat. Aom is playful and filled with that teen energy that makes one wish to go back to those young days. The movie is resplendent with beautiful music playing throughout the running time. The title echoes in the seasons and lends the movie a different air than most Thai movies out there. This is recommended because of a genuine portrayal of young love and the heady rush of feelings that comes with a crush.
Do you need more convincing? Here's another trailer to put you in the right mood:
If you like any of the movies I recommended, don't be shy and let's fangirl together over them!
---
Missed the Thai lakorn introduction article? You can read it here.
If you have seen good Thai dramas and/or films and want to write a Thai recommendation article, please message Cheer about it.