Finally! With Japanese Nodame Cantabile being remade in Korea (Tomorrow Cantabile), it's high time for the hit Jdrama/manga LIAR GAME to be adapted into a Korean drama.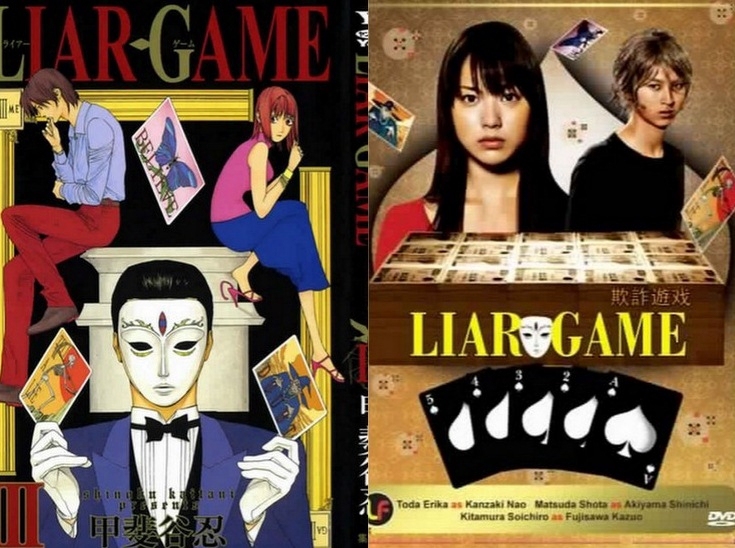 It has been officially announced that the cable channel, tvN, will be in charge of broadcasting the Korean adaptation of Liar Game. The famous manga written by Kaitani Shinobu, was already made into a live action adaptation with two jdramas (LIAR GAME and LIAR GAME 2), two films (Liar Game The last Stage and Liar Game Reborn) and several specials (Liar Game X, Liar Game Episode Zero and Liar Game Reborn Special - Fukunaga VS Yokoya). 
The story follows a naive girl, Kanzaki Nao, as she receives an invitation to a swindling game called "Liar Game". When she realizes that she has no choice but to participate, she seeks the help of a famous expert swindle and ex-con - Akiyama Shinichi - to help get her through the game.
The Korean Liar Game will be written by the screenwriter of "Time Between Dog and Wolf" and directed by the PD of "Hero" and "Warrior Baek Dong Soo". The drama is looking to start broadcasting this October, occupying the Monday-Tuesday timeslot currently taken by My Secret Hotel. It will only be 10 episodes long. 
The production team has revealed that they have not chosen any cast members yet, but are very close to doing so as filming begins next month. Another interesting thing is that since this drama is only going to be 10 episodes long, it will be fully filmed BEFORE the drama starts broadcasting in October. Usually in Korea, only a few episodes of Kdramas are filmed before they start airing, which allows the production team to modify the storyline as the drama progresses. 
So what do you think? Is Liar Game (Korean) on your dramalist? Who do you want to see cast in this?