I don't know if it's because there are so many dull and talentless actresses out there but when I watch a great talent like Kim Sun Ah, I cannot but bow in respect – biased as I am.
I trust that Sun Ah eonni is not only my favourite actress but a favourite of many. Her God-given talent as an actress that allows her various and different roles places her always in the spotlight. Her simple beauty makes it easier to relate to. She possesses a distinct sense of humour and can really act cute. Her expressive eyes and facial expressions narrate a tale on their own. At 39, what more does she have to show us?
My journey with her started by coincidence – I know you can all relate -- I was at the beginning of my drama journey, and because I only liked few actors I stalked them. At the time, I was watching three dramas at the same time: My Name is Kim Sam Soon (I had watched Secret Garden by then and my Hyun Bin fever was running), Scent of a Woman (because of Uhm Ki Joon who I fell for in The World They LiveIn which I started for Hyun Bin) and I Do, I Do for Yesung's OST. So I started the three having no idea that the lead actress was the same one. And even if you call me blind or clueless, it was after I watched a number of episodes of each drama that I figured out she was the same one! But after watching the three, there was no way she wouldn't become my favourite actress. So my stalking journey started. Ready?!
---
(2005)
In the drama that caused a sensation back in 2005 and is still popular – though many people have no idea why- Kim Sun Ah plays Kim Sam Soon: a hot-tempered, blunt, and impatient woman of 30 who cares nothing about the way she looks and is a talented patisserie.
Regardless of the plot, Kim Sam Soon played Hyun Jin Heon (Hyun Bin) up. She was in the driving seat the whole time and moved the relationship. For an insecure and a heartbroken woman; Kim Sam Soon did a great job trying not to lose her Self to the relationship. Thirsty for love as she was, she did not victimise herself and stayed in control of her life. Knowing that she might actually have lost the guy she loved, she didn't lay her life to waste but instead lived on. I cannot imagine anybody else playing Sam Soon, and I don't want to imagine what might have happened to the character played by Hyun Bin if a fierce actress like Kim Sun Ah did not handle the task.
---
(2011)
Can I start another round of crying?!
I never re-watch dramas. And if I did, it would never be melo. But I might re-watch this again. The drama was full of profound pain and desperate struggle for survival.
The character of Lee Yeon Jae started vulnerable and insecure. When she found out she had few months to live, her rage turned into spending every second preciously. Lee Yeon Jae was a woman too ill to go on but too in love to give up and Kim Sun Ah nailed it.
The tango scenes with both Lee Dong Wook and Uhm Ki Joon were pieces of art. She made me feel the exact pain she felt and I cried my heart out.
---
(2012)
A total transformation in the way she looked. I couldn't believe she was the same person in Kim Sam Soon since I was watching the two at the same time. I mean, how can Korean people only grow more gorgeous? The crazy loss of weight! The dashing haircut! And the bewitching wardrobe! Kill me for her shoes!
Hwang Ji An is a bossy, arrogant, strict, and professional shoe designer. Her life is all about shoes. She's mysterious and has no friends. She's feared but hated at work and even nicknamed Medusa – sounds great to me. When her one night stand with Park Tae Kang (Lee Jang Woo) brings more and more consequences, Hwang Ji An decides to accept a few new things in her life.
What I love about Hwang Ji An is that she never compromises. When she sets herself to something she sees it to the end. She doesn't care about what others think or say. Though her work has been the most important thing for her throughout her life, she decides to let go at one time but never to compromise what she believed right. Eager for love as she is, she doesn't let go of her dignity, and she doesn't sacrifice for that love. Come what may; she's first. Kim Sun Ah played the confident and successful Hwang Ji An perfectly and got me to love and understand her.
---
(2008)
For me, as a Sun Ah fan, this was the greatest disappointment of all her works. The drama that gave me a mind blowing first episode immediately faded away. Park Ki Woong and Lee Joo Hyeon made me complete it. Kim Sun Ah and Lee Dong Gun just were not there.
Sun Ah played a supervisor in the Cultural Theft Division to find her treasure-thief father. There were some great moments where she absolutely shone but otherwise – for me personally as a hardcore fan - she failed to impress. I started the drama with great expectations and finished it with a greater disappointment. Many people liked it so don't take my word for it.
---
(2009)
Here comes my all-time favourite of hers.
Silly, shallow, careless, and ugly on the outside. Talented, caring, intelligent, and ambitious on the inside. Kim Sun Ah plays Shin Mi Rae who is the queen of part-time jobs and a low-ranking clerk whose only job is to make coffee for the other employees. As her path crosses the genius and ambitious politician, Jo Gook (Cha Seung Won), the inner dreamer surfaces. Not tolerating injustice and standing to her rights; Shin Mi Rae presents to Jo Gook a potential politician. After he paves the way for her thinking she'd become a pawn he can move wherever he likes, Mi Rae proves an independent and wise leader.
Quiet and helpless looking in one minute then fierce and insane in the next, humorous then serious, loving to death – her man and her people, strong and confident as a leader but a fragile woman who breaks down when alone; Mi Rae is a faultless portrayal of all that is admiring to me. She  gives her all no matter what she does. She doesn't know how to divide herself into parts or how to wear masks. Will never imagine Sin Mi Rae not being Kim Sun Ah. and will definitely watch the drama again.
Her kiss and tango scenes with Cha Seung Won are epic. They make my favourite couple of all ro-comedies of all time. As this drama is my favourite ro-comedy!
---
(2005)
Kim Sun Ah's performance in this film took some beating. As a film actress; this is her best work - for me.
Kim Sun Ah plays Detective Chun Jae In who has to go undercover as a high school student. While on the mission; emotions get in the way. But nothing can possibly stop the invincible Chun Jae In from achieving it all.
I loved her fighting and bullying scenes. The way she talked back to her superiors was so adorable. And her romance with Gong Yoo completed the awesome role.
---
(2004)
After Jinny gets dumped by her boyfriend, she feels blue and wonders if her three ex-boyfriends actually loved her at all. She finds everyone busy with their life and they brush her aside. Hurt and discouraged, she goes back and reads her diary of the three lovers. After believing she was the only one in love; she seeks revenge.
The comedy and love scenes are priceless. The revenge is so funny but so meaningful and the ending is a masterpiece. Kim Sun Ah did a great job portraying the conflicted and insecure Jinny.
---
(2002)
For a fan of Kim Sun Ah and Kim Seung Woo – didn't know Choi Min Soo then - this film was a great letdown. I started and finished it trying to understand what they wanted to relay. No use trying to tell you anything about the film since I myself didn't get it!
Kim Sun Ah was the only reason I finished it. She didn't talk much but acting strong and diligent May she showed great fighting skills and swiftness. I liked her haircut, tattoo and outfit. And I cried because of her.
---
(2002)
This film is not everybody's cup of tea so beware.
Kim Sun Ah acts Yoo Ri; a new apprentice who became a teacher to be in the same school of her long crush; teacher Byung Chul (Lee Bum Soo). Byung Chul is a cold careless teacher who gave up on relationships. Yoo Ri advances, Byung Chul retreats and their four teenage students observe the relationship while fantasising about their female teacher.
Yoo Ri is timid but desperate for love so her advances are adorable. Kim Sun Ah is so cute in this.
---
(2013)
This film is a goddamn tearjerker and heart breaker, and well-done.
Put the funny Kim Sun Ah aside and face the desperate woman living for revenge. This is the darkest role she's ever played. Eun Ah is a happy wife and mother but she loses her husband and daughter in front of her eyes. Disabled after the crime, she has nothing to wager but her organs. She gathers people desperate for her organs and they plot a plan for revenge.
The pain and abhorrence in her eyes, the desolation in her voice and the despair in the hands that clutch the wheel chair present a woman whose number is up. She just cannot die before she kills the devil with her own hands.
I hope Kim Sun Ah was okay after filming this film. If I needed some time to recover from it; what would have happened to her?
---
(2003)
This film is a cute and light journey of searching for love.
Kim Sun Ah plays Min Kyong; a young woman working in a bowling alley. She's timid and trusting to the point of naïveté. When stuck between the man showering her with flowers and sweet words; Bang Seok Do (Park Young Kyu) and the honest and straight Byung Ki (Cha Tae Hyun), Min Kyong finds herself at a loss.
There's nothing impressive about her performance here. She's just cute.
---
(2011)
Oh Yoo Ran, while in the middle of living a busy life raising her children and chasing her cheating husband away, finds that she's seriously ill. She lives the last days of her life trying to make it up to her husband and kids.
Oh Yoo Ran is strong, strict and family-oriented. She's the typical ahjumma who disciplines her children and punishes the misbehaving husband. When she finds about her illness, the feminine side wins over.
Though the film is nothing new, Kim Sun Ah did a wonderful job. I don't regret the two hours I spent watching it. And I wept buckets.
---
(2008)
When Cho Mi Kyong loses her last hope to receive the custody of her daughter; she loses her sanity and gathers her friends to chase the woman who ran away with their money.
Kim Sun Ah here yells, runs, fights and hits. She's a perfect portrayal of a provoked woman. I loved her and the film completely.
---
(2003)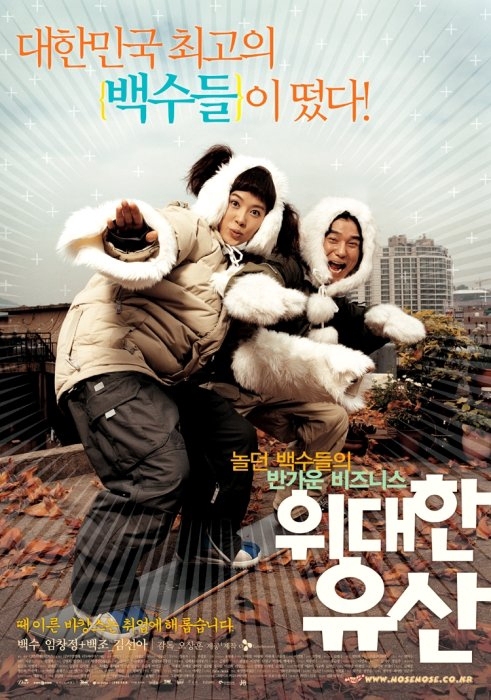 This is an extremely cute film. And I noticed that not many watched it!
Mi Young is an unemployed who keeps failing acting auditions – her acting that she cannot act is hilarious - and spends her days in her mom's video shop. When she runs into Chang Shik (Im Chang Jung), all kinds of troubles and beautiful things invade her life.
Clumsy and blunt, Sun Ah's Mi Young is the kind of friend I'd love having. We'd really ruin Mother Earth.
---
She appeared in Attack on the Gas Station 2 in a cameo role, playing herself; acting bossy and arrogant. She also had a cameo in Lost and Found but I haven't watched it yet.
In 8 Love Stories; she appeared in the first story as Young Eun; the female lead's friend and there was nothing much to her role.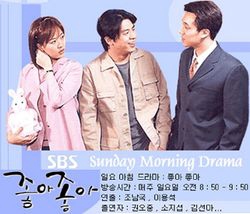 ---
These are the works I couldn't find no matter how hard I looked. So if you ever run by them please tell me:
Though this is a stalker's guide for her as an actress; I'd like you to at least watch her in this tango version of Rain's famous Bad Boy song.
I don't know what she's up to now and I miss her badly. I'm positive though that whatever role she'll take will be great. Maybe we'll see her in a sageuk or medical! Amen!
---
If there is an actor or an actress that is worthy of a Stalker's Guide in your opinion, and you have watched enough dramas of his/hers to prove it, please contact Elisabetta about it.