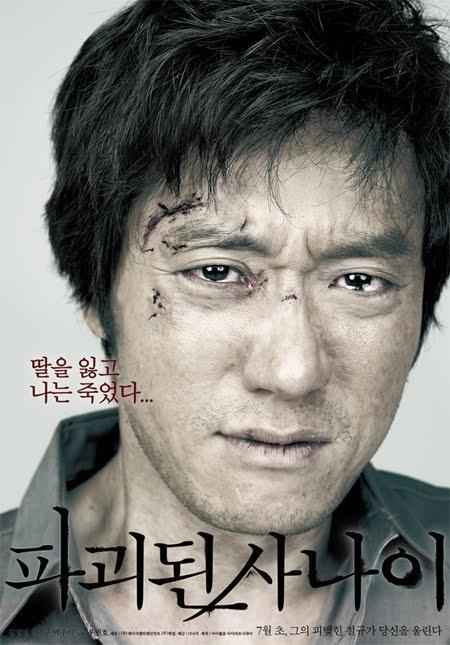 Country: South Korea     Year: 2010     Genre: Thriller
When Kim Myung Min is an antihero and Uhm Ki Joon is a psychopath, and they're enemies, what do you think the film will be? Well,  a masterpiece.
Kim Myung Min plays Joo Young Soo, a pastor who quit medical studies for theology. He lives with his wife and young daughter. One day the daughter gets kidnapped. When the police show up at the place set by the kidnapper to exchange the ransom and the child, the kidnapper (Uhm Ki Joon) takes the child and disappears. 8 years afterwards, and when Young Soo has lost his faith in everything, the whole scenario gets repeated. But Young Soo is no longer the one who would only sit down and pray.
The film starts with the voices of the two actors only. And you know how deep their voices are. Those voices have so much effect as the film goes, on the audience, of course. It tackles child kidnapping and murder, an issue that still doesn't receive the necessary attention and effort anywhere in the world. Psychopaths are walking down the streets looking and acting normal. They use kidnapped children to help more kidnapping. The film shows some unspeakable things done by the kidnappers to children. The film is not for the weakhearted. It presents raw facts with no beautifying or sugar coating. Throughout the film, I kept thinking of Adam Walsh's famous case and once more I wished someone would get rid of all those sick criminals out there.
Kim Myung Min gave a brilliant performance – as usual. He's conflicted and struggling. And he impressed. But the real mind-blowing performances came from Uhm Ki Joon as a psychopath and Kim So Hyun as the kidnapped child. I saw Uhm Ki Joon as a bad guy in Golden Cross and as a mentally disturbed police officer in Killer Toon but this is different. You know that psychopaths don't know that they're sick and they just hurt and kill because it's ''who they are''. Uhm Ki Joon here was a real psycho. He gave me the creeps. And if he wasn't one of my very favourites and I watched almost all his other works, I would add him to my creepy blacklist. Oh!!
The brilliant Kim So Hyun outperformed all. I've never seen a kidnapped child. I read and watched about them. But Kim So Hyun here showed me what they'd be like. Watch it and admire the little genius once more.
---
Country: South Korea     Year: 2010     Genre: Comedy, Romance
From an amazing cast to brilliant acting, beautiful cinematic effects and memorable music, Cyrano Agency follows a simple idea and presents it in a touching and appealing way. Not a wasted minute.
A group of theatre talented people are unable to hold their own theatre so they stage love acts for other people. They use technology and their talents to create ''coincidences'' and romantic atmospheres and make it look like fate. When one client (Ever-adorable Choi Daniel) applies, the agency's fate changes.
The film is light, funny and touching. Great acting by absolutely everyone. The film is like a cool breeze. Made me immediately check the play and the film that inspired this.
Ah, you can see who IS in the film up in the poster, right??
---
Country: South Korea     Year: 2005     Genre: Action, Comedy, Crime
I understand now, completely, why some people are crazy about Kim Rae Won. *Of course I say this statement every time I watch him!*
So young, tough and hot-tempered Kim Rae Won is always welcome. Kim Rae Won here plays Ku Dong Hyeok, a thug-turned-policeman. He changes once he develops a view on life. He adopts some beliefs and principles and starts becoming a real human. When he finds out he's being used, he stands at the crossroad between his reality and his beliefs.
Now this is epic. As if they gave Kim Rae Won a grand playground and told him to enjoy himself, which he did. It was all about him. He blew my mind here. CatherineSmith eonni, I excuse you dear! ;)
The film is funny in a crazy way. You laugh when you least expect it. Philosophising comes in hysterical moments but fits strangely. The music is ironic and beautiful. The school in the drama is the best school ever!! I wish some of my students get ''taught'' in such a school. It's a film about law vs. justice, principles and beliefs and turning points in life. A film in which Kim Rae Won shows all his talents, impressing me all over again.