An adaptation of Cubic, a four-part novel series by B 13 s.t.; the drama is downright puzzling and imperfect! It has so many flaws it would require an all-nighter to number them. 
With a strong fanbase, Cubic's small screen drama was highly anticipated and talked about nationally; however, the great expectations turned into a great disappointment when Cubic became another flawless drama with terrible production, I-want-to-scream kind of directing and flabbergasting delusional storylines, not to mention the acting, the cherry on that beautiful cake. 
For that reason, Cubic was... perfect!
The plot was surreptitiously plotless at times; such was the idiocy and stupidity of the scenes, lacking intricacy. 
The youngest daughter having to repay her dad's debt instead of her sister by working under a Mafia boss and both ending up falling in love with one another is far too simple and uninteresting considering the Thai mafia themed action love stories mass production. 
Yet, Cubic has this unexplainable feeling that keeps one glued to the screen without knowing why. A smart and resourceful ugly duckling falling for a powerful Mafia swan who turns out to love her in return is a reminiscing replica of Disney's Beauty and the Beast in reverse minus the talking furniture, the castle and the petal dropping rose.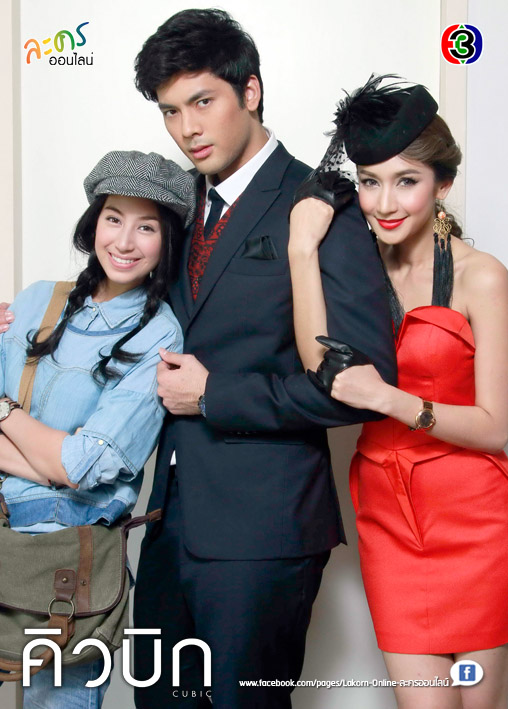 Cubic shows that outer appearance is not a reflex of interior beauty and that interior beauty and character make someone beautiful. 
It also demonstrates that beauty is in the eyes of the beholder, a deeper notion of love that has eluded our society's fashion magazines with their continuous notions that love is associated with beauty and beauty requires makeup, short skirts/shorts and a goddess-like appearance. 
Image is everything but image does not make up for consistency or for lack of character, character, however, makes up for the lack of outward beauty, stands out from within! Cubic shows that!
The characters are stereotypical, bland and one-dimensional with the exception of the baddy on duty however, the rawness of the energy they give leaves one in sheer awe. 
Lin Lan Ser as a character is interesting on paper, very interesting with a strong character and strong expressions, which failed to materialize through Bomb Tanin performance. An unquestionably handsome man it might be said with his beautiful dark eyes, strong hands, broad shoulders and everything else, he was just an eye-candy on the screen. 
He stares so much, so much and he thinks so much and he's so stiff and he doesn't speak enough in the drama. At times one was left wondering if the production team wanted to make Cubic a 40% silent drama as a homage to the silent movie era of the beginning of the 20th century but in colour. 
Either that or the script writer might have thought: here I have a very good looking actor, he doesn't need to talk much, he just needs to look pretty on screen and stare so that the female audience can swoon at him and Cubic can get a high viewing rating. 
Ruthainark was cheeky and fun and energetic and hardworking and motivated and passionate and really well portrayed by Mint Chalida when she wasn't in a staring contest with Lin Lan Ser. That was like 'Mirror, mirror on the wall who's the fairest of them all?' But with 'Mirror, mirror on the wall who stares most of all?' Lin Lan Ser, Lin Lan Ser, yay.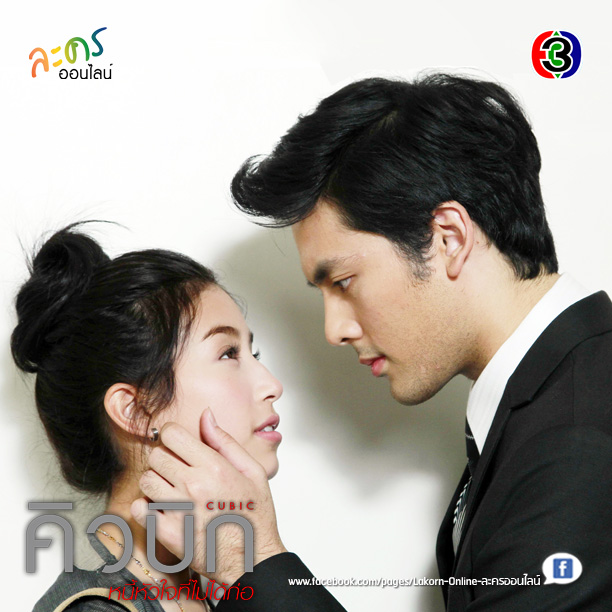 Cubic is flawed from beginning to end but when debating whether to watch it or not, consider this: every person is flawed, those flaws are what make us who we are and we should be proud of that! Cubic is just like a person with qualities and faults and that's what makes it unique and interesting, that despite the flaws it is still a drama worth watching and a Lakorn worth giving a chance to.
---
This is all, thanks for reading! If you watched this drama, please share your thoughts in the comment section below. Did you like it or not and why?