The new tvN drama Touch Your Heart feels like a breath of fresh air! But what can we expect from the person who wrote the popular rom-com drama What's Wrong With Secretary Kim and also one of my favourites A Poem a Day?
The reason why I'm writing this article is cuz I'm really happy that Yoo In Na and Lee Dong Wook are back as main leads in such a heart-warming drama! If you've seen Goblin you probably know what a tragic fate their characters had. And we all wanted to see them being happy and living a peaceful life together, right? Because it's finally happening.
In this article, I will introduce you to Touch Your Heart and I will also give you reasons why you should watch it and what can you expect from it.
[ WARNING! The article might contain spoilers from episodes 1 - 4! I will mention some scenes from these episodes, but I'll try not to spoil much. ]
---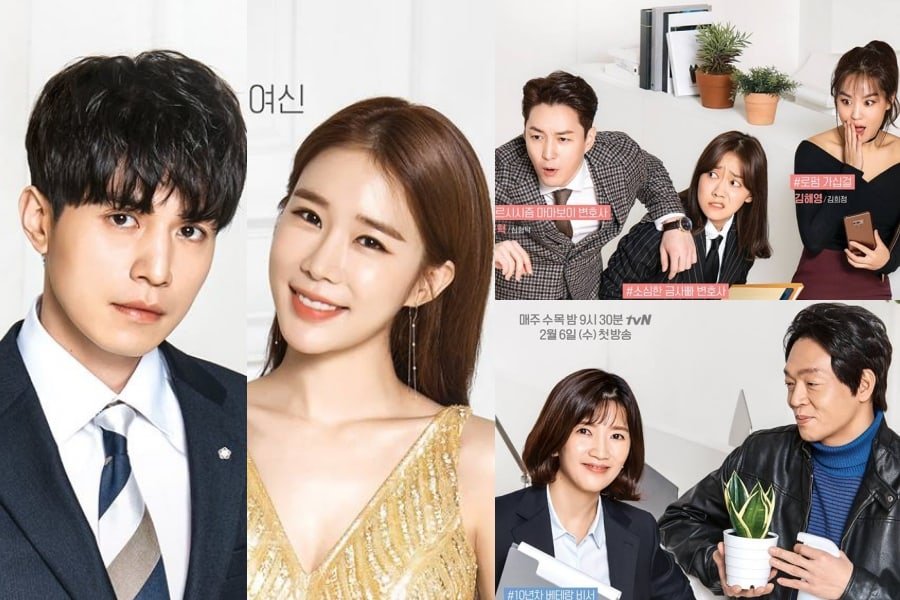 PLOT INTRODUCTION               
After getting involved in a scandal with the son from a chaebol family, the famous actress Oh Yoon Seo loses her popularity and struggles to find a role for herself because no one wants to cast her. She hears that a screenwriter wants her to play the lead female role for a drama series but in order to do that, Yoon Seo has to gain experience for her role. She starts working as the secretary of the famous lawyer Kwon Jung Rok, who doesn't really want an inexperienced actress who's never worked in a law firm to be his secretary, but he has no choice. The kind-hearted actress and the prickly lawyer start working together and they soon fall in love with each other.
---
              MY THOUGHTS AND REASONS TO WATCH              
When I heard that Yoo In Na and Lee Dong Wook are reuniting as the main leads of a rom-com drama, I got so excited! They were the first couple I fell in love with, In Na was the first actress I chose as a favourite, Dong Wook was the first actor that left such an impression on me. To see these two again, it was like a dream. Now you probably know why Touch Your Heart is so special to me. If you've seen Goblin and you loved the relationship between Sunny and The Grim Reaper, then trust me, watch this! Because Yoo In Na and Dong Wook have even better chemistry here!

You might have noticed that the plot sounds familiar and I'm not gonna lie, it is very cliché. We have seen so many dramas where the arrogant boss falls in love with his secretary, right? But don't let this stop you, because Touch Your Heart has so many things that makes it different and worth watching. 
The first episode didn't leave a good impression on me, actually. When the main leads were introduced, I though 'Oh, we have another foolish female lead and a cold-hearted dude'. I was slightly disappointed. Oh Yoon Seo seemed to be like the female leads I usually find unbearable - she was clumsy and self-centered, she often complained about everything. Kwon Jung Rok at the other hand, was always rude. Well, maybe not that kind of rudeness that makes your blood boil, but he pretty much didn't care about anything but his job, so he was ignoring everyone else but his clients. He didn't like when someone didn't know how to do something. When Yoon Seo didn't know how to transfer calls to his office, he didn't show her how to do it and this made me irritated.
But, as people say, do not judge a drama by its first episodes. I loved episodes 3 and 4 so much that I completely forgot about the slight disappointment I felt before. I could already see the characters development - Yoon Seo became more confident, she learned how to do a lot of things in order to be a better secretary. She even started to read law books. I loved her passion and then I realised that she is just a woman who wants to do a good job, she just wants people to love her again. She struggled a lot, but never said anything. As for Jung Rok... He was so passionate about his job that he wasn't interested in anything else. But, well, to be a lawyer is a responsible job. A person's life depends on you so you have to do well, there's no other choice. He is definitely not a cold-hearted male lead, although he is a bit eccentric. But it's obvious that he's very kind-hearted.
And most importantly, the relationship between Jung Rok And Yoon Seo is slowly developing. We can now see that they understand each other, worry about each other and care for each other.
So what I mean is - don't get fooled by the first episode and don't think Touch Your Heart is one of those pointless cliche dramas, because it's not. 

And, of course, we have the best supporting characters, each of them having their own story and their own perplexities. They don't have that much screen time so far, but the scenes with them are always funny!


I can give you more and more reasons to watch this drama, but I will have to use more pictures and more spoilers, so I will stop here. 
So, overall, Touch Your Heart is the perfect drama for you if you are looking for something that will refresh your mind, make your heart flutter and make you laugh like crazy. It starts as nothing special, but as the story progresses, you'll be able to connect with the characters and you'll eventually start enjoying it. You shouldn't take it too seriously though, I don't think rom-coms should be taken so seriously. They are made for fun, but of course, that doesn't mean that there is zero point in them. Just give Touch Your Heart a chance, you won't regret it, I promise! 
---
If you are watching Touch Your Heart - how do you like it so far and what do you expect from the next episodes? 
If you are not - will you start watching it and did this article help you decide?
---
Feel free to share your thoughts! Thank you for reading!