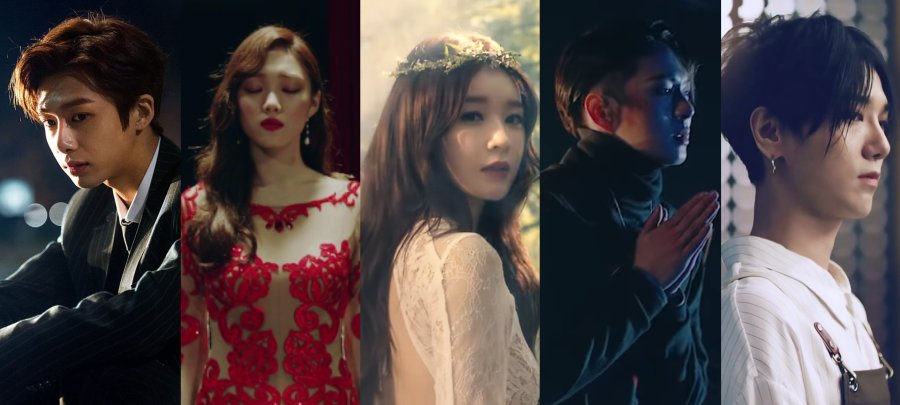 | | |
| --- | --- |
| If you've ever ventured down the rabbit hole that is K-Pop Music Videos, you must be aware of the plethora of unconventional, fascinating, eccentric, and downright hilarious MVs, that are either in perfect accompaniment with their song, or have no correlation to it whatsoever. | |
| | |
| --- | --- |
| | Then, there are some living, breathing works of art. Music videos so artistically complex, entrancing and well made, that they linger in your minds for months, or in some rare cases, even years after their release. |
The third category of K-Pop music videos consists of the 'story-tellers' (not an official term). Music videos that are in perfect harmony with the music itself, and have a sequential narrative that unfolds with every change of beat. These music videos, like the ones in the previous categories, spark unending conversations among fans, and compel them to analyze and theorize about every single frame, in order to make sense out of the video. In retrospect, some MVs have relatively simple and flowing storylines, which when combined with the music, create their own perfect symphony.
The third category of K-Pop Music Videos will be under discussion in this article, where I list my own, five favourite 'story-telling' K-Pop Music Videos, and provide an idea of what they might potentially be like, were they to be adapted for a k-drama.
Note: Having been exposed to K-Pop for the first time in 2016, my knowledge is obviously very much lacking compared to long-time fans, hence this is a purely subjective article. The plot for each music video is presented as was interpreted by yours truly.* By clicking on any of the images or GIFs below, you'll be redirected to the respective songs.
*Which is very much open for discussion because who doesn't love brainstorming over the minutiae of art?
Ergo,  without further ado, let's just jump into it, shall we?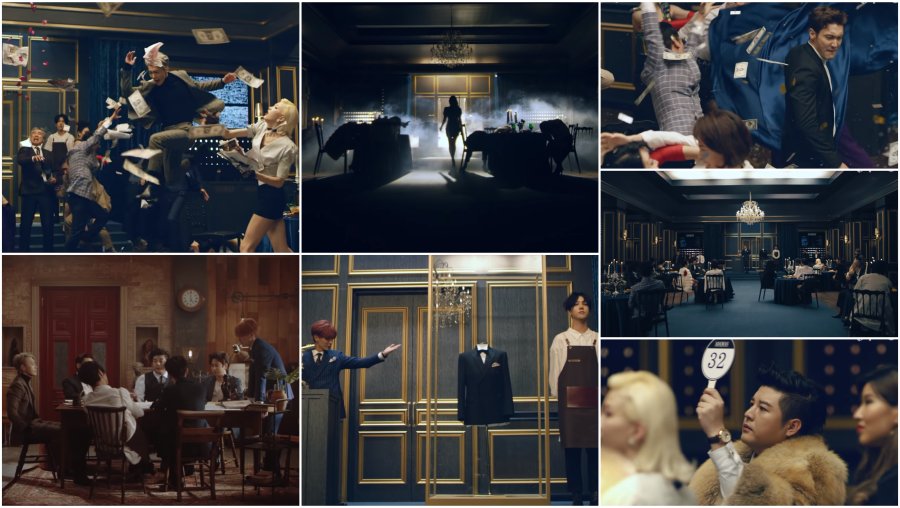 Now, this is what you call going in with all guns blazing! The music video starts in utter chaos, then all of a sudden, time reverts back to the very beginning of the events which resulted in such an onslaught of mania.
The setting is that of a very high-end hotel, where an auction for the rich and influential, is currently underway. We also get a good look at our seven protagonists, as well as their individual roles in the story, as it becomes clear that they are people from opposing parties who seem to have reached a consensus for one mutual interest; the great black suit of course. 
Without giving too much away, hilarity and chaos ensue, with shocking reveals, and backstabbing galore. The outcome leaves the protagonists, and the audience, scratching their heads.
Why should this be turned into a K-Drama?
Avid k-drama watchers must be aware of how there are stories centered on almost every profession there is, from deliverymen (Strongest Deliveryman), to cleaners/janitors (Clean With Passion For Now), therefore, I feel that it would be interesting to get a look into the lives of auctioneers. How constant contact with rare and valuable goods might possibly taint their conscience, and result in them getting involved with equally nefarious people.
The black suit itself is symbolic of a highly desirable item, (or trait, if we're looking into more abstract connotations) which compels people to go to the greatest of lengths in order to pursue it. It also doesn't matter whether the person is even capable or influential enough to obtain it. Like a Siren with its spellbinding allure, the item seduces any and all people in its vicinity, urging them to fight till death for it.
Writer and Director Duo

Though the topic of the music video itself may seem incredibly serious, Super Junior has the ability to find humour in every aspect of life, and so does Park Jae Bum.




With dramas like

Chief Kim

,

 God's Quiz

, and

The Fiery Priest

, it is clear that Mr. Park is not afraid to lampoon corrupt people and can write characters with conflicting interests and loyalties incredibly well. 




'Black Suit' in my humble opinion, would translate really well as a black comedy on the television screen, if left in the capable hands of screenwriter Park Jae Bum.

I have a special affinity for OCN dramas, mainly because of how fast-paced, and cutthroat most of them are.




Player

is such an

amazeballs

(for the lack of a better word) show, which masterfully maintains its pacing, comedy, action and suspense, all thanks to the great directing by Mr.

Go Jae Hyun. 




If left in his capable hands, 'Black Suit' could very well become a viewing pleasure for audiences. keeping them on the edge of their seats, while laughing along with the well-written characters.



Preferred Episode Count: 12-16 episodes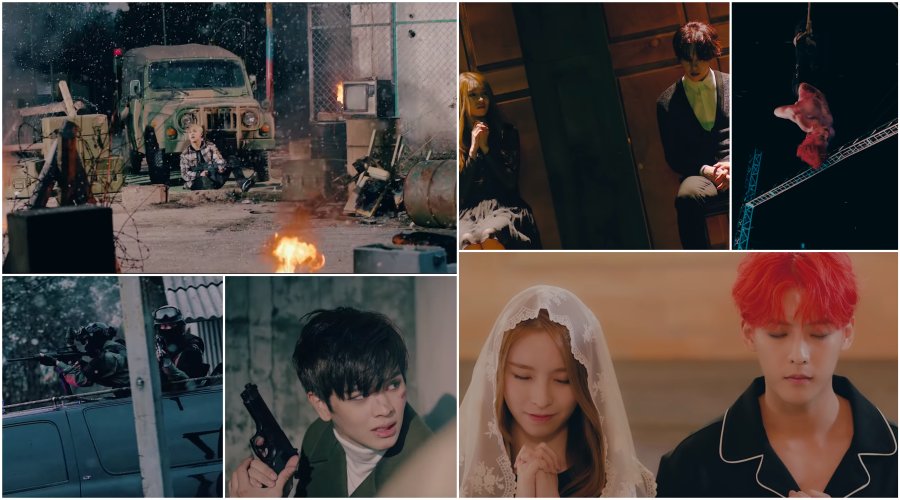 Love and betrayal may be an awfully common theme in action-romance k-dramas, but who doesn't appreciate a good plot twist? A lovesick person's desperate plea to their loved one, with the rap section reflecting a prayer, 'Pray: I'll Be Your Man' tells the story of rebels institutionalized by the powers that be, in a facility surrounded by a war zone. Between numerous escape attempts and conflicts of interest; love, friendship and loyalties are tested, with a very surprising turn of events. 
The song, on the most superficial level, is one full of angst and tension, with some very effective text painting, (when the tone of the music reflects the mood of the lyrics) however, it is given a hymn-like ethereal quality with the addition of orchestral harmonies that result in a beautiful contrast of music and emotions. 
Why should this be turned into a K-Drama?
Red herrings, hidden identities, corrupt officials, great bromance, and literary references galore, what else do you need out of an entertaining high stakes thriller? We often see bad guys return to the light, but the motivation and state of mind behind what it takes for a good guy to join the dark side, (insert Darth Vader's Imperial March here) is in my humble opinion, often left unexplored (or not explored enough to a satisfying degree, being riddled with plot inconsistencies). 
Arguably the best (and my favourite) BtoB comeback, 'I'll Be Your Man' was made to sound like a potential original soundtrack to an action thriller, which makes both the song and the MV perfect k-drama candidates. Hence, I would love to see 'I'll Be Your Man' be adapted for television.
Also, special shoutout to Lee Chang Sub for making everyone swoon (and blowing our minds) with his overall appearance in the MV.
| | |
| --- | --- |
| | I'll Be Your Man (And kill you with my stare)  |

Writer: 
Yoo Sung Yeol
 and Director: 
Lee Jung Hyo
Cruel City
was all I could think of while watching the 'I'll Be Your Man' MV for the first time. While starkly different in their actual storylines, the underlying themes of friendship, love, espionage, betrayal, and corruption were all too familiar, as was the story, centered around individuals who were so deep undercover, that their fundamental personalities were altered to an irredeemable extent. 
Yoo Seung Yeol
should be commended for writing the heck out of this story. It was mind-bogglingly awesome, and while his steps faltered at the end, leaving much to be desired, (from what I can see, this is a recurring theme in Mr. Yoo's dramas) the overall writing and dialogue were spectacular. 
Lee Jung Hyo 
has a penchant for masterfully directing gloomy dramas:
The Good Wife
,
Criminal Minds
and
Life On Mars
to name a few. Cruel City's direction was made for it to look like
noir,
and I have to say Mr. Lee succeeded. Both Cruel City and Life On Mars have my favourite direction, with the latter boasting an even more amazing cinematography. There's no one else I'd rather see direct a television adaptation for "I'll Be Your Man' than Mr. Lee.



Preferred Episode Count: 16 episodes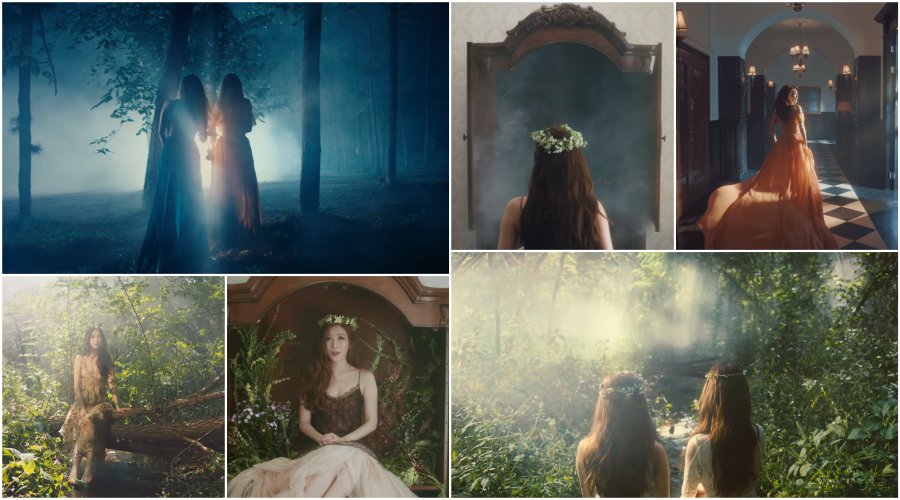 You have to hand it to the French for coming up with terms for situations no one would have thought possible. If I were to describe this music video in one single word, it would be 'sillage': the trail left by the lingering fragrance of someone/something that is (to put it romantically) long gone. 
The OST queens strike again! Davichi's music video for 'Beside Me' is perhaps the most ambiguous and vague of all the ones listed here. It tells the story of two supernatural woodland creatures, on a search to find their lost love that time and circumstances have mercilessly taken away from them. As the MV is an exact product of the song lyrics, the harmonizing vocals create a somewhat hauntingly tense atmosphere, making the watcher ask "Will they be able to find him before it's too late?"
Why should this be turned into a KDrama?
The strength and courage it takes to completely abandon your entire being and livelihood in pursuit of the one you love, must truly be a heart-wrenching feeling. To add salt to the wound, how would you survive watching your loved one wither and age, knowing that you'll live on forever? I feel that this side of the spectrum is mostly neglected in k-dramas, with You Who Came From the Stars being a rather prominent candidate among numerous others. I understand the need for a happy ending to satisfy the audience but, (excuse me being pessimistic) is a truly happy end even possible under such circumstances?
This is why I (as a total sucker for interspecies romance) would love for 'Beside Me' to be turned into a k-drama.  It's definitely been done before, but a fresh perspective would be highly appreciable. Desperately trying to find someone who is always within arm's reach, and yet, worlds apart, would,  in my humble opinion, make for good television, with an interesting resolution.
Writer and Director Trio

I know, I know.

The Hong Sisters

are risky, since their dramas are usually a hit or a miss, (

A Korean Odyssey

being a rather infuriating example of a miss) however, you can't deny that they do have the ability to write well. 




While their steps may falter when it comes to keeping a story's momentum intact, they have a lot of experience writing about supernatural beings and the events that occur when they interact with humans. 




Which is why I am willing to go out on a limb and trust the Hong sisters to write a good fantasy drama out of 'Beside Me' with their added elements of humour, to lighten the mood every now and then.

Be it historical or modern, (

Sky Castle

)

Mr. Jo Hyun Taek

has talent in film/tv direction. I'm stressing this fact as, since the MV for 'Beside Me' is beautifully shot, it deserves to be left in capable and talented hands who would do it justice in k-drama settings. 




In terms of the overall aesthetics,

Mirror of the Witch

closely matches with 'Beside Me' in the sense that they both have the element of sudden happiness followed by melancholy, and vice versa, (which is well reflected in the cinematography) and that they both have this haunting aura about them. Even though MOTW strictly deals with magic and its consequences, the supernatural element for both falls relatively into the same ballpark. 



Preferred Episode Count: 16-20 episodes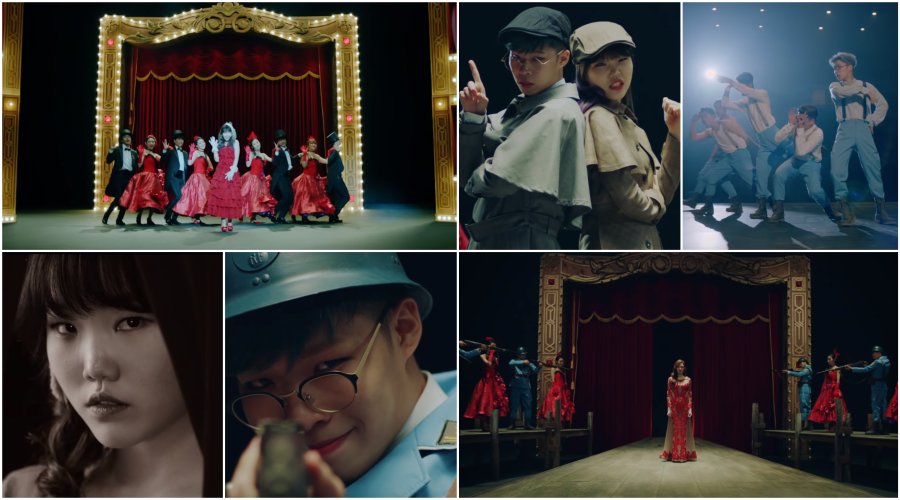 The blinding lights, the smell of sawdust from the wooden props, the extravagant, flowing dresses. If you, like me, are a fan of musical theatre, then 'Re-Bye' is your new best friend. 
The song, in contrast to its gloomy and despondent lyrics, is rather upbeat and groovy, with obvious influences from jazz. (which is awesome!) It tells the story of a beautiful, yet haughty prima donna of a theatre in the Colonial era (portrayed by the truly timeless Lee Sung Kyung), who is the subject of envious stares and murmurs everywhere she goes, and has often escaped from numerous attempts made on her life. 
Here enters our dynamic sibling duo as undercover detectives, with Chan Hyuk paying homage to Detective Conan with his outfit. The two solve the case on hand in an episodic manner, with various over the top comedic expressions, and revelations that are indigenous to musical theatre, culminating in an equally grand conclusion.
Why should this be turned into a K-Drama?
I may be biased (due to my undying love for the theme), but I feel that there aren't enough (good) musical dramas and dramas set during the Colonial era in Korea. 'Re-Bye' could act as a bridge to both themes and satiate the hearts of the fans of both.
With elements of suspense and mystery, coupled with light-hearted and comedic moments, 'Re-Bye' also pays homage to the classic whodunit (though the case depicted only consists of attempted murder), is a cinematographic delight because of its colour palette, and presents a story that could very well be adapted on screen. 
Friendship, mystery and comedy are the three main genres of Chicago Typewriter (according to MDL), and not so surprisingly Re-Bye as well. Ms. Jin Soo Wan knows how to tug at the watchers' heartstrings with heartfelt moments, some of the best bromance, and a wonderfully written drama script, as evident throughout the drama. I can only imagine what wonders she could do if given the reins to write a drama out of 'Re-Bye.'
Chicago Typewriter takes the trophy in my eyes, for quite possibly the most visually appealing depiction of the Colonial era in k-dramas, despite the fact that only a limited amount of screentime was dedicated to that storyline in the entirety of the drama. Kudos to Mr. Kim Cheol Kyu for his brilliant direction. He definitely wouldn't disappoint as a potential director for 'Re-Bye.' 
The 'Re-Bye' detective duo is in the best of hands with this dynamic, writer-director duo.



Preferred Episode Count: 16-20 episodes





 Honourable Mentions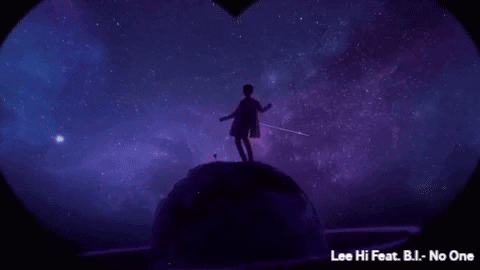 DAY6 High School Trilogy: 좋은걸 뭐 어떡해 (What Can I Do?), I Loved You & 그렇더라고요 (When You Love Someone) (Just a cute little story about growing pains, worth a mention)

Lee Hi, Feat. B.I:누구 없소 (NO ONE) (The Little Prince meets a werecat? Count me in! I had a very difficult time choosing between this and #3 in the list.)

MONSTA X The Clan Saga: 걸어 (ALL IN) & Fighter (Because who doesn't appreciate a good ol' cult? Someone in the YouTube comments section once said that Monsta X music videos are either fanservice or utter confusion. In this case, I totally agree.)



*Angsty Drumroll/ Cymbals Crash*
gif source: Tumblr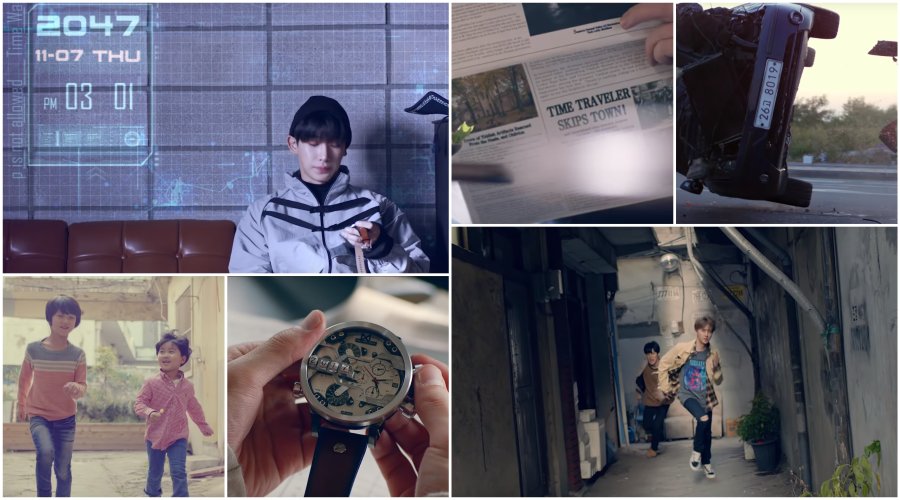 Four minutes of absolute madness! I couldn't stop gushing about this the first time I listened to it, but more importantly, the music video blew me away because of how well made, and engaging it was. Telling not one, not two, but three stories in such a short span of time, while managing to maintain a pace that is easy to follow, is just incredible! There could not have been a more worthy recipient of the first place in my list!
Now that I've let my inner fangirl out, let's get into the nitty gritty shall we? 'Dramarama', like the name suggests, is loud, dramatic, and intense; set in a dystopian world where time travel/ warping is humanly possible. The catch, however, is that it is illegal to do so, and punishable by immediate execution. 
Enter our three protagonists, a coffee shop barista, a pawn shop worker, and  a Kendōka, (traditional Japanese fencer) each existing in a different timeline from the other, and yet, each clinging on to some fragment of the past: be it an emotional parting of ways, ambition to surpass one's master, or a tragic loss of a beloved friend. Sentiments collide with sensibility, heart with rationality, past with the present. A tempest brews, signalling oncoming danger, with Father Time (the instigator of it all) himself as a silent bystander.
Why should this be turned into a K-Drama?
If the previous section wasn't convincing enough for you, take a moment to watch the MV, and imagine how grand a plot can be created on the shoulders of it alone. It's well written, well directed and incredibly fast-paced (no surprise there). It just leaves you wanting more. (and might've caused me to shed a tear or two) I love science fiction, and I believe this story has so much scope for a wonderful, well-crafted, piece of art that has the potential to wow everyone! 
There is no other team of people better suited for 'Dramarama' than the team behind Circle. They're a match made in heaven, and just the fact that it took a team of writers and two directors to craft the masterpiece that is Circle, is a reason enough for me to be fixated on selecting this particular team of people. Painstaking attention to detail, a fleshed out plot, gripping storyline, and equally great music, are what made Circle a personal favourite of mine. And it is in the hands of Circle's production team that I lay my case, and 'Dramarama' to rest.
Preferred Episode Count: 12-16 episodes





---

And there you have it! 
A

 K-Pop

 

and

 K-Drama 

fan's attempt at fusing the two, and maybe providing the readers with some new songs to listen to. Was it a success? Or was it an epic failure? Please leave your opinions down below. 
Also, which K-Pop music video would you like to see be potentially adapted for a k-drama? Thank you so much for taking the time to read what is quite possibly my shortest article yet! *laughs nervously* I truly appreciate each and every one of you. ❤️
Love,
Jojo
---
GOODBYE!