WARNING: This article contains spoilers!!!


Anata No Ban Desu (It's Your Turn To Kill) is basically an addictive mystery-crime drama that can actually put you on the edge of your seat with cringe-worthy cliffhangers. It's a must-watch if you're into crime, mystery or suspense dramas, and it contains some fluffy romance too!


---
Allow me to introduce the lead characters!


First up, we have Tanaka Kei (popularly known for his character Haruta Soichi in Ossan's Love) as Tezuka Shouta, a gym trainer and the cutest and kindest person you'll ever see in this drama. He is a huge puppy and will do anything and everything you order him to. One cannot finish the first episode without falling in love with him (and also wishing that you had someone like him :P).
Then comes Harada Tomoyo as Tezuka Nana, a sportswear designer and Shouta's dear wife. She is a nice, quiet person who loves Shouta as much as he loves her and cares a lot for him. She doesn't want to bother him with trivial matters and gives him personal space, resulting in her being a bit less expressive when it comes to romance.



 

"I'll believe you even if you lie, Nana-chan!" 

- Shouta.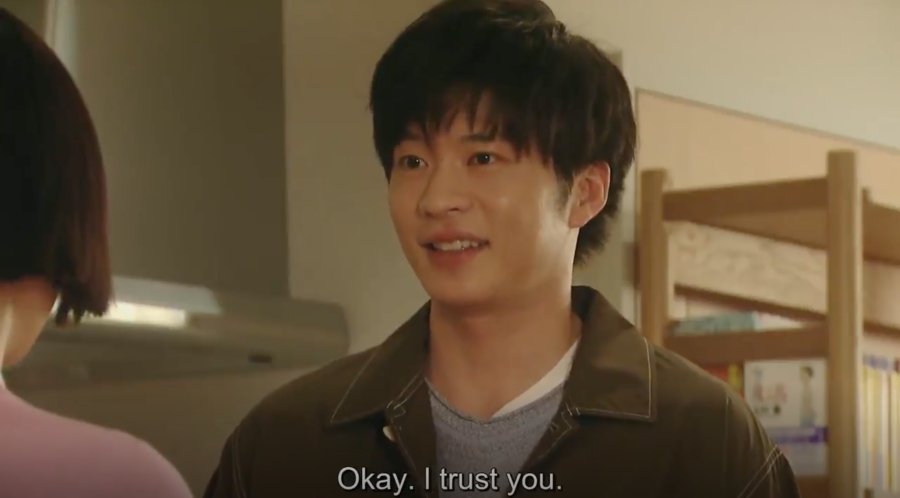 The plot begins with the couple moving to a new apartment whose landlord appears weird to Nana. The residents regularly hold meetings and discuss issues and assign people with different chores concerning the building. Requested by the landlord, Nana attends the meeting, and this is where it all begins!
Prompted by the landlord, everyone becomes a part of a game wherein they write the name of a person (who they wanted to kill at some point in their lives), on a piece of paper and shuffle it so that each one picks a paper and gets a name assigned to them. The idea behind it is a murder exchange without any motives. But someone takes this game seriously,  kills the landlord and blackmails the next person to kill.
A series of murders begin to baffle the newlyweds as they embark on a journey to find the person who initiated this tragedy. A spine-chilling ride with unexpected surprises and weird characters, with a dash of romance, is the best description one can give about this amazing work!
(The opening OST is "STAND ALONE" by Aimer and it's kinda good!)
Why should you watch it?
First of all, this is a rare gem for all the murder-mystery lovers out there! The drama is not episodic, all the characters are interlinked and get equal screen time (most of the time). I don't feel that the plot is rushed as the progress is a bit slow. Even though murders occur, they are not very bloody or gory to look at, and are based on a new concept of crime! The story gets interesting with every episode and the mystery deepens (so much that you're going to binge this one!). Plus, this has some good romance ! You can also test your detective skills and try to find the identity of the killer!
---
So, is Anata No Ban Desu on your list?